04/25/2019
He helped put store brand paper products on the map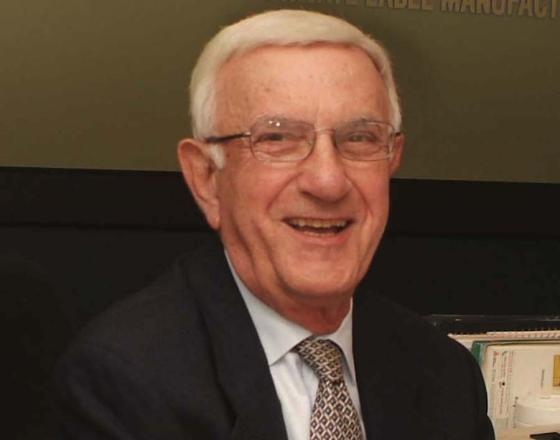 Editor's note: This week, Store Brands Today is profiling the new members of the Private Label Manufacturers Association's (PLMA) 2019 Private Label Hall of Fame. The new members — Nancy Cota, Terry Lee, Mark Krakauer, Patricia Nicolino and Kurt Goldschmidt — were officially honored by the PLMA in March at the PLMA's 2019 Annual Meeting & Leadership Conference in Pebble Beach, Calif. Today, we profile Kurt Goldschmidt.
Upon hearing he was inducted into the Private Label Hall of Fame, Kurt Goldschmidt didn't give himself a pat on the back for a job well done. Goldschmidt, who left the American Tissue Co. as senior vice president of sales in 2001, thanked the people who voted him in. Grateful — that's Goldschmidt for you.
In the late 1950s, Goldschmidt, who came to America as young boy with his family in the late 1930s to escape Nazi Germany, began his career path in the paper industry when he joined the now-defunct Hudson Paper Co. For a while Goldschmidt also had his own business as a paper broker before moving on to American Tissue, where he spent nearly 20 years.
Goldschmidt's claim to fame? He was one of the first people to advocate for private label in the paper business. He evolved into a stalwart salesman of household private label paper goods, including paper towels, napkins and tissues. Incidentally, private brands own 47 percent of the sales in the paper napkin category, 32 percent of sales in the paper towel category and 23 percent of sales (and rising fast) in the toilet tissue category, according to the most recent data from Information Resources Inc.
Goldschmidt helped put American Tissue on the map with its private label products. It wasn't an easy task, either. The big national brands were dominant with their big paper plants and huge promotional budgets. But Goldschmidt succeeded by forging strong relationships with many supermarket buyers.
"Private label was my entity; that's what I pushed for," he says.
Goldschmidt became widely known in the industry for his efforts. He attended the Private Label Trade Show regularly as an exhibitor with the company, his wife Annabelle often by his side. He also brought his son Jeffrey into the business, who worked for American Tissue for 18 years.
After leaving American Tissue, which is now out of business, Goldschmidt spent more than a decade with the PLMA and was involved with the association's PLMA Live! online video and Salute to Excellence programs.
Goldschmidt is humble about his induction, saying he doesn't want to take credit for his achievements, and that others also played big roles in making private brands popular in the paper industry.
But his induction speaks volumes about his career.
Previous profiles on this year's inductees: