Three times an impact
Get great content like this right in your inbox.
Subscribe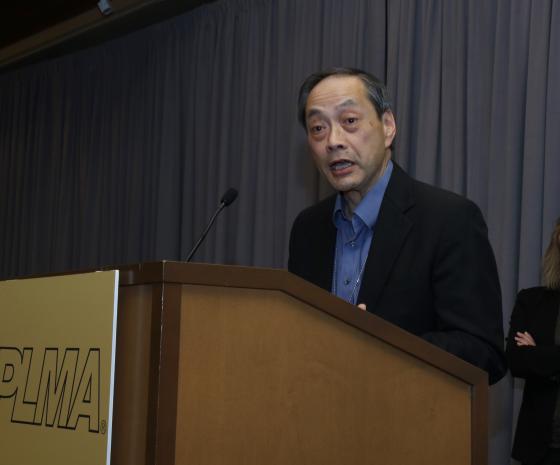 Editor's note: Starting yesterday and continuing all week, Store Brands Today is profiling the new members of the Private Label Manufacturers Association's (PLMA) 2019 Private Label Hall of Fame. The new members — Nancy Cota, Terry Lee, Mark Krakauer, Patricia Nicolino and Kurt GoldSchmidt — were officially honored by the PLMA in March at the PLMA's 2019 Annual Meeting & Leadership Conference in Pebble Beach, Calif. Today, we profile Terry Lee.
Three retailers, three times an impact
Terry Lee steered successful private brands programs for not one … not two … but for three major retailers. It doesn't get more hall of fame than that.
In his more than 30-year career in retail, with most of those years spent in private label, Lee was vice president of corporate brands for Safeway (1996-2000), vice president of corporate brands for Albertsons (2002-2006) and vice president of private brands for Dollar General (2008-2011).
"As far as I know, I'm the only individual that has had the opportunity to lead private brands programs as an officer for three major retailers," Lee says. "I'm incredibly fortunate."
So were the store brand programs of Safeway, Albertsons and Dollar General under Lee's direction.
At Dollar General, Lee rejuvenated the value retailer's private brand program, which was badly in need of rejuvenation. Under Lee, Dollar General added hundreds of new products in its consumable segments, including Clover Valley, DG Home, DH Health, DG Baby, Rexall and Sweet Smiles private brands, and increased its penetration from 17 to 25 percent in some categories.
It was a challenging task, considering dollar stores had been known as purveyors of cheap and lousy private brands products for years, Lee says. That was the case at Dollar General. But Lee implemented standards and processes to significantly improve quality to national brand standards.
"We had to change consumer perception," Lee says. "It was a significant undertaking."
Realizing that many shoppers of Dollar General were cash-strapped, Lee's goal was to deliver less-expensive private brands that didn't disappoint them.
"If a product fails them, it's a significant part of their expenditure," he says.
Lee, who holds a master's degree in business from the University of Southern California (USC), grew up in grocery. His family owned a large independent supermarket in the Sacramento, Calif., area for about 25 years. Lee began working there when he was 14.
After graduating from USC, Lee went to work in consumer products marketing for RJR Nabisco in its Del Monte Foods division, where he worked as a brand assistant for Hawaiian Punch. He spent a decade in consumer products marketing before becoming vice president of corporate brands for Pleasanton, Calif.-based Safeway in 1996. It was the first time Safeway had an officer head the position.
"They wanted someone to bring some consumer products expertise to the business," Lee says.
Safeway wanted someone to "energize" its private brands program. Lee did that through introducing products that were well-targeted to consumers and creating what he calls "meaningful differentiation" to set Safeway's private brands apart from competitors.
Lee joined Boise, Idaho-based Albertsons in 2002 and was empowered with directing a private brand program that he says was behind the times. Lee and his team brought the program up to times by implementing a new branding strategy with an emphasis on consistent product quality. He led the initiative to redesign every package and introduce a new premium tier.
"It was a radical and significant rebuild to get that business ahead of the market," Lee says.
Lee left Albertsons in 2006. Based in the San Francisco Bay area, he has worked as a private brand consultant for more than seven years.
"I really am quite blessed," Lee says of his induction into the Private Label Hall of Fame.
Editor's note: The Private Label Manufacturers Association (PLMA) began the Private Label Hall of Fame in 2006, which with this year's class now includes 64 inductees. Over the years, the Private Label Hall of Fame has welcomed retailers, vendors, thought leaders and pioneers who helped propel the profession to prominence. To identify those worthy of induction into the Private Label Hall of Fame, the PLMA and Store Brands solicit nominations each year from a wide range of industry experts. The individuals selected must have contributed significantly to store brand development and innovation; advanced the growth of private brands through creative marketing, merchandising and promotions; improved manufacturing, packaging or quality assurance processes in the industry; and/or served as champions of store brands within their own companies, business communities and the consumer marketplace.