A major impact
Get great content like this right in your inbox.
Subscribe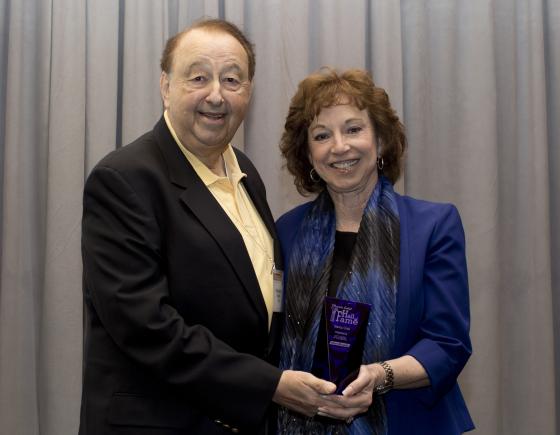 Editor's note: Starting today and continuing all week, Store Brands Today is profiling the new members of the Private Label Manufacturers Association's (PLMA) 2019 Private Label Hall of Fame. The new members — Nancy Cota, Terry Lee, Mark Krakauer, Patricia Nicolino and Kurt GoldSchmidt — were officially honored by the PLMA in March at the PLMA's 2019 Annual Meeting & Leadership Conference in Pebble Beach, Calif.
NANCY COTA
There's no denying that Nancy Cota is absolutely thrilled to be inducted into the Private Label Hall of Fame. "This is really special. It means a lot," she says.
But what means more to Cota, the vice president of own brands, product management, innovation and brand management for Boise, Idaho-based Albertsons Companies, is that she has been able to play a role in what she calls "this huge evolution" of private brands, an industry she remembers as fledgling when she began her career in the grocery industry more than 40 years ago.
"I've been able to see the industry grow from just being a value price play to being an industry that leads and innovates and offers products that shoppers trust," Cota says. "It's exciting to be alive to live that and see how private brands have evolved to that degree."
Oh, Cota has lived it, all right. Her impact on the industry has been considerable.
Albertsons Companies, which owns Safeway where Cota spent several years of her career, recently achieved 25 percent market share for its private brands. Cota had much to do with that.
While with Safeway, Cota spearheaded the launch of the retailer's free-from Open Nature store brand in 2011. She also led the development of Albertsons' Primo Taglio (premium meats), Waterfront Bistro (seafood) and Signature Café (fresh meals) lines. She has made major contributions to the retailer's O Organics line, now a $1 billion brand.
When she walks in a Safeway or other company-owned store and sees the results of her work on store shelves, Cota won't deny that it's a wonderful feeling. But it's a motivator, too.
"I see the fruits of it," she says, "and it fuels me to move on to the next level. I inspire myself because I get excited about what I do. It's just not a job for me. It's something I really love. … When I look at my career, I feel very blessed. It's always nice to feel like you contributed."
Last November, Cota was honored by Women Impacting Store Brand Excellence (WISE) with its Lifetime Achievement Award. In 2017, she was a member of the inaugural group inducted into Progressive Grocer's Top Women in Grocery Hall of Fame. And now she is in the Private Label Hall of Fame. The awards might insinuate the "r" word, but Cota is not considering that.
"I'm not ready for retirement," she says. "I'm going full steam and having fun. And there's so much more work to be done."
When Open Nature becomes a $1 billion brand, Cota vows to consider retirement.
"We're already on our way, but I have a lot of work to do," she says.
So Cota will keep on keeping on, giving everything she has to grow Open Nature and Albertsons Companies' other private brands.
"I see more growth," she says. "I know our shoppers are willing to trade over to our brands. We have our sights set on achieving 30 percent market share."
Cota may be in the hall of fame, but she still plans to add to her hall-of-fame credentials. 
Editor's note: The Private Label Manufacturers Association (PLMA) began the Private Label Hall of Fame in 2006, which with this year's class now includes 64 inductees. Over the years, the Private Label Hall of Fame has welcomed retailers, vendors, thought leaders and pioneers who helped propel the profession to prominence. To identify those worthy of induction into the Private Label Hall of Fame, the PLMA and Store Brands solicit nominations each year from a wide range of industry experts. The individuals selected must have contributed significantly to store brand development and innovation; advanced the growth of private brands through creative marketing, merchandising and promotions; improved manufacturing, packaging or quality assurance processes in the industry; and/or served as champions of store brands within their own companies, business communities and the consumer marketplace.