07/09/2018
Why flexible packaging makes sense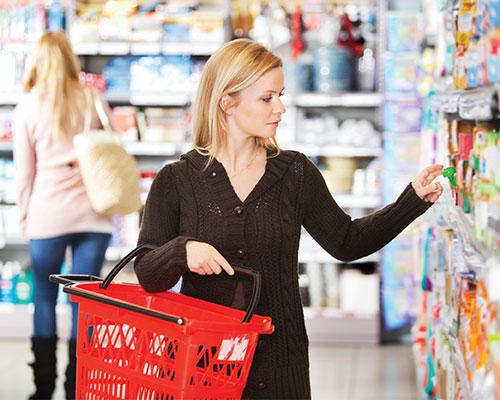 Whether a beautifully printed and designed stand-up pouch for premium private brand chocolates or a transparent bag showing off a colorful blend of dried fruit and nuts, flexible packaging has many advantages in merchandising store brand items.
"Flexible packaging adds value to food and non-food products alike," states the Annapolis, Md.-based Flexible Packaging Association (FPA) on its website.
One key benefit is consumer convenience. Flexible packaging is lightweight, making products less burdensome to carry than canned goods or liquids in glass containers, and the packaging is easier to open and reseal than cans, boxes or other rigid packaging. Special features can be added such as zippers (including child-resistant zippers), Velcro closures, handles, spouts, vents and oven cook-in capability, points out Rebecca Casey, senior director of marketing for TC Transcontinental Packaging in Lenexa, Kan.
Flexible packaging also takes up less space for the consumer, adds Salvatore Pellingra, vice president of global application and innovation development for Cincinnati-based ProAmpac.
Most important, flexible packaging is customizable and can help retailers differentiate their private brands from the competition. "Brand owners and retailers can have any shape or size to fit their product or needs," Casey says, noting that high-definition flexographic printing and special coatings can help private brands stand out on the shelf.
Retrogravure printing, which costs more, is also an option for premium lines and product runs that are large enough to minimize the added cost per bag, adds Aaron Funke, creative director at the Chicago office of Equator Design, a United Kingdom-based packaging design and branding agency. "You can get detailed gradations in color as well as special finishes on those bags," he notes.
Determining the format, features and graphics for product packaging demands complex decision-making, requiring collaboration throughout the supply chain and during each phase of the process.
"At ProAmpac, we partner and collaborate with raw material suppliers, packaging machine companies and co-suppliers providing the latest technologies to differentiate brands," Pellingra says.
Casey notes that TC Transcontinental Packaging "works directly with brands in the early stages of design and pre-press to ensure their graphics align with their messaging and express their product quality."
"With the number of products continually expanding while shelf space shrinks and with shoppers making up their minds in just a few seconds, private brands need the right package design and graphics to give their brands the crucial visibility," she adds.
Preserving freshness, providing versatility
Flexible packaging extends the shelf life and freshness of food, both in the store and at home after a product is opened.
The packaging can protect the product by incorporating barrier materials for moisture, oxygen and contamination — with each package tailored to meet the customer's design and functional requirements, Casey explains. "A great example is our new Oven N Done product. This product provides a custom fresh meal solution that is convenient and hassle-free for consumers, using packaging innovation for the microwave or oven."
ProAmpac also has developed several packaging innovations that address consumers' demand for freshness, convenience and transparency as well their penchant for snacking. "ProVue Shield — an economical moisture, oxygen and aroma barrier laminate — provides clarity for viewing the product combined with a barrier to keep snacks fresh," Pellingra says.
The company has also developed Pro LocknPeel, which allows a package to peel open easily, "ending consumer frustration getting into packages," as Pellingra puts it, "but has a very high burst strength that provides for safe distribution."
Recently commercialized for salty snack applications, ProAmpac's E-Z SnackPak is the only pouch that converts into a convenient tray after opening, according to Pellingra.
"We have also developed a surface treatment that provides flexible packaging with a 'paper feel and look,' " he adds. "This is a step beyond registered matte coatings where a consumer can actually feel the graphic treatment on the packaging."
Applications on the rise
Frequently used for shelf-stable snacks and frozen food, flexible packaging is making gains in several other product categories.
"There is high growth in liquid applications replacing rigid [containers], as flexible packaging can often reduce packaging weight significantly," Pellingra says.
Another strong growth area is the pet aisle, even for wet dog and cat food. "Retort pouches provide easy opening and minimal packaging versus cans for shelf-stable wet products," Pellingra notes.
For dry pet food, "side-gusseted bags provide improved shelf-cube utilization and excellent billboards, and woven bags provide excellent toughness and minimize breakage for large dry pet food bags," he adds.
Designed for the pet category, ProAmpac's Pro-Dura Premium bags are heavy-duty woven polypropylene bags with a unique surface laminate that "hides the weave," creating a resilient high-quality billboard for large-format bags, Pellingra says.
Life-cycle sustainability
Plastic flexible packaging is often recyclable; but when it's not, that can be a negative from a sustainability standpoint, Funke observes. In some municipalities, recyclers may only accept certain plastic substrates.
However, there is much more to environmental sustainability than post-consumer recyclability.
"In some cases you're eliminating waste with flexible packaging," Funke explains. "If you have a fully sealed plastic bag and you're able to keep the product fresh in that one bag, you reduce waste by not having to put a plastic bag inside of a box because you are eliminating one of the pieces of that package."
To really appreciate the sustainability benefits of flexible packaging, it's important to consider the substrate's entire life cycle, according to the FPA. "Innovation and technology have enabled flexible packaging manufacturers to use fewer natural resources in the creation of their packaging, and improvements in production processes have reduced water and energy consumption, greenhouse gas emissions and volatile organic compounds," the organization states. "Even more [significant], lighter-weight flexible packaging results in less transportation-related energy and fossil fuel consumption and environmental pollution."
Flexible packaging takes up much less space than rigid containers when empty, reducing the costs and carbon footprint involved in shipping the packaging to a filling location, Pellingra explains.
"Of all packaging materials," he observes, "flexible packaging takes up the least space at the start of life and the end of life."