03/26/2019
'They are what they are'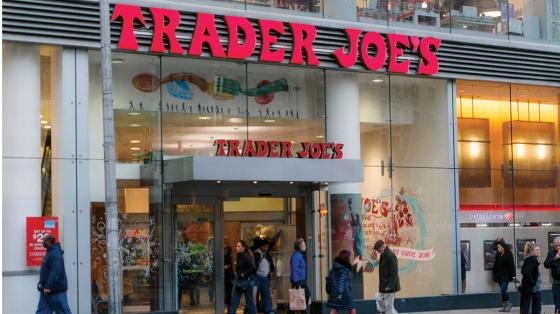 We call them private label products. We also call them by other names — private brands, store brands, own brands and corporate brands. But grocery industry expert Don Stuart believes it's time to refer to many products and product lines in private label simply as "brands." Period.
Late last year, Cadent Consulting Group, the Wilton, Conn.-based consulting firm where Stuart is managing director, issued a report called "The Branding of Private Label." In the report, the word "brand" is defined as "the elements, both tangible and intangible, that identify and differentiate a product from the competition."
The report mentions that a brand "is a promise of good value" and "a promise to consumers that it will consistently deliver the quality expected of its product at an acceptable price." The report also stresses that brands can enact positive consumer emotions that kindle shopper loyalty.
The point is that many private label products and lines offer value and quality to consumers while helping retailers to differentiate and attract consumer loyalty, Stuart says. So why not just refer to them as brands, he asks.
Consider The Kroger Co.'s Simple Truth, the largest-selling natural and organic line in the country with more than $2 billion in sales. Cincinnati-based Kroger is making Simple Truth available to consumers not just through its more than 2,700 bricks-and-mortar supermarkets, but through online channels around the U.S. and in China. Considering the breadth of Simple Truth, not to mention its popularity, should it still be considered a private label line or should it be regarded as a branded line?
Take Trader Joe's, which offers mostly private label products. The Monrovia, Calif.-based retailer, which has about 500 stores, has built its reputation on private label. But they are known by its shoppers as "Trader Joe's brands," not private label products.
And Trader Joe's customers are proud to shop there and like to tout on social media that they are doing so, even posting photographs of the products they purchased there.
"They feel a badge of honor," Stuart says of Trader Joe's shoppers. "They think the quality is better and the value is better, and that shopping at Trader Joe's defines them as smart shoppers."
So you can see why Stuart considers Trader Joe's products as a brand, not private label. Other retailers have also earned the distinction with their private label products, Stuart says, including Whole Foods Market with its 365 Everyday Value line, Albertsons Companies with its O Organic line, and Costco Wholesale with its Kirkland Signature line.
"They all have common denominators," Stuart says. "[Their products] have a look and feel that is consistent. And they offer quality and value. But it's not just about making better products, it's about making products to meet the needs of more people."
There's another reason why Cadent Consulting and Stuart believe some private label lines should just be called brands. Baggage.
According to Cadent's research, many consumers still think "cheap" when they hear the term "private label." In fact, Cadent's research revealed that 40 percent of consumers still believe that such private label products "are cheap, no-frills alternatives to major brands." Sixty-seven percent of consumers consider private brands as a "lower cost option" to national brands, according to Cadent.
It's a negative connotation that continues to linger, thanks to the bad old days of generic products, Stuart says.
"But we're starting to see the emergence of private brands that are true brands," he adds.
Retailers' own premium products, including organic and natural products, have helped drive that distinction and level the playing field between national and private label products, Stuart notes. As private label increasingly acts like a "brand," consumers will increasingly trust its quality, according to Cadent's report.
To that point, Cadent's research also reveals that 67 percent of consumers say private label products "offer a good value and quality for the price," which is how many of today's retailers want their private-branded products to be perceived.
"The people who are taking over the lion's share of shopper spending are really thinking about private label more from a value perspective that integrates both price and quality," Stuart adds.
In Cadent's report — and other respective reports — it's mentioned that sales of private brands are growing about three times as fast as nationally branded products, a trend that Stuart says is sustainable. It's another reason they should be considered as brands, he says.
Another reason is that retailers offer products that are exclusive to them. And at places like Trader Joe's, Whole Foods Market, ALDI, Walmart and other national retailers, consumers can purchase the retailers' store brands across the country.
"The irony of store brands' rising competitiveness with national brands is the increasingly national availability of strong private label products," according to Cadent's study.
And now some retailers are making their store brands available in other places, as in outside their normal realms. For instance, Kroger recently struck with Deerfield, Ill.-based Walgreens to sell its private brands in 13 of the drug chain's locations as part of a pilot program called "Kroger Express." Think about that: Another consumer packaged goods retailer, which offers its own private label CPGs under its Nice! line, is selling Kroger's private label CPGs inside its bricks-and-mortar walls. Does that still classify Kroger's products as private label or as branded products?
Retailers are also selling their store brands on third-party e-commerce sites. Kroger is selling Simple Truth to Chinese consumers on an e-commerce site owned by Alibaba Group Holding Ltd. Last year, Albertsons Companies launched O Organics Market, an Instacart grocery delivery service-powered virtual store where customers can find organic, natural, and other better-for-you foods, beverages and grocery items. O Organics is Albertsons' popular organic private label that recently achieved $1 billion in sales. Albertsons Companies is also selling its Open Nature private label on the site.
As Cadent's "The Branding of Private Label" report points out, the growth of the fresh department in grocery stores is also providing opportunity for retailers that offer their own labels for meats, dips, salads and other meal solutions.
"The 'national' element of name brand products may actually hurt goods in the categories of fresh food/produce, dairy and meat/seafood," the report states. "If consumers know a 'fresh' brand is national, they may actually seek out a store brand that boasts 'local,' 'natural' or 'organic' because these options feel less processed, preserved and transported than the national name brands."
Stuart expects private label sales and penetration to grow in coming years and to reach a market share of 25 percent in the next decade. Some traditional grocers have already achieved that number, including Kroger and Albertsons Companies. Their private labels are pillars to their businesses, which is even another reason why Stuart believes they should be considered as brands.
"We don't have to get too complicated with descriptions," Stuart says. "They are what they are."
Aylward is editor-in-chief of Store Brands.