Publix chicken: A big fried differentiator
Get great content like this right in your inbox.
Subscribe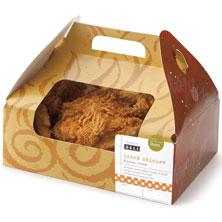 Retailers wanting to differentiate in the fresh section are aiming to tempt customers with products of a certain flair and flavor. They want to offer ingenious products that customers can't get anywhere else — not from the competing grocer across the street or the fast-food joint down the road.
Which brings us to fried chicken. ... Fried chicken?
I know, fried chicken isn't exactly inventive. But it doesn't have to be. Just ask Publix.
For years, Publix Super Markets has drawn a massive following for its fried chicken, which it sells in its deli department as a private brand. People in Florida, where most of Lakeland, Fla.-based Publix's 1,120 stores are located, have been cock-a-doodle-doing about its fried chicken for years. It's different, they say, because it's just dang good.
How good is it? I, for one, love it — some of the best bird I've ever had. But I decided to go to the top of the food pundit chain to get a professional opinion, consulting Tampa Bay Times Food Critic Laura Reiley about the virtues of Publix's fried chicken.
Reiley, who has cooked professionally and is a graduate of the California Culinary Academy, had kind things to say about Publix's fowl, noting that it has a good crispiness to it and a "plush interior ratio," which is food critic speak for having favorable moisture and texture.
Publix's fried chicken is prepared on-site; it's soaked in brine before being double-breaded and deep fried. "The breading isn't too salty, and it has a pleasant mix of spices," Reiley says. "It doesn't have grease overload like some fried chicken."
Publix has also benefitted from consumers who don't want to make fried chicken at home because it takes too long, is too messy and because they realize they can't make it as good as Publix.
But the popularity of Publix's fried chicken may be facing its toughest test yet with millennials, now America's largest generation. "Millennials tend to be a little nervous about the word 'fried,'" Reiley says.
Millennials, whose spending power is growing by the day, also want healthier foods that are free-from undesirable ingredients. They want foods that are sustainably sourced, meaning that the fried chicken they do eat had better come from chickens that were free to roam the range.
Millennials also crave bold flavors, so they want fried chicken with a twist. They are getting that: Spicy and sweet Korean fried chicken is all the rage, as is cayenne-spiced Nashville hot fried chicken. (Incidentally, Pittsburgh-based Giant Eagle offers a Nashville hot fried chicken for which I would walk on my knees in the snow for a takeout order.)
"The way to capture millennials' attention with a classic [dish] like fried chicken is by offering ethnic spins like that," Reiley says.
Aware that retailers are trying to differentiate in the fresh department, Reiley isn't surprised Publix is still getting a lot of mileage out of its fried chicken, which it introduced about 30 years ago. "It's one of those foods that we all kind of agree on," she says. "I don't see it going away anytime soon."
If a retailer can hatch a killer recipe for fried chicken, it can differentiate.
Publix is proof.