11/08/2018
IRI study: Private brand dollar sales up 5.8 percent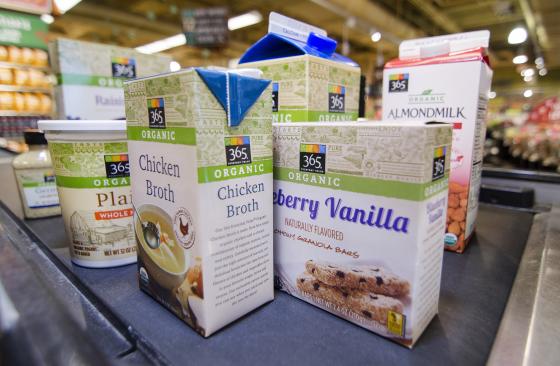 Private brand dollar sales grew nearly 6 percent in 2018, outpacing national brands by a wide margin, according to a new report from Chicago-based market researcher IRI.
Eight in 10 Americans buy store brands frequently or occasionally in order to save money, according to the report, "IRI Private Label 2018," which also reveals that consumers continue to rely on private brands to stretch their dollars, a press release announcing the report stated.
But there are still many untapped opportunities for retail channels, according to the study. During the last year, supermarket private brand performance has underperformed compared to the industry average, with dollar sales growth of 1.2 percent and unit sales declines of 1.7 percent. Some retailers are showing momentum within that segment, such as Fred Meyer and Jewel Osco. But club stores are outperforming supermarkets and all competing channels, according to IRI.
But the future looks bright for private brands, with two-thirds of consumers planning to buy more store brands in the coming six months, the reported stated. This is more prevalent among younger shoppers. IRI learned that private brands are popular with younger consumers, who tend to be driven more by product benefits than by brand name.
Ninety-two percent of millennials are turning to private brands to save money, compared to 86 percent of Generation Xers, 81 percent of baby boomers and 77 percent of seniors, according to the report.
"The increased likelihood of younger consumers turning to private labels really bodes well for the retail brand sector of the industry," said Susan Viamari, vice president of Thought Leadership for IRI, in a statement. "It's truly a testament to the success private label innovators have had in bringing to market the solutions that fulfill high-demand shoppers' needs and wants."
Consumers continue to embrace private brands even though the economy has stabilized. Sixty-nine percent say private brands are as good as national brands, and 68 percent say private brands offer better value than national brands. Millennials, in particular, have very favorable views of private brands, with 76 percent saying the quality is as good, and 73 percent saying the value is better.
But despite the U.S. economy growing at 3.5 percent annual-growth rate in the third quarter, 49 percent of consumers are making sacrifices to make ends meet, according to IRI. The latest IRI Consumer Connect Index highlights millennials' financial stress. The index, which monitors consumers' financial health and consumer packaged goods behaviors for factors such as brand loyalty, attitudes toward organic/natural foods and beverages, perception of national compared to store brands and frequency of using retailers' and manufacturers' coupons, came in at 97.6 in the third quarter for all consumers. However, the current index for millennials is lower at 94.5. With a benchmark score of 100, a score of more than 100 reflects consumers who are less price-driven, more loyal to favorite brands and better equipped to maintain their desired lifestyles without changes.
Overall, consumers' viewpoints are making a positive impact on private brand dollar sales, which increased 5.8 percent compared to 1.5 percent for national brands during the past year. In addition, private brand unit sales increased 3.8 percent compared to national brand unit sales decreases of 0.2 percent during the past year.
"Private brands are not all about price," Viamari said. "They are evolving with innovation and offer the quality, packaging and assortment that shoppers are seeking. Consumers are looking for more choices, and those retailers and manufacturers who are adjusting their strategy to meet those needs will see greater success."