German retailers put private brands at center stage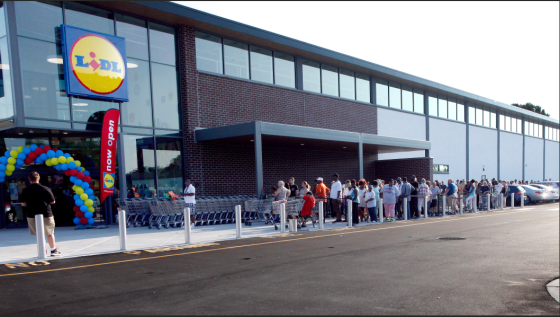 Last month I attended a Lidl store opening in Norfolk, Va. By the time the store opened at 7:30 a.m., there were about 400 sweaty people waiting in line in the early-morning heat to get in. Four-hundred people! No, Bruce Springsteen wasn't inside to greet them and sign autographs. But there was a slew of store brands on hand for them to purchase, which is why they were there.
Lidl, which has opened 17 stores on the East Coast, plans to open 100 stores by mid-2018. The German retailer, with U.S. operations based in Arlington, Va., hasn't made clear how many stores it plans to open in the United States in the next five to 10 years. But considering the chain has about 10,000 stores across Europe, it's a good bet that Lidl plans to open hundreds if not thousands of stores here in coming years.
Lidl's rival, German retailer Aldi, has been in the United States for many years. In June, to coincide with Lidl's first U.S. store openings, Aldi announced it would expand its presence from 1,600 to 2,500 stores nationwide by the end of 2022. If that happens, Aldi will become the third-largest grocery chain in the country behind Walmart and The Kroger Co.
Of course, Lidl's and Aldi's calling cards are low prices, convenience with their small-store formats, and quality products driven by about a 90 percent assortment of private brands. The two retailers also offer innovative and exclusive products. They seem to be doing most everything right when it comes to private brands.
This week, Aldi also announced it was teaming with Instacart to get into the grocery delivery game. It will test the service in Atlanta, Los Angeles and Dallas. Customers will be able to order groceries from Aldi online and receive their deliveries within an hour. Expect Lidl to also get into grocery delivery as it grows.
As Aldi and Lidl continue to expand their stores and make their products more accessible through an increased omni-channel presence, more consumers will be exposed to their private brands. Who knows? In 20 years, the two German retailers could be the top two biggest grocers in the U.S.
They don't offer everything, but that's the point. Consumers don't have to decide what to purchase from five national brands and one store brand in a category.
The impact the German retailers will have on the grocery industry — and the national brands —could be dynamic and game-changing in the years to come.
And private brands will be at center stage.