Creativity displayed at PLMA show gives profession reason to be proud
Get great content like this right in your inbox.
Subscribe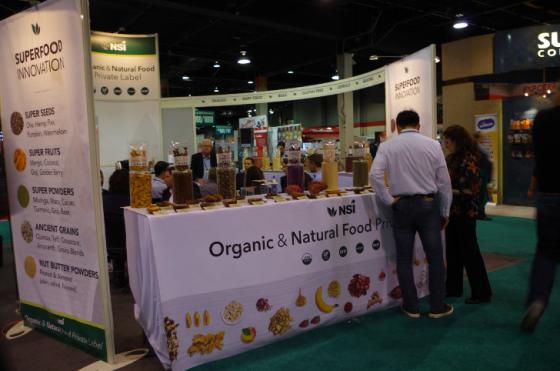 As I walked the exhibit floor at the Private Label Trade Show last week, my eyes delighted in the exuberance of color and my taste buds in the tremendous and tempting array of sweet, savory and salty product samples on display at the annual gathering of the Private Label Manufacturers Association (PLMA) in Rosemont, Ill.
Even more than last year, the show was on-trend, with exhibitors touting natural and organic, free-from and sustainable offerings. At one booth, that of Encino, Calif.-based Natural Sourcing International (NSI), I couldn't believe the kaleidoscopic assortment of dried fruits on display on a long table on one side of the large exhibit. Until I sampled them at the NSI booth, I had never tried dried watermelon or dragon fruit before.
The packaging innovations in evidence also seized my attention. For example, as Ayer, Mass.-based Catania Oils demonstrated at its booth, a bag-in-box system for extra-virgin olive oil improves the product's shelf life and ease of dispensing — on top of a number of environmental advantages such as less landfill waste and more efficient shipping for the same volume of oil.
Like last year, snack food manufacturers and vendors of sauces, seasonings, oils and condiments were especially prominent. Indeed, PLMA's 536-page show directory this year devotes 14 pages to listings of snack and confectionary vendors exhibiting at the show. Many of these companies have added unique flavors and textures, and simpler and more natural variations of national brand equivalents.
While suppliers grabbed the spotlight on the show floor, retailers took center stage in the international Idea Supermarket, an area off of the lobby of the Donald E. Stephens Convention Center. With Germany leading other countries in new product introductions with vegan claims, it was fitting that the Idea Supermarket displayed SKUs from two private brand vegan lines developed by German supermarket chains: Kaufland's "take it veggie" range, which features such items as frozen vegan lasagna and vegan pizza and oat "milk," and Famila's "Vegan Leben" range, which includes everything from canned vegetables to plant-based protein shakes.
New this year at the Private Label Trade Show was a special exhibition of housewares and home products. According to the PLMA, U.S. spending for housewares increased 9.4 percent in 2016 compared to 2015. And a growing number of U.S. grocery chains are starting to add private brand housewares and kitchen product lines. The Idea Supermarket, in turn, showcased Publix Wooden Salad Bowls as well as H-E-B-brand dinnerware inspired by the bright, bold color palette traditional in Mexico.
One surprise for me in the Idea Supermarket was seeing Walgreens Boots Alliance's new CYO Cosmetics line, an affordable but quirky assortment of products aimed at adventurous millennials who love to experiment and disrupt norms. "Break hearts. Break rules. Break boundaries," urges Walgreens' promotional messaging for the line. CYO joins the retailer's other idiosyncratic health and beauty lines, including Soap & Glory, No. 7 and Botanics (named by Store Brands as the 2017 Best New Store Brand Non-Food Product or Line). Clearly, the drugstore chain understands that personalization is critical in the beauty realm.
With a recent redesign by the branding and design agency Anthem, Albertsons' The Snack Artist line of salty snacks also captivated attendees with its whimsical and witty "doodle on a napkin" illustrations that incorporate a photo of the product. Based on this engaging design, I can imagine many Frito-Lay fans giving the Snack Artist chips a try.
Just outside of the Idea Supermarket, PLMA displayed the 2017 winners of its "Salute to Excellence" awards in a glass case. The winning products ranged from Whole Foods Market's 365 Everyday Value Limited Edition Coconut Craze Granola to Wegmans Just Picked and Quickly Frozen Portabella Mushrooms to 7-Eleven's 7-Select Go!Yum Cashews.
With such delicious and intriguing products and eye-catching, ground-breaking packaging, the private brands profession has reason to celebrate its achievements. To learn more about the Private Label Trade Show, be sure to read Store Brands' article on the event in our December issue.