11/22/2017
7-Eleven launches 'fashion-forward' cosmetics line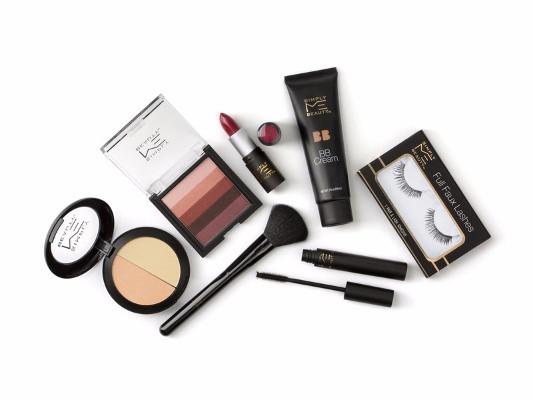 Irving, Texas-based 7-Eleven is targeting on-the-go millennial women with its new private brand cosmetics line, Simply Me Beauty, which the retailer describes as "affordable" and "fashion-forward."
The assortment consists of 40 items, each priced between $3 and $5. The collection of cosmetics and cosmetic accessories for the face, eyes and lips includes offerings for day or night use, different complexion types and skin tones.
"The beauty industry has seen dramatic growth of cost-conscious cosmetics in the marketplace because millennial women are looking for a variety of colors at affordable prices," said Lindsay Robertson, 7-Eleven product development category manager, in a press release. "They like to buy and try, and our goal when developing the Simply Me Beauty line was to create a line of makeup that had a quality look and feel without a high price barrier."
Beauty products constitute a $46 billion industry that is expected to increase by 12 percent by 2020, according to 7-Eleven. Drug stores and supermarkets have 30 percent of this market, and 7-Eleven plans to gain market share in a big way with this introduction, the retailer stated.
Items in the line's freestanding "Gorgeous on the Go" display include eyeshadow palettes, blushers, highlighter, bronzer, blemish balm (BB) foundation creams, hi-definition concealers, volumizing mascara, eyebrow powder and wax, eyeliner, lip gloss and crayons, cream lipsticks, translucent powder compact, faux eyelashes, assorted makeup brushes, blender sponge, eye makeup remover, nail buffer and nail polish remover.
"Convenience isn't always just about a quick stop for something to eat and drink," said Jack Stout, 7-Eleven's senior vice president of merchandising. "7-Eleven tries to offer our customers solutions for lots of different needs. We believe that for many, this top quality line of cosmetics and cosmetic accessories can become regular purchases in addition to fill-in stops."
Often makeup items such as lip and eye colors are spur-of-the-moment impulse buys, added Joy Pico, 7-Eleven category manager. "If the price is right, that makes it easier to justify. For a millennial working woman wanting to refresh her makeup while grabbing lunch at 7-Eleven stores, Simply Me Beauty is a welcomed offering and is priced just right for her. "
7-Eleven is supporting the launch with a social media program during the holiday shopping season.