11/26/2018
Why store brands are chasing quality-seeking pet owners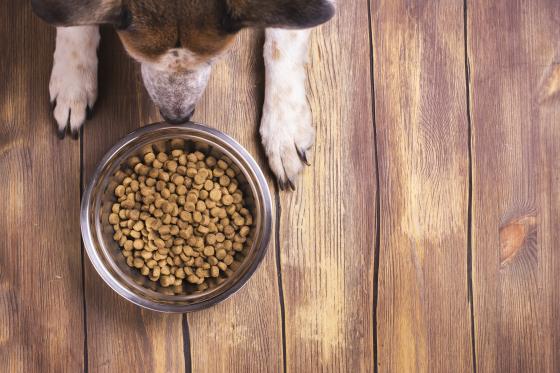 There's a lot going on in the pet food category, and it pays to be bold and innovative to compete, declares consumer market research provider Packaged Facts in its August report, "U.S. Pet Market Outlook, 2018-2019."
Private brand's standing in the pet food and supplies market is strong, with nearly $3 billion in 2017 sales (about three-fifths of that for pet food), market researcher Packaged Facts estimates, based on data from market researcher Nielsen and the Private Label Manufacturers Association.
But shoppers are rapidly migrating online, and internet sales are putting brick-and-mortar retailers "on a critical offensive," the report warns. Nearly $6.8 billion in pet products were sold online in 2017, and Packaged Facts estimates that will double by 2022.
Strong online representation, whether by a proprietary direct-selling website, a third-party seller or a combination of the two, will keep retailers in the game, Packaged Facts concludes.
In terms of shopper attitudes, a survey of pet owners conducted in January and February by Packaged Facts found that 68 percent agreed (23 percent "strongly" and 45 percent "somewhat") that pet foods made in the U.S. are generally trustworthy. Only 14 percent said the same about pet foods made in China (6 percent "strongly" agreed and 8 percent "somewhat" agreed).
Asked if they would be willing to pay more for pet food products that are healthier for their pets, 75 percent said yes, with 36 percent strongly agreeing and 39 percent somewhat agreeing.
Not surprisingly, another Packaged Facts survey found that 90 percent of dog owners (73 percent "strongly") and 86 percent of cat owners (65 percent "strongly") consider their pets part of the family.
For millennials, pets are "practice" children, while for baby boomers they are "replacement" children, says Bill McKee, vice president of private label sales for Simmons Pet Food in Siloam Springs, Ark.
It's the ingredients
"Consumers want foods that not only feed their furry kids, but also offer wellness benefits. Thirty-three percent of pet parents choose pet foods and treats based on ingredients," says Chris Ruben, chief marketing officer of Eurocan Pet Products in New Hamburg, Ontario. "Retailers are looking for foods with limited, understandable ingredient decks that incorporate as many all-natural ingredients as possible."
Primarily, consumers seek quality ingredients and ingredient transparency. They want single-sourced meat proteins, U.S. sourcing and single or limited ingredients in their pet food, says Stephen Trachtenberg, president of New England Pet Products in Hudson, N.H.
Consumers are trading up to more nutritious and nutrient-dense formulas (typically meat-based with premium ingredients,) giving retailers higher gross profits and dollar sales, says Steve Mills, senior vice president of customer brands and co-manufacturing for American Nutrition in Ogden, Utah.
Consumers are also on the lookout for new, exciting and unique treats they can use to motivate and reward their pets, says Scott Jorgensen, private label manager for Carnivore Meat Co. LLC in Green Bay, Wis.
Trends with traction
Flexible packaging is "red hot" because it offers convenience, portability, portion control, palatability and above-average profit margins, McKee says, noting that cups and tubs in particular are showing extraordinary growth.
Jorgensen sees continued growth in mix-ins and toppers, particularly freeze-dried raw foods that can be added to a pet's current food for added health benefits. Freeze-dried raw foods, which can be rehydrated with water, broth or other liquids, comprise the fastest-growing category in pet food, Jorgensen says.
Mills sees continued interest in more complex and higher-cost formulas with unique ingredients, kibble with inclusions such as fruits and vegetables and kibble with special coatings.
Products with functional benefits for aging pets, such as those designed to support hip and joint function or control weight, are also poised for growth, Ruben says.
Cannabidiol (CBD), hemp and superfoods are likely to be the next big things in pet food, Ruben adds. "Humans and pets with varying causes of pain and anxiety benefit from these components, and the pet specialty trade has already embraced these products," he explains.
Trendsetters
There's no doubt that millennials are responsible for many of today's pet food trends, McKee says.
"The move to limited-ingredient foods with clear, identifiable ingredients is rooted in their desire for truth and transparency with their own food choices," he adds. "They are also adventurous with their cuisines, which has led to the use of exotic proteins such as duck and buffalo, and popular inclusions such as pumpkin, kale and pomegranate in pet food and treats."
Millennials desire more transparency, Mills says, and want to know where the product is made, where the ingredients come from, what is the nutrient content, what the information in the Guaranteed Analysis panel means and how it is calculated.
They are also focused on certifications, such as Certified Humane, Trachtenberg adds. "They want to see the next layer of accountability. They want to hold their suppliers verifiably accountable."
Not only are millennials more apt to choose products that feature all-natural ingredients from trusted sources, they demand transparency in the supply chain and production process, and prefer products, companies and retailers that support a cause they believe in, Ruben says.
This on-the-go generation is also attracted to lightweight, easy-to-use and throw-in-the-backpack-and-go foods that their pets enjoy eating and that keep them healthy, Jorgensen notes.
McKee also credits millennials for a rise in the growth of the small dog population, "no doubt" due to the their propensity to live in urban environments.