What organics have done for private brands
Get great content like this right in your inbox.
Subscribe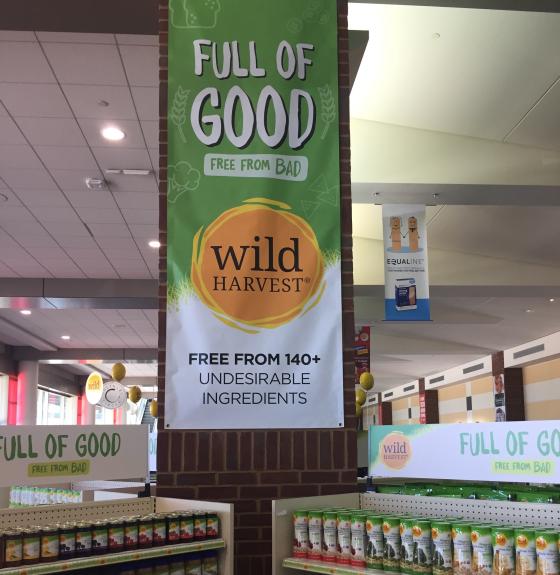 Some store brands are executed so well that consumers believe they are branded products. Several retailers' own brands of free-from and organic products come to mind, including SuperValu's Wild Harvest store brand, which turns 10 years old this year. If anything, the premium products in these free-from and organic lines have made many consumers forget about the uninspired private brands of yesteryear.
Tuesday, July 24, during SuperValu's 2018 National Expo in St. Paul, Minn., I attended a seminar on Wild Harvest, which was launched in 2008 and received a brand refresh about three years ago and continues to get updates, which was a focus of the seminar. This year, Wild Harvest will introduce 80 new products, including a slew of items in a new bath and body line. The Eden Prairie, Minn.-based wholesaler and retailer also recently introduced a catchy new tagline — "Full of good, free from bad" — aimed at all consumers, but especially at millennials.
Wild Harvest now features more than 700 free-from and organic items across 80 categories. And SuperValu likes to point out that the line is free from a list of more than 140 undesirable ingredients — and growing.
"We continue to see year-over-year growth of Wild Harvest," said Bekah Swan, SuperValu's vice president of private brands.
Thanks to private brands like Wild Harvest, free-from and organic store brands are dominating the category and outselling their branded counterparts by 10 percent according, to market researcher Nielsen.
Clearly, SuperValu, which operates the banners Cub Foods, Hornbachers, Shop 'N Save and Shoppers, continues to invest in Wild Harvest, which is now its second-largest store brand.
And as the demand for free-from and organic products continues to grow, so will Wild Harvest.
"Consumers across all income levels are purchasing organics," Brian Kroening, SuperValu's regulatory manager, said during the seminar.
And why not? While priced higher than conventional items, premium, private branded, free-from and organic items cost much less than their branded counterparts.
Is there more of a success story in the world of store brands than what private brands have done and continue to do in the free-from and organic category? Considering there's ample room for growth, free-from and organic store brands like Wild Harvest may be just getting started, and will continue to play a key role in the overall success of store brands.
In a related matter, SuperValu was acquired Thursday by United Natural Foods Inc.