07/26/2018
United Natural Foods Inc. buys Supervalu for $2.9 billion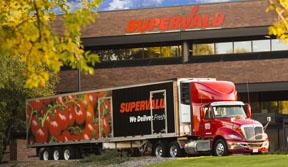 Providence, R.I.-based United Natural Foods Inc. (UNFI) is buying Eden Prairie, Minn.-based SuperValu for approximately $2.9 billion, including the assumption of debt. According to a press release, the deal will likely help the grocery food wholesaler accelerate its growth, further diversify its customer base and enable it to cross-sell popular products in perimeter categories such as meat and produce.
In time, UNFI said it will divest SuperValu's retail operations, including Cub Foods, Hornbacher's, Shop 'N Save and Shoppers. SuperValu offers several private brand lines, including Wild Harvest.
UNFI specializes in natural and organic distribution, with more than one-third of its business stemming from a long-term supply contract with Amazon's Whole Foods Market. Calling the deal "a transformative combination creating North America's premier food wholesaler," SuperValu explained the decision in a press release as "vastly broadening UNFI's reach into more conventional foods and ethnic markets."
"This transaction accelerates UNFI's 'build out the store' growth strategy by immediately enhancing our product range, equipping us to bring an attractive, comprehensive product portfolio to an expanded universe of customers," said Steve Spinner, UNFI's CEO and chairman, in a statement. "Combining our leading position in natural and organic foods with SuperValu's presence in fast-turning products makes us the partner of choice for a broader range of customers. ... These benefits, plus our increased efficiency and productivity, will enable us to create value for our shareholders, enhance opportunities for our suppliers, provide a broader assortment for our customers and create new prospects for our associates over the long term."
"The combination of UNFI and SuperValu provides a substantial premium and delivers certainty of value to our stockholders, meaningful benefits to our customers, expanded opportunities for our employees, and the ability for us and our vendors to efficiently serve a varied customer base," said Mark Gross, SuperValu's CEO, in a statement. "We have been executing an ambitious strategic transformation for over two years. We believe that this transaction is the best and natural next step for our stockholders, customers and employees. I am confident that, together, SuperValu and UNFI will be well positioned to succeed — and to help our customers succeed — in today's grocery landscape."
SuperValu also announced its first-quarter earnings on Thursday. Acquiring Associated Grocers of Florida and Unified Grocers last year appears to have been a favorable move for SuperValu, which said that the deals contributed more than $1.3 billion in wholesale sales growth during the first quarter of fiscal 2019.