Walmart relaunching Parent's Choice
Get great content like this right in your inbox.
Subscribe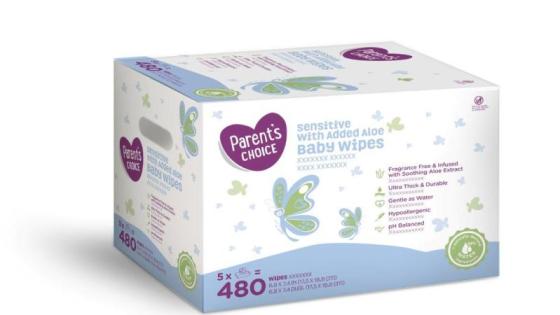 Bentonville, Ark.-based Walmart is doing a "total relaunch" of its private brand Parent's Choice line, which will include 120 new items and about 100 renovated items.
Walmart said that "everything from diapers to blankets to wipes to baby food" are part of the launch and all items will still be offered at the same everyday low prices.
Parent's Choice began 20 years ago as a line with one item — baby formula. With the revamp and relaunch, the line will grow to more than 275 items. Walmart said Parent's Choice is its largest baby brand by items sold and also its fastest-growing baby brand.
"As parents ourselves, we know what products are needed most, and we've raised the bar on quality for these Parent's Choice items and more," said Diana Marshall, vice president of baby for Walmart U.S. "On top of this, we've added even more items we know our customers are looking for, such as premium diapers and a line of ultra-cute, ultra-soft bedding. With these new and upgraded products, parents can stay on-trend and under budget while focusing on what really matters: their little bundle of joy."
While the items have been hitting shelves this year and will continue to roll out through January, the biggest piece of the brand relaunch — a premium diaper and a 53-piece bedding line — just launched in stores and will be available on Walmart.com next month. Parent's Choice will also feature a refreshed logo.
The Parent's Choice Bedding Collection includes receiving blankets, crib sheets, changing pads, baby blankets and nursery sets. All items are $40 or less, with the majority of items priced less than $13.
After intensive research, testing and highly advanced product refinement, Walmart is introducing a Parent's Choice Premium Diaper (starting at $7.24), available in select stores and on Walmart.com, which offers a number of high-quality features, especially for babies with sensitive skin. The diaper's lining is made with highly absorbent materials — including pulp harvested from sustainably managed forests — and delivers up to 12 hours of dryness, according to Walmart.
Approximately 150 other items spanning virtually every baby category are also part of the brand reboot, including feeding items, wipes, toiletries and baby food.
"We're excited to introduce these new offerings alongside our trusted national brands so parents can spend less time thinking about where to find great baby products and how to pay for them, and more time bonding with their babies," Marshall said. "We'll continuing working hard to bring our customers even more high-quality, affordable baby essentials by Parent's Choice, in addition to our national brands, which continue to expand."