Walmart introduces Sam's Choice Italia
Get great content like this right in your inbox.
Subscribe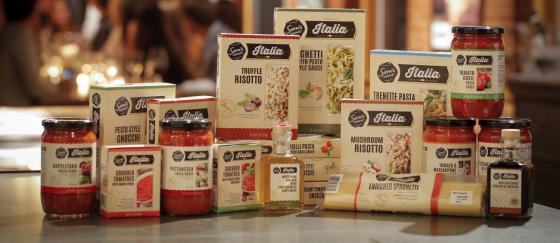 Walmart has teamed with the Italian Trade Agency on a new private brand — Sam's Choice Italia — featuring a line of authentic Italian cuisine at low prices, according to the Bentonville, Ark.-based retailer.
Sam's Choice Italia features 40 products and is available now in 3,600 stores and on Walmart.com. Items include boxed dinners, bagged pastas, pesto and pasta sauces, canned tomatoes, balsamic vinegar and frozen pizzas. Walmart is working with multiple large suppliers on the new line — all based in Italy.
Additional items will continue to roll out under the Sam's Choice Italia line.
"Teaming up with the Italian Trade Agency is one of the many ways our Sam's Choice brand brings authentic gourmet foods to families across America at everyday low prices," said Jack Pestello, senior vice president of private brands for Walmart U.S. "Sam's Choice Italia is just the latest example of how Walmart is continuing to improve and innovate our private brand offerings while staying true to quality and everyday low prices."
The Sam's Choice Italia products were put through extensive testing conducted at Walmart's Culinary and Innovation Center to ensure the flavors in each product stayed true to their Italian roots, according to Walmart. This is the first time the Italian Trade Agency has worked with a U.S. retailer on a full line of private brand products, the retailer noted.
"We are committed to bringing authentic Italian offerings to American households, so when Walmart approached us with this idea, we were immediately interested," said Michele Scannavini, president of the Italian Trade Agency, in a press release. "The Sam's Choice Italia recipes have high-quality ingredients from right here in Italy, so we can guarantee an authentic Italian experience for customers."
Walmart said in the press release that it is the nation's largest private brand player and is focused "on continually innovating products while still staying true to quality and everyday low prices."