Private label sales exploding at mass retail
Get great content like this right in your inbox.
Subscribe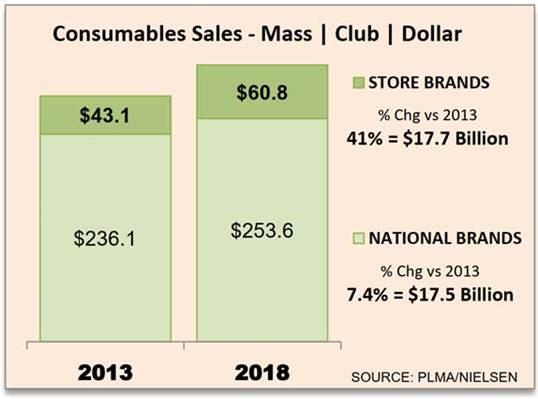 Private brand products are proving to be a powerful weapon for mass merchandisers, club stores and dollar stores as they compete against both Amazon and other brick and mortar retailers, according to the Private Label Manufacturers Association (PLMA).
An analysis of the latest Nielsen data reveals that private label dollar volume in the mass retail channel surged 41 percent over the last five years, compared to a gain of only 7.4% for national brands.
According to the article, the growth lead is even more pronounced when it comes to units. The same Nielsen data show that store brands volume climbed by 33.2%, while the national brands inched ahead by less than one percent. The gains in dollar and unit sales are generating significant market share increases for retailer brands in the mass channel as a result. Unit market share climbed to 23.2% in 2018, up from 18.5% in 2013. Meanwhile dollar market share advanced to 19.3% in 2018, up from 15.5% in 2013.
The success of store brands in the mass channel is posing a big challenge for national brands – a challenge that was clearly spelled out by Warren Buffett, a big investor in Kraft Heinz. In a recent interview with CNBC, he said the marketing colossus of well-known national brands had 2018 sales of only $26 billion compared with the $39 billion in sales posted by Kirkland, the private label of Costco, the leading warehouse club.