Packaging on the perimeter
Get great content like this right in your inbox.
Subscribe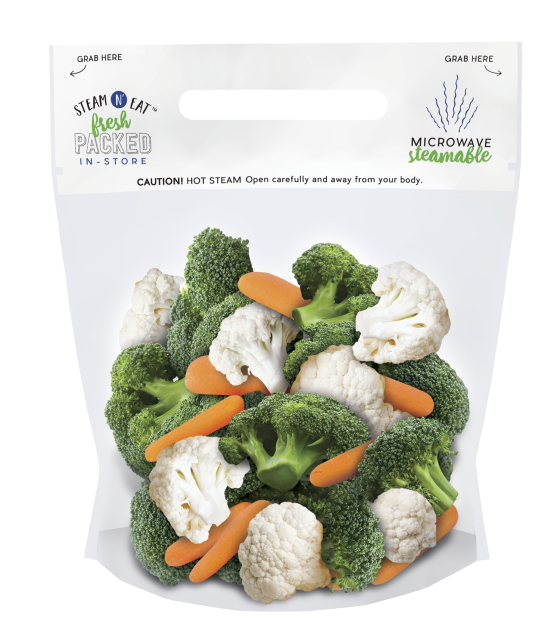 It has been said that the fresh department is the gateway to gaining consumer trust.
And with more retailers growing their store-branded fresh offerings — because of increased demand and the shrinking of the center store — packaging continues to play a vital role in gaining that trust.
"Fresh categories are critical for retailers in establishing perceptions with shoppers," says Tory Gundelach, vice president of retail insights for market researcher Kantar's Consulting Division. "This is one of the main reasons most retailers, particularly grocers, have fresh departments front and center when you walk in the door."
The role of packaging differs greatly by fresh category, Gundelach points out.
"In certain categories like produce, packaging can actually signal to the shopper that the product is not as fresh as open stock produce," she adds. "In areas like meat, packaging is critical for shoppers to feel like they are buying a safe product. Overall, it's critical that packaging in perishable categories keeps product fresh and protected during transport and while it is on the shelf."
Rebecca Casey, vice president of marketing and consumer market development for Chicago-based TC Transcontinental Packaging, says retailers want convenience in fresh packaging to appease consumer needs. TC Transcontinental Packaging manufactures flexible packaging for store brands, including fresh products. Casey says flexible packaging can fit the consumer's on-the-go lifestyle with convenience features such as zippers, handles, spouts and venting for microwaving. Oven cook-in can even be added to bags and pouches, she adds.
One of the latest ready-to-eat conveniences to enter the supermarket perimeter through flexible packaging is in the produce section, Casey notes.
"Flexible packaging is allowing retailers the ability to offer consumers fresh-cut product packed in-store with a value-added steamable feature," she says. "Consumers can take advantage of grab-n-go convenience, as well as enjoy healthy eating options that are simple and easy to prepare using the convenience of their microwave."
Casey says flexible packaging offers excellent protection barriers that can be customized to accommodate almost any type of fresh product by incorporating the barrier properties and macro- and micro-perfing technology to keep products fresh.
The "four Ps" of packaging
Glen Adamik, director of strategic marketing for Commerce, Calif.-based Elkay Plastics, which also offers flexible packaging, says the most important functional aspects of packaging as they pertain to fresh foods are the "four Ps," but not the same four Ps of marketing, which are product, price, placement and promotion.
"When it comes to packaging for food, I tell my team there's a different set of 'Ps' to be mindful of, which encapsulate the value packaging ought to deliver: presentation, protection, preservation and proposition," Adamik says.
Presentation means the package needs to present its contents in an aesthetically appealing way, he says. Protection means the package needs to protect products from the rigors of not only production, but shopper handling. Preservation cites that sealed, but often breathable packaging, needs to help extend, or at least not inhibit, product shelf life, according to Adamik. And proposition states that the package needs to act as a medium for conveying a brand's value proposition, knowing it will be read both in-store and at home.
The four Ps of packaging should also be in-sync with transparency, Adamik notes.
"Going beyond just the listed ingredients on the label, it's also important to consumers to see the physical product before purchase," he says. "They can determine on their own how fresh and how healthy the product is. Seeing the product through packaging also provides inspiration for consumers. The trend toward clear containers or transparent window packaging is definitely growing."
Sustainability in fresh packaging is also in increased demand.
"Consumers are demanding sustainable products that are recyclable or compostable," Casey says. "They wish to contribute to a better environment, starting with what they consume and reducing packaging waste. They are also asking to understand how recycling works, and how they can make a significant impact. There are definitely opportunities to educate them on the topic."
Casey says TC Transcontinental Packaging offers products that have less of an environmental impact throughout their entire life cycles.
"For example, flexible packaging is light and can be transported better," she says. "Our Hot N Handy bag for chicken greatly reduces the number of truckloads required for delivery compared to the average chicken dome. This feature reduces the carbon footprint produced during transportation."
Casey says TC Transcontinental Packaging wants to create a circular economy where all the players from sourcing, manufacturing and end-of-life management are involved and accountable to create the perfect sustainable package. "We believe that we need to work as a team to reach this objective together," she states.
Adamik says fresh department shoppers still have to satisfy both their desire for freshness as well as for convenience. He also says shoppers are ripe for packaging made of compostable material, and notes that Elkay Plastics is responding to this by releasing a new line of fully compostable bags in June.
"Plastic is still the hero of presenting, preserving and protecting food, and we have plenty of reasons to celebrate its benefits, Adamik adds. "At the same time, we continue to develop packaging options that might not include plastic at all in a continuous attempt to just make packaging better."
The future
As the fresh category continues to grow, so will packaging capabilities. New packaging designs that minimize waste and costs while still delivering on consumer conveniences will continue to grow, Casey says.
"Convenience features will be in high demand," she adds. "Also, single-serve and controlled-portion packaging appeals to several different consumer demographics in the fresh produce section. They allow consumers to snack healthy without being concerned with measuring to determine the nutritional content of a single-serving size."
Adamik says packaging of the future will likely be relied upon more to assist with maintaining an unbroken cold chain as home delivery continues to grow.
"In stores' fresh departments, packaging will likely need to accommodate more on-site packing — such as branded containers for bespoken meals or ingredient collections — or packaging that helps processors deliver goods that appear to have been packed in the store," he says. "We're even seeing changes to store lighting — from incandescent to LED — prompting changes to certain packaging material in an effort to optimize presentation."
Kantar's Gundelach predicts that consumers will keep pushing for more sustainable packaging in the future.
"We already see packaging-free stores popping up," she adds. "While [those stores] will most likely remain a niche trend, manufacturers should expect shoppers to demand improvements in the suitability of packaging compared to where we are today. Younger shoppers in particular want to see less plastic and just less packaging used overall."