Lidl's U.S. expansion marred by mistakes, CEO says
Get great content like this right in your inbox.
Subscribe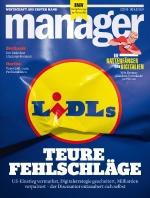 Germany-based Lidl landed in the United States last summer with much fanfare and planned to open 100 stores by mid-2018. That's not going to happen.
In addition, grocery pundits expected that Lidl would open hundreds of stores in coming years. That may not happen either.
"Several things have gone wrong" in Lidl's U.S. expansion, according to a recent cover story by the German business publication Manager Magazine, which featured the headline "Teure fehlschlage," which translates to "expensive failures" in English.
That statement comes not from a grocery pundit, but from Klaus Gehrig, CEO of the Schwarz-Group which owns Lidl, who also told the magazine he expects only 20 stores to open in 2018, which would give Lidl 68 U.S. stores.
"When one recognizes a mistake, one must also correct it," Gehrig said, noting that Lidl's U.S. expansion has been marred by a poor selection of store locations and stores that are too large and too expensive to operate. Gehrig told Manager Magazine that Lidl, which offers a 90 percent assortment of private brands, also didn't consider Americans' shopping preferences for items such as ready-made meals.
Lidl's U.S. is based in Arlington, Va., and most of its current stores are located on the East Coast. Lidl has more than 10,000 stores in 28 European countries.
"We must return to many of the old Lidl virtues which made us so successful," Gehrig told Manager Magazine.
For more on Lidl's entry into the U.S., read:
Lidl scraps plans for 4 new stores
Report says Lidl 'headed in right direction'