Kroger's McMullen — We won't lose on price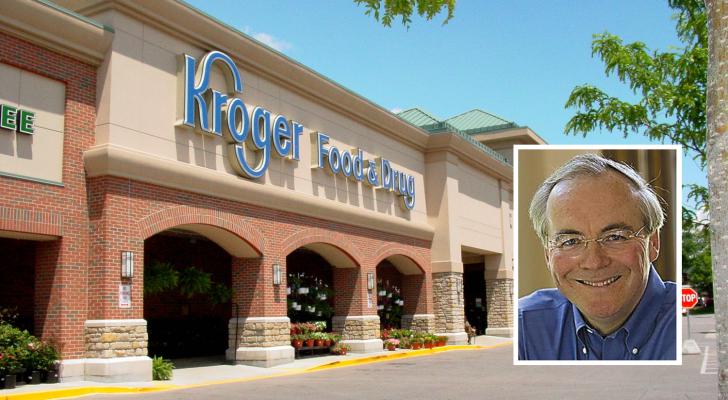 How low will The Kroger Co. go? That's what a lot of industry grocery experts, analysts and Kroger shareholders are wondering as the nation's second-largest grocer navigates a fiercely competitive industry partly driven by low prices.
During a conference call last Friday to announce its second-quarter earnings, Kroger CEO Rodney McMullen talked about pricing in a market where food prices are stealing the headlines, from Amazon lowering prices at Whole Foods Markets to newcomer Lidl promising that it won't be beat on pricing. And don't forget deep-discounter Aldi and Walmart with its "everyday low prices" in this equation.
McMullen cut to the chase during the call when talking about pricing.
"We won't lose on price, [but] we're not trying to lead the market down on price," he said.
Despite a return to positive comparable-store sales after two negative quarters, Kroger revealed a decline in earnings — $353 million compared with $383 million during the same period a year prior.
Kroger's battered stock dropped another 7 percent after the earnings announcement, even though the numbers were in line with what Wall Street was expecting, including earnings of 39 cents per share and an increase in revenue from 2016's second quarter.
But the consensus among experts, analysts and shareholders is that Kroger's lowering of its prices is chipping away at its profits.
At the outset of the conference call, McMullen vowed that Kroger is "transforming." He also threw down the gauntlet by announcing, "We see anyone who sells food as competitors in the future."
"We know that the massive $1.5 trillion U.S. food market creates a unique and sustainable growth opportunity for Kroger," McMullen said. "You'll see changes in the way we go to market. … Kroger has a history of successfully evolving to meet our customers' changing needs because we put the customer at the center of everything we do. We are reprioritizing and accelerating investments in our customer for strategy in order to anticipate and meet rapidly evolving consumer demands to shop with us for anything, anytime and anywhere." [Be sure sentence was copied correctly. It's a bit awkward, but I know it's a direct quote.]
McMullen indirectly acknowledged the news coverage of Amazon's lowering of Whole Foods' prices by noting that Kroger has offered natural and organic products at modest prices through its Simple Truth private brand since 2012.
"We are very proud of the role we have played for over a decade in making natural and organic products more affordable and accessible to America, especially for shoppers on a budget," McMullen said. "We have always believed that customers shouldn't have to pay higher prices just because a product is natural or organic."
Speaking of private brands, Mike Schlotman, Kroger's chief financial officer, noted the "amazing potential" of Kroger's store brands, called Our Brands, which grew more than national brands in grocery during the second quarter.
"Identical sales for Our Brands also outpaced identical supermarket sales," Schlotman said. "The second quarter brought strong sales and unit growth, with Our Brands representing 27.7 percent of total units sold, and 25.4 percent of sales dollars, excluding fuel and pharmacy."
Schlotman reaffirmed that Kroger's Our Brands "are the most loved brands sold in our stores."
McMullen said the potential of future sales of Kroger's Our Brands is "massive."
The grocery experts say that retailers need to offer products that their customers can't get anywhere else. While Kroger is doing that now with its Our Brands, does it sound like Kroger will play up its private brands even more to attract new and loyal customers, and increase sales and margins?
After all, Kroger is "transforming," as McMullen said.