07/11/2018
Kroger unveils new apparel brand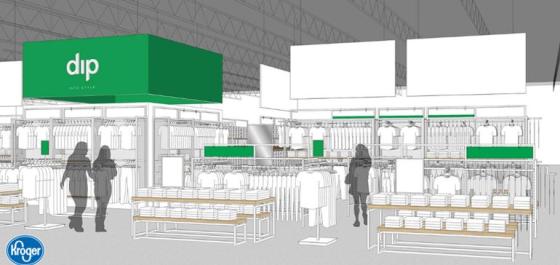 The Kroger Co. is partnering with globally recognized fashion designer Joe Mimran to unveil Dip, described as apparel that makes style effortless and affordable, the company announced in a press release. Cincinnati-based Kroger cited Mimran's three decades of expertise in the fashion industry as its reason for teaming with him.
"We've worked closely with Joe and his team to develop a line of clothing that works for today's times — easy to buy, easy to wear, and easy to love," noted Robert Clark, Kroger's senior vice president of merchandising. "Effortless style, every day of the week. Dip will transform our apparel business, further redefining the customer experience through Restock Kroger."
Dip — which will include men's, women's, junior's, kid's and baby collections—is designed to help busy, on-the-go people "live with style and get the most out of their fashion dollar," Kroger stated. Mimran created the flexible collections and seasonal highlights to help make creating outfits, or outfitting an entire family, quick and simple.
"Style should be fun," Mimran noted. "We believe good design can be affordable. It should fit into your life, not the other way around. "We looked at Kroger's unmatched heritage in food. We thought about the fun, easy energy of the clothes. We thought about what makes every gathering better, and it just kind of clicked — Dip."
Dip will replace more than a dozen of Kroger's private brand clothing brands. "The goal is to connect with our customers in innovative ways through Our Brands," Clark said. "Dip enables Kroger to provide a meaningfully better clothing experience, and ultimately, expand on the products and experiences that you can only get at our stores. Imagine grabbing a few groceries and then being able to dip over to the next aisle and finding your new favorite top or pants."
Dip will launch this fall across the country in more than 300 Fred Meyer and Kroger stores.