11/05/2018
Inside the Private Label Trade Show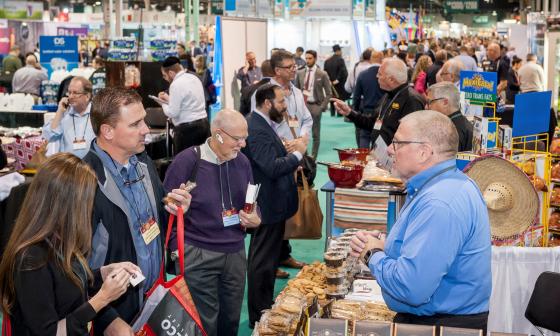 It's not easy to stage a huge trade show year after year. A show's organizers must keep a show's environment fresh and exciting. But it's a challenge the Private Label Manufacturers Association (PLMA) has embraced with its annual Private Label Trade Show.
PLMA President Brian Sharoff said show goers will definitely notice a few different twists in the 2018 Private Label Trade Show, set for Nov. 11-13 at the Donald E. Stephens Convention Center in Chicago. One is the show this year will feature several additional exhibitors of private brand housewares, kitchenware, cookware and small appliances. Last year, the PLMA opened the show to these exhibitors with much success, Sharoff said, so it only made sense to build on that. This year's show will feature about 60 exhibitors in those categories, up from 10 exhibitors last year.
Interest in housewares, kitchenware, cookware and small appliances is surging as top supermarket and mass retailing chains are devoting more space to these products under their own exclusive brands, according to the PLMA. So the show floor this year reflects the way in which retailers are merging their offerings, Sharoff said.
"Whether you go to a drugstore, a supermarket, a mass merchandiser or a wholesale club, they all have housewares, kitchenware and outdoor living [products]," he told Store Brands. "It's no longer a specialized retail environment where you go here for drugs and you go there for household products. We want to start to underline that new dimension in our product assortment."
Housewares and appliances topped the list of the fastest-growing store brands categories in U.S. supermarkets in 2017, increasing 18 percent in dollars and 52 percent in units according to data from market researcher Nielsen. Even bigger increases were recorded for the mass, club and dollar retail segment, where the gains for private brand housewares and appliances exceeded 38 percent in dollars and 53 percent in units, Nielsen stated.
According to a PLMA press release, exclusive product lines at major retail chains include Threshold and Room Essentials from Target; Mainstays from Walmart; Kirkland Signature from Costco Wholesale; Member's Mark from Sam's Club; Silvercrest and Ernesto from Lidl; Berkley & Jensen from BJ's Wholesale Club; Living Solutions from Walgreens; Smart Living from Giant/Stop & Shop; Chefstyle from H-E-B; Open Kitchen from Williams Sonoma; Grill Mark and Living Accents from Ace Hardware; and Real Simple from Meijer, among numerous others.
Show goers will also notice more attention paid to store brand wines at this year's show. The show will feature a wine pavilion where show goers can sample wine from private brand suppliers around the world.
Sharoff said more retailers, from Costco Wholesale to Aldi to Walmart and to Lidl, are using their private brand wines to build traffic.
"Wine has become a mainstay for supermarkets," Sharoff added. "It is a very important component in building store brands and building traffic for retailers."
With private brand sales growing as much as four times the rate of national brands based on recent reports from Nielsen and others, PLMA said this year's show is on pace to surpass even last year's record numbers for visitors and total exhibit space.
Exhibits at PLMA saw a gain of 5 percent last year over the previous year's event, and organizers says the largest industry event in North America dedicated entirely to store brands will expand again this year to fill three large halls at the Donald E. Stephens Convention Center, utilizing more than 1 million total square feet and occupying all available exhibit space.
The show will present more than 2,800 exhibit booths, with over 1,500 companies representing virtually all known consumer products categories in grocery as well as nonfoods.
Click here for a link to the show schedule.