Gen Z attitudes more positive about store brands and big brands
Get great content like this right in your inbox.
Subscribe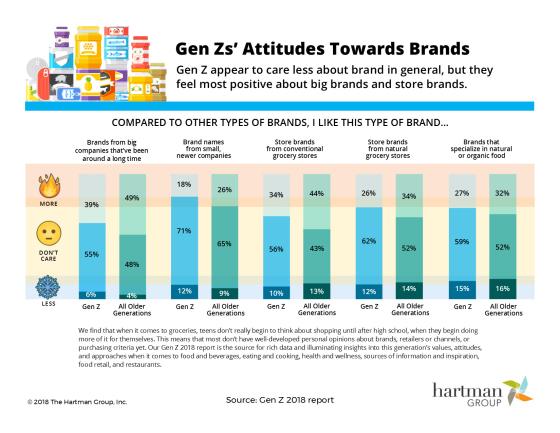 Generation Z ― the teen and 20-something demographic ― seems to be a very practical and frugal generation, according to a new 2018 report issued in June by Bellevue, Wash.-based The Hartman Group.
While the report indicates that 56 percent of Gen Z study participants said they don't care which brand of groceries they purchase, 34 percent of the group favors store brands from conventional grocery stores. The Hartman Group's interviews and data suggest that Gen Z will be much more attribute-oriented than brand-oriented, it said in a press release about the report. Except for a few iconic brands such as Oreos or Doritos, Gen Z is currently quite brand-agnostic.
The group grew up with store brands like Simple Truth, Kirkland Signature, Trader Joe's and Whole Foods Market's 365 Everyday Value, which devotees consider as good as, if not superior to, name brands. Being a store brand doesn't automatically make something lower quality or less appealing, the press release added.
In addition, 39 percent favor well-established brands from big companies yet 55 percent currently don't care. "At this stage of their lives, Gen Z is fairly brand-agnostic, except for a few iconic brands like Oreo, Goldfish or Cheetos," said Laurie Demeritt, CEO of The Hartman Group, in the press release. "Because these are typically what teens are buying for themselves, brands matter as a sign of quality."
However, Demeritt pointed out, as they gain independence and responsibility for shopping, high school graduates and 20-somethings are in a formative period regarding their brand and retailer perceptions and shopping habits.
"Price and location are typically primary considerations, since teens have limited funds and transportation options," she said. "Eating at home or [eating] food from home is usually the default, since teens don't have to buy it or cook it.
Still, Gen Z is already reaching about a quarter of the U.S. population, and is projected to eclipse millennials in size, Demeritt said.
Click here for a larger view of the infographic is pictured.