08/14/2018
Dealing with the transporting challenges of fresh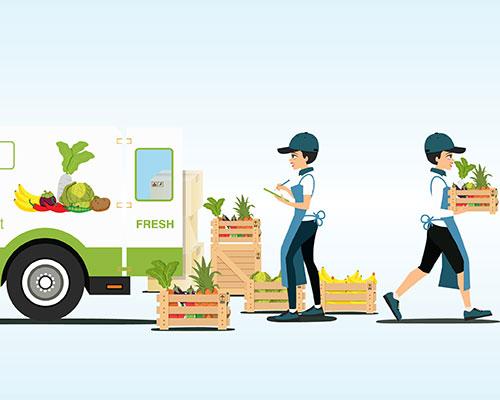 Retailers are finding the fresh section a fine opportunity for store brand growth, especially as the center store continues to shrink. That's all good, but it poses severe challenges when it comes to the transportation and logistics of fresh products.
"Supermarkets that have expanded their fresh produce sections have created an increase in the number of overall shipments in the industry, which coupled with the increasing driver shortage, has pushed the market pressure to levels that were unthinkable in the past," says Derek Beelen, an account executive for Choptank Transport, a Preston, Md.-based logistics company.
Fresh store brand products are usually outsourced to keep costs of production down for retailers, Beelen adds. But these products still require transportation on the production side with the need for raw materials or on the distribution side with finished goods.
"A lot of companies are switching to just-in-time inventory management, which creates a lot more time sensitivity and puts more pressure on the transportation market," Beelen says. "Add in the implementation of electronic logging devices (ELDs), and we see an increase in the request for team drivers to ensure that the supply chain is not interrupted."
With the shrinking of the grocery store's center store, which equates to fewer dry goods and more retailers expanding their fresh sections with store brand products, there is also an increase in the amount of temperature-controlled freight hauled on refrigerated trailers, says Jennifer Vander Zanden, vice president of fuel recovery at Breakthrough Fuel, a global transportation energy management and advisory company.
"This shifts the demographic of service requirements from a carrier and adds an incremental cost of fuel used to maintain the temperature of the trailer," Vander Zanden adds. "In addition, fresh sections of the store have a shorter shelf life than the center store, which places the focus on how to decrease transit time to customers in an effort to maximize consumption and reduce food waste."
The combination of refrigerated equipment requirements and decreased transit time can pose challenges for the use of intermodal shipping for mid-to-long length of haul, due to equipment availability and increased transit on some lanes for intermodal schedules, Vander Zanden points out.
Beelen notes a truck that has a breakdown or misses an appointment can cause a critical shortage in the supply chain, and the customer will not have excess inventory to pull from to stock the shelves until the next truck arrives.
Getting squeezed
With the increase of retailers selling their private brands online, those in logistics and transportation are getting squeezed from all sides, says Kerry Byrne, president of Total Quality Logistics (TQL), a Cincinnati-based freight brokerage firm.
"From the carrier side of the equation, we are in one of the tightest capacity markets we've ever experienced," Byrne says. "On the shipper's side, customer expectations for fast deliveries has put enormous pressure on retailers and distributors to be able to deliver merchandise to customers in at least two days, if not two hours. Shippers are looking at reconfiguring everything in their supply chain from where their warehouses and stores are located down to how to provide accurate visibility into tracking shipments."
Vander Zanden says the direct-to-consumer e-commerce model creates a significant shift in how food moves through a supply chain of the final mile.
"Instead of retailers moving products from a distribution center to a store where a consumer will ultimately pick up the purchased item, a significant focus is put into the fulfillment at a distribution center that feeds into a parcel service for the final mile of the journey to the customer," she adds.
Emerging trends
Regarding private brands, other emerging trends in logistics and transportation are related to real-time visibility and new technologies that improve the timeliness, transparency and safety of products to market, Beelen says.
"There are a large number of breakthrough apps that are streamlining everything from pickup to delivery to reducing idle time to truck parking availability and more," he adds. "We have seen an increase in the number of our customers that are requesting real-time monitoring for temperature and location. As blockchain becomes more and more relevant, retailers and potentially consumers will be able to track products from the fields to store shelves."
Byrne agrees that visibility continues to be a dominant trend in logistics — and more than just being able to track a delivery.
"With advanced data analytics, we are trying to help shippers understand the true costs of shipping, and make recommendations on how to route freight, schedule shipments, optimize loading and unloading, and intelligently source carriers so they can meet consumer expectations of one-day and at most two-day delivery windows," he states.
Vander Zanden says many food and consumer products shippers have recently expressed challenges with the rising costs in moving products to market during shareholder meetings.
"The cost in moving products to market has felt upward pressure on two fronts over the past year: one, fuel prices have increased by more than 30 percent from 2017 to 2018; and two, the transportation market has had upward pressure due to carrier capacity. For private brands, where prices may be locked in for an extended period of time, these price increases can cause challenges. to margin," she adds.