Creating the covetable
Get great content like this right in your inbox.
Subscribe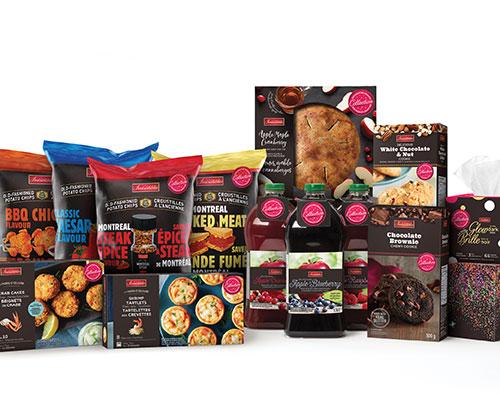 From quirky one-off items to entire commemorative or seasonal product lines, grocery retailers in North America are starting to use limited-time private brand offerings to build buzz, drive demand and establish unique experiences for customers.
Very few U.S. supermarket chains do this well, however, so those that get it, stand out, observes Diana Sheehan, vice president of retail and shopper insights for Kantar Consulting. San Antonio, Texas-based
H-E-B is "best in class," she says, when it comes to creating must-have items that connect emotionally with consumers.
Take the limited-edition Selena tote bag that went on sale at select H-E-B stores on March 2 — an exclusive item the retailer developed in partnership with the Selena Foundation. As Sheehan, who grew up near Corpus Christi, points out, everyone in south Texas is familiar with the late Selena Quintanilla, an acclaimed Tejana singer and songwriter who is stilled referred to as the "Queen of Cumbia" by her legions of fans.
"That bag — it blew up my Facebook feed the day it came out because there were so many people asking which H-E-B store has the bags. They sold out," remembers Sheehan, who lives in the Chicago area, but still has family in Texas. The $2 bags, in fact, were listed on eBay for as much as $50 barely 15 minutes after they first went on sale.
While some customers were undoubtedly frustrated — H-E-B's website even crashed because of excess traffic that day — those who successfully purchased the Selena bags became part of a special, enviable group with the right to brag about their beloved acquisition on social media.
Similarly, when five-time NBA champion Tim Duncan, the San Antonio Spurs' enormously popular and philanthropic power forward, retired in 2016 after a 19-year career with the team, H-E-B came out with a limited-edition private-branded cereal called H-E-B Slam Duncan O's.
"It was a limited run; and when it was out, it was out," Sheehan recalls. "But during that time, it drove people to the store in that perfect way — connecting to that Texas core using a private brand product."
At Trader Joe's, Monrovia, Calif., where more than 80 percent of the products are private brands, limited-availability SKUs are always on sale to add novelty and excitement to an already fun shopping experience. For example, the Trader Joe's Fireworks Chocolate Bar, a spicy dark chocolate bar, sold at checkout as an impulse item, was a big hit in 2016 but did not remain in stores long.
The retailer's multitudinous online fans have been speculating that the new Trader Joe's Lemon Elderflower Soda is a limited-run item that pays homage to the much-anticipated May 19 royal wedding of Prince Harry and the ever-popular "American princess" Meghan Markle, who have announced they will have a lemon and elderflower wedding cake.
Montreal-based Metro, a Canadian grocery retailer, also uses limited-time products and lines to surprise and delight customers and get them talking. Last year, the company offered a limited-edition glow-in-the-dark box of private brand facial tissues. The box was designed and printed using phosphorescent ink to create a "celebratory and festive customer experience," Metro stated in a press release, noting that the retailer was the first company in North America and possibly the first in the world to launch a tissue box with this technology.
"At night, I am always turning on the light to find my tissues," explains Marie Horodecki-Aymes, director of design and packaging for Metro Brands, who came up with the idea. "So it occurred to me that a tissue box with light would be perfect.
"People were just crazy about it in our stores," she adds, noting that it was a useful as well as fun and decorative product with a design suggestive of champagne bubbles.
Although better known for food, Metro already had a reputation for high-quality store brand facial tissues in attractive boxes, so the glow-in-the-dark box took an already popular non-food product to a higher level of enjoyment, according to Horodecki-Aymes. Yet the retailer had no intention of making the product permanent in part because of the complexities and higher costs involved in producing the item, which was priced like a typical box of tissues, but also because the novelty and freshness of unconventional SKUs is what drives demand.
Playful twists, standout collections
More challenging than developing unique, individual short-run products is creating an entire limited-edition line of store brand SKUs, each complementing the other and reflecting a unifying theme. This is what Metro has done with Collection, which is part of its premium Irresistibles private brand. The retailer created Collection last year to commemorate three major birthdays converging in 2017: Metro turned 70, while Montreal celebrated its 375th anniversary and Canada its 150th.
The Collection range consists of 18 SKUs that are mostly fun and indulgent food items such as a pie, two varieties of cookies, two types of frozen seafood hors d'oeuvres and four potato chip flavors: Steak Spice; Classic Caesar; BBQ Chicken; and Montreal Smoked Meat. The line also includes new twists on maple syrup, for which Canada is famous, and vinegar, which is also very popular in the country.
It's no coincidence that the SKUs in the range are suitable for a party, celebratory brunch or other festive meal, but they also represent categories in which store brand products are star performers.
"We looked at the categories that our clients prefer and looked at what kind of twist we could give to each product and each category," Horodecki-Aymes explains. "With our Collection, we're offering them very exceptional new products that you will only find at Metro."
Launched last fall, the Collection line is still on store shelves. Metro will be analyzing sales data to see whether any of the items will become part of Metro's Signature range. "We will see which products our clients fell in love with," as Horodecki-Aymes puts it. In other words, limited-edition offerings can serve as a way to pilot test potentially permanent store brand items, taking some of the risk out of the product launch process while also fostering creative experimentation.
In the U.S., it's not uncommon for supermarkets to offer seasonal store brand items. But Ahold Delhaize USA stands out from the rest with its Limited Time Originals Program — a program consisting of elaborate rotating flavor-based assortments of distinct private brand SKUs.
Recognized by Store Brands as the Best Store Brand Marketing Campaign of 2017, the Limited Time Originals Program is offered across all of Ahold Delhaize's U.S. banners, from Quincy, Mass.-based Stop & Shop to Scarborough, Maine-headquartered Hannaford. The program emphasizes a different flavor (or sometimes two flavors) every six weeks throughout the year and features 30 to 60 unique store brand items in that flavor profile at a time. Highlighted flavors have included Limoncello, Salted Caramel, Toasted Coconut, Twisted Chocolate and Hot, to name just a few.
The Limoncello program, for example, ran in mid-summer last year and included a wide assortment of own-brand SKUs such as Limoncello Artisan Bread, Limoncello Extra Virgin Olive Oil, Limoncello Ice Cream Sandwiches, Limoncello Risotto and, of course, Limoncello Lemonade.
The Limited Time Originals Program is about differentiating Ahold Delhaize's banners from the competition, bringing innovation to consumers, and truly trying to inspire customers with uniquely flavored items, says Juan C. De Paoli, senior vice president for private brands at Ahold Delhaize's Retail Business Services subsidiary.
"In order to innovate and develop distinctive products, you have to push the envelope a little bit," De Paoli notes. "If you don't push the envelope a little bit, the innovation won't happen."
The company decides what flavors to showcase by looking at trends and talking to customers, adds Jac Ross, senior director for own brands product development, innovation and integrity at Ahold Delhaize's Retail Business Services. "But it's not about a flavor profile; it's having that twist to it," she says. "That's the key thing that makes it stand out and look different from other products out there."
First tested in 2014 and rolled out officially in 2015, the Limited Time Originals Program repeats successful flavors based on popular demand but the best-selling SKUs will not turn into permanently stocked products.
"There are many items our customers want us to introduce as regular items," De Paoli says. "But this [program] is a play on scarcity marketing — the idea of having items that our customers are looking forward to getting again in the future because they are not available today."
Paoli notes that scarcity marketing also encourages customers to stock up on their limited-time favorites, whether Limoncello blueberry pie ice cream or pumpkin pasta sauce. "Customers buy cases of it at a time because they know it's going to go away," he says of the pasta sauce.
The fear of missing out also drives consumers to try limited-time offerings, especially after reading positive reviews about these products online.
Social media has a tremendous impact on limited-time products, De Paoli observes. Shoppers will rave about an item on Facebook and other channels if they like it, and other customers will buy the product.
"Customers trust other customers more than they trust anybody else," De Paoli adds.
The Limited Time Originals Program, he points out, has also had a "halo effect," spurring shoppers to purchase other private brand products at Ahold Delhaize's U.S. stores.
Lawrence Aylward, editor-in-chief of Store Brands, also contributed to this story.