Cooking customizers
Get great content like this right in your inbox.
Subscribe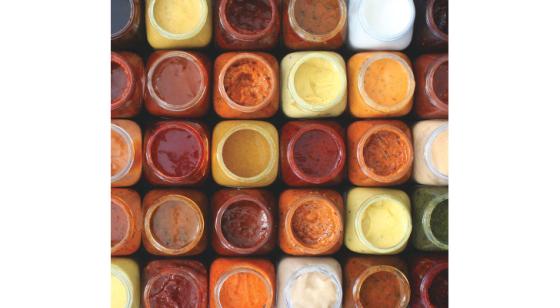 One food trend that shows no signs of slowing is food customization — and sauces and marinades help consumers customize meats, pasta and other favorites with the flavors they want. So the sauce and marinade category continues to grow.
According to the December 2015 report titled "Cooking and Pasta Sauces, Marinades — US," published by global market research firm Mintel, sauces and marinades realized 12 percent growth from 2010 to 2015, and are expected to rise 13 percent from 2015 to 2020, hitting $6.2 billion. Marinades, in particular, are doing well, with sales increasing 34 percent from 2010 to 2015.
The really good news for retailers is that store brands are sharing in some of the category's growth.
"We've seen a lot of retailers succeed with private label branded sauces as a whole," says Ruth Madison, director of marketing for Baltimore, Md.-based Tulkoff Food Products Inc., which produces a range of sauces for private labeling and also does custom co-packing. "As far as private label perception, consumers are seeing the value private label products [offer] when compared to major brands in price and quality."
Retailers must stay on top of trends, however, if they want to continue the growth wave in own-brand sauces and marinades.
Offer quality
One trend that retailers should continue to focus on for this category is consumers' desire for cleaner, higher-quality ingredients. While the trend isn't exactly new, premium store brand sauces and marinades can help retailers stay competitive in a crowded space. According to Jill Tomeny, senior manager for fresh category solutions with Stamford, Conn.-based Daymon Worldwide, one challenge retailers face is increased competition from restaurant brands such as Panera and Olive Garden as they extend into grocery stores.
"It makes sense for retailers to work with that premium goal in mind for their private label," Tomeny says. "With cleaner labels more common now in brands, we've got a better grasp on the food science part of the equation, and we can build the critical mass it takes to keep these categories competitive from a pricing perspective."
How could retailers make sure shoppers perceive their sauces as being of premium quality? One way is through better-for-you ingredients and transparency in labeling.
"Consumers are looking for health benefits and ingredients that they know. They want clean ingredient labels which do not contain chemical-sounding [ingredients], and prefer simple ingredients that sound like they could come from the kitchen pantry," says AnnMarie Kraszweski, R&D lab manager for St. Francis, Wis.-based Wixon, a flavor and seasonings company. "Many consumers are looking for a sauce or marinade that could even provide an added boost of fiber or 'super-spices.'"
Another way to attain that premium perception is through the use ingredients that consumers associate with quality, with Tomeny pointing out extra-virgin olive oil and agave as examples.
Spice things up
Flavor also remains an important sales driver for sauces, and retailers should consider flavors that stand out. They might start by thinking globally, with Mintel noting that none of the top five flavors for cooking sauces are traditional American varieties.
"As consumers' taste expectations and preferences have become broader with a more international flair, so has their desire for more complex flavors," Kraszweski says.
She points to Indian foods such as vindaloo, curry varieties and tikka masala; regional hot peppers such as Hatch chili and pasilla peppers; and regional barbecue flavors as trending, flavor-wise.
Even for flavors that are more standard, the inclusion of unique ingredients can grab shoppers attention.
"Sriracha has not seemed to slow down on the hot sauce side, and the use of alcohol bases like beer and bourbon continues to grow," Tomeny says.
The product's labeling, however, should clearly describe the flavor.
"Customers want to easily understand a new product's flavor profile," Tomeny says. "Exactly what does 'original' barbecue sauce taste like, for example? Give them clear descriptors that appeal to their foodie side."
Tom Nuijens, vice president of marketing and product development for Atlantic Beach, Fla.-based Half Moon Bay Trading Co., which produces a range of sauces and marinades for private label, also points to a trend toward flavor enhancers in exotic, tropical and ethnic flavor profiles. Retailers should "stay within mainstream acceptance parameters for families and busy millennial palates, while subtly pushing the envelope," he says. Hot sauces are an exception, however. Nuijens points to a trend here toward either fruit and pepper blends or "ridiculously hot" varieties that are "mostly or completely devoid of flavor" and make use of one of the currently trendy super-hot peppers.
Retailers should look to seasons or holidays for flavor inspiration, too.
"We are seeing a huge trend in seasonal and limited-time offer style sauces. This can be due to season or even just a flavor profile such as bacon," Madison says. "This product is then marketed in partnership with other items that are seasonal or that have a specific flavor focus."
Fire up interest
Also critical for this category is the active promotion of store brand offerings. One effective marketing tactic for sauces and marinades is cross-merchandising, Madison points out.
"Circulars, 'New' statements on packaging and coupon programs are great starts," she says, "but also try pairing [them] with other like items for a dual product purchase such as a head of lettuce and a bottle of dressing, or a box of private label spaghetti with a bottle of private label sauce."
Product claims work, too, but retailers should make sure they are using claims that speak to their particular customer base and are easy to view.
"On-packaging marketing is important and, when done correctly, is clear and directly to the point," Madison says. "Don't make the customer do all of the research by having to search for the content."
Tomeny also points out the need for retailers to look beyond the sauce and marinade aisle.
"This is really a 'tasting is believing' category. You're missing a huge opportunity if you're not leveraging the whole store," she says. "Besides building brand equity, you're increasing volumes for your suppliers and making sure that your whole store is engaged in selling your private label."
According to Nuijens, some of the marketing emphasis should be on convenience and "creating quick and easy exotic and healthy meals at home," too. He recommends messaging that conveys the ease of using the product — for example, "Simply open and pour on chicken before grilling."
And sampling events can help showcase the quality and versatility of own-brand sauces and marinades.
"A good year-round demo plan is essential — keep your products top of mind [with] your customers," Tomeny says. "While barbecue sauce sales spike in the summer, they are still a cold weather pantry staple."