Blog: Retailers should vet vending
Get great content like this right in your inbox.
Subscribe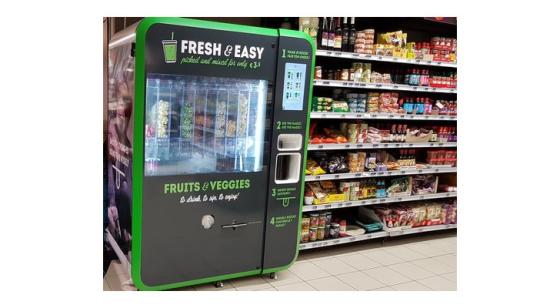 Recognizing that Generation Z prioritizes convenience, Amazon.com last week launched its Instant Pickup service on five college campuses around the country, and the service will soon expand to 22 campuses.
In a nutshell, Amazon Prime and Prime Student members can use a mobile app to order snacks, cold soda and other impulse and small essential items and retrieve them within two minutes from lockers at existing Amazon Prime pickup locations. Several media outlets have noted that this service competes directly with vending machines, which are ubiquitous on college campuses. Besides the usual candy bars, pop and salty snacks, campus vending machines today dispense everything from hot pizza to the morning-after pill.
While Amazon Instant Pickup requires digital ordering, either through a phone app or at an on-site kiosk, the concept's execution actually resembles an automat more than a row of modern vending machines. Amazon employees in an inventory room rush to fill the orders, hand-placing the items in lockers that open from the back as well as the front.
Marketing and branding expert Jerry Cole of Chicago-based Starpoint Consulting Group believes that Amazon will use the Instant Pickup service to sell its Wickedly Prime line and other Amazon private brand products as well as national brand items. To compete against Amazon, grocery retailers need to get more creative and test different methods for distributing their store brand packaged and fresh products, he suggests.
Although a growing number of U.S. grocery retailers are experimenting with the click-and-collect concept — with curbside pickup, staffed outposts or lockers — it's rare to find supermarket-branded instant order and delivery.
One advantage of the automat format is that it could enable customers to have near-immediate access to retailer-branded fresh-prepared salads, sandwiches and other grab-and-go meals and snacks, including hot items.
Automats had their heyday in the United States in the first half of the 20th century. Horn & Hardart, which once operated 40 automats in New York City, opened the first one in Philadelphia in 1902 and closed its last in 1991. But the concept of the automat is coming back with a modern twist.
San Francisco-based Eatsa, a contemporary automat chain that serves ethnic-inspired quinoa bowls, has seven locations so far in New York City; Washington, D.C.; San Francisco; and Berkeley, Calif. Eatsa is lively and convivial, according to Lydia Belanger, a staff writer for Entrepreneur.com.
"I left Eatsa with a completely different impression than I had expected. The ambiance wasn't cold and robotic — it was full of humanity, even when I wasn't interacting with a person," she wrote in a blog. 
"There were people everywhere, from other patrons conversing in groups to Eatsa employees scattered about and entering and exiting the back area," Belanger elaborated, noting that she also enjoyed the background music.
Would young adults like an in-store automat? Perhaps if it's fast, fun and quirky and the food tastes great.
"Generation Z exhibits some retro habits," observes Carol Spieckerman of Bentonville, Ark.-based Spieckerman Retail, who notes that this generation is completely comfortable with technology but also enjoys shopping in stores and socializing while eating out.
Fully automated vending machines, however, would probably be an easier way for grocery retailers to purvey their private brand panache. Consider these examples:
Six years ago, French baker Jean-Louis Hecht invented a baguette vending machine that he deployed in two locations outside of his Paris shop, allowing customers to pick up loaves of fresh-baked bread after hours. The machine takes a par-cooked loaf and finishes it for fifteen seconds in a 200°C oven before dispensing it. A similar baguette vending machine, Le Bread Xpress, is now available at two sites in San Francisco.
In 2012, an automated Kroger kiosk, which could vend 200 different items, opened on the campus of Ohio Northern University in Ada, a rural area more than 15 miles from the nearest Kroger supermarket. That Kroger store, in Kenton, Ohio, restocked the kiosk daily. Available from Shop24 Global and Oasis24seven, automated convenience stores are just beginning to take hold in the United States, while they are already a growing phenomenon in Europe.
Eater.com recently reported that a seafood purveyor in France created a vending machine that dispenses live oysters 24 hours a day. "People always arrived when the shop door is closed, which is frustrating for customers and for us," oyster farmer and breeder Tony Berthelot explained in an interview.
Adding local color and a bit of brand differentiation to the Whole Foods Market store in Houston's Montrose neighborhood, an  Art-o-mat former cigarette vending machine dispenses small works of art created primarily by Texas artists.
In Japan, which has the world's highest concentration of vending machines — 5.2 million in total, or one for every 23 people — it's possible for pedestrians to instantly purchase many items, from fresh vegetables and cartons of eggs to reading glasses, umbrellas, Buddhist amulets, fresh flowers and sneakers.
VTT Technical Research Centre of Finland is developing a vending machine that will 3-D print healthful, custom snacks on demand, according to an article posted on 3DPrintingIndustry.com. 
What's the takeaway for U.S. private brands? Grocery retailers should look globally for inspiration, use their imagination and not be afraid to test outlandish ideas in a sampling of stores. To engage younger shoppers, self-serve options need to be unique, fun, meaningful, high quality and fairly priced — an experience waiting to be shared via Snapchat or Instagram.
Schierhorn, the managing editor of Store Brands, can be reached at [email protected] Read her article on marketing to Generation Z in the September print edition of Store Brands.