01/28/2019
Albertsons Companies: A store brands success story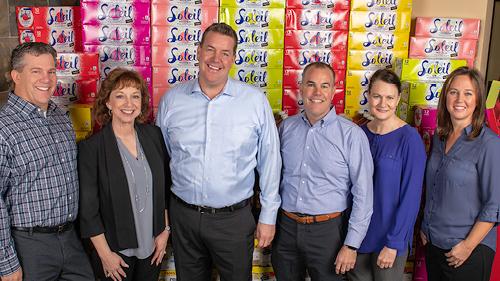 Editor's note: This story appears as the cover story in the January issue of Store Brands.
THE GUYS AT GEOFF WHITE'S barbershop talk about sports, politics and their kids. White wants to get them chatting about store brands … as in Albertsons Companies' store brands.
White is the president of Albertsons' Own Brands, which comprises the retailer's several store brand lines, including its Signature brands (Signature SELECT, Signature Café, Signature RESERVE, Signature Farms and Signature Care), O Organics, Open Nature, Lucerne Dairy Farms and others. White wants to make Albertsons' store brands so dang awesome that people will be talking about them everywhere, including his barbershop.
"When I go to get my haircut and the barber asks me what I do for a living, I will tell him," White says. "And when everybody in the barbershop hears what I say, I want them all to start talking about how much they like the private brands they purchase from us. I want our store brands to have a cult-like following where people just talk about them constantly."
Boise, Idaho-based Albertsons, founded in 1939, is the third-largest retail grocer in the U.S. behind Walmart and The Kroger Co. and operates more than 2,300 stores in 35 states and the District of Columbia under 20 banners, including Albertsons, Safeway, Vons, Jewel-Osco and others Today, it offers 12 store brands lines and more than 11,000 private brand products in over 500 categories.
White assumed his role in April 2017 with the goal to take Albertsons' store brands to another level and another level after that. He assembled a management team, located at the retailer's campus in Pleasanton, Calif., comprised of smart and seasoned grocery professionals who are just as zealous as White about making Albertsons' store brands famous in the grocery world. And they love to come to work every day to make that happen.
"Geoff has put together a diverse team; everybody brings something different to the table," says Nancy Cota, Albertsons' vice president of Own Brands, who has spent 42 years in the grocery industry. "That's what makes us so strong. And when you trust each other like we trust each other, you want to win together."
The latest sales numbers show that they are winning together. During a recent meeting with Store Brands at a Safeway store in Walnut Creek, Calif., to discuss Albertsons' private brands program, White revealed the retailer's Own Brands achieved a record 25 percent penetration rate in the company's 2018 fiscal second quarter.
UNDER WHITE, the Albertsons' Own Brands team has moved swiftly but efficiently to launch 1,100 new products in 2018, more than double the amount launched in 2017.
"When you have store brands with double-digit growth, why wouldn't you do that?" White asks. "We want to have a portfolio that meets all consumer needs."
Consider Albertsons' O Organics, which debuted in 2005 under Safeway, the grocery banner Albertsons acquired in 2015. O Organics is Albertsons' top-selling organic brand and achieved sales of $1 billion in 2018. The line has grown to over 1,200 products, including nearly 300 introduced in 2018, which are featured in produce, dairy, meat, deli, snacks and baby items. The line also recently extended to laundry detergent.
"If you live an organic lifestyle, you can do a full shop here," White says.
Open Nature, which launched under Safeway in 2011, is also expanding. The natural and free-from line, which extends across food and non-food categories, was redesigned in 2018 with a new logo and larger callouts to emphasize its high-quality ingredients and minimally processed stature. White expects Open Nature, which features more than 500 products, to soon be Albertsons' fifth $1 billion store brand after Signature SELECT, Signature Café, Lucerne and O Organics.
Cota, who spent 38 years at Safeway and whom White calls the "heart of our team," helped launched O Organics and Open Nature while at Safeway and has played a big part in their expansion. Cota, who has worked in private brands for 20 years, says "now" is the most exciting time she has spent in the sector because Albertsons has transformed into an innovator of private brands and is no longer just a supplier of national brand equivalent products.
"Our store brands have become a pillar of our organization," she adds.
Albertsons' innovation is especially evident in its new Signature RESERVE brand, which debuted last February as an addition to the retailer's Signature line. Signature RESERVE, hailed as an "ultra-premium" line, features ice creams, coffee, pasta sauces, loose-leaf tea and other products, all dressed in upscale and elegant packaging. Products in the line also offer exclusivity. It's safe to say that consumers can't purchase Signature RESERVE Brazilian guava cheesecake ice cream or Signature RESERVE made-in-Italy tomato, porcini and black truffle pasta sauce from another retailer.
Exclusivity, along with personalization and transparency, are the cards Albertsons is playing in the big game among grocers to differentiate. White and his team realize if they play their cards right in those areas, they will continue to gain the trust of their customers.
Because of its breadth of store brand products across many categories, White believes Albertsons has become a leader in personalization.
"Where national brands struggle and are very focused on fewer categories, we can touch everything across an entire store," he says.
Personalization also extends to packaging, where Albertsons has placed a huge focus to upgrade. While walking the aisles of the Walnut Creek Safeway, White points to the retailer's Soleil sparkling water line, which is self-manufactured and comes in flavors including blackberry vanilla, pineapple coconut, mango passion fruit and cherry lime. But it's the packaging, just as much as the on-trend flavors, that engages customers' attention. It's colorful, vibrant and just plain cool.
Not long ago, the packaging design of Albertsons' store brands were similar across all categories. Coffee flavors looked the same. So did frozen foods. But White and his team have changed things up dramatically with a focus on personalization.
"You have to be able to compete within a category," says White, realizing the importance of having packaging that pops. Pointing at a 12-pack of Soleil, White comments that he wants Albertsons' products to be packaged so that they are "Instagrammable."
"Can't you see a millennial taking a photo of that with his phone and proudly sharing it on social media," he says of Soleil.
White says he and his team are keeping a close eye on the continued evolution of the food industry and studying where they think Albertsons' private brands can make an impact. He points to veganism, which he says "was once a moral choice and now has morphed into a lifestyle choice" for how people eat. Hence, Albertsons plans to offer more of such products as private brands.
"Again, it goes back to personalization," White says. "How do you want to eat? What do you want to feed your kids?"
TRANSPARENCY ALSO PLAYS a key role in gaining customers' trust, White says. Albertsons wants to offer all the information possible on product labels so consumers can make informed choices. But that's not all. Albertsons is partnering with Label Insight, a Chicago-based data science company that captures, sorts and analyzes information gathered from food product packaging, to use its SmartLabel program.
SmartLabel is a tool that gives consumers a way to digitally access more detailed product information than could ever fit on a package label. Albertsons is using SmartLabel QR or digital codes on packages so consumers can get that information quickly. Consumers can simply scan the QR codes on the packages with their phones and be taken to website landing pages where they can learn more about products, such as information about ingredient sourcing or country of origin, explains Elizabeth Strydom, Albertsons' vice president of product development compliance for Own Brands.
"Sustainability has become a huge part of what customers are demanding, not just from national brands but from private brands," Strydom stresses. "You can really go deep [with information] by using the QR codes."
Of course, exclusivity, personalization and transparency must go in hand with quality and excellent-tasting products. Don Davidson, Albertsons' vice president of strategic sourcing, says the bar that Albertsons has set for private brands has made his job more complex. In the past, it was about working with suppliers to achieve a national brand equivalent product, getting a great price on that product and making sure suppliers could deliver it on time, says Davidson, who has been in his role for 16 years. But with Albertsons focus on premium products and distinguished packaging, he says the retailer now requires much more from its suppliers.
"We need suppliers that can not only deliver what we need today, but that can grow with us for what we want to be tomorrow," he adds.
Albertsons also operates 20 of its own manufacturing plants to make milk, bread, ice cream, yogurt and other store brand products. Davidson says the retailer has just as high expectations of its own plants as it would for any contract manufacturer.
Albertsons is utilizing analytics and data in store brands more than ever to learn what consumers are purchasing, how loyal they are to certain products and what categories are ripe for growth.
"Data is big and data is valuable, but not all by itself," says Jennifer Jesser, vice president of finance and analytics for Own Brands. "You have to know what to do with it and know what it's telling you."
Analytics and data will also help Albertsons find other avenues to sell its store brands through online grocery and digital marketplaces, she adds.
OF ALL THE MEMBERS of Albertsons' Own Brands team, it's hard to tell who has the most fun coming to work every day. But Chad Coester, group vice president of sales, marketing and service for Own Brands, probably wouldn't have a problem if he was asked to work every Saturday.
Coester, who began working with Safeway in 1995 and joined White's group more than a year ago, epitomizes the team's enthusiasm.
"I love what I'm doing," he exclaims. "I get to interact with this team, evangelize their ideas and bring them to life within our divisions. We are a consumer packaged goods company inside a massive retailer, and we have a point of difference. We get to take advantage of that, and it's a blast."
This year, Albertsons will continue on its quest to innovate and introduce new Own Brands products. White and his team aren't following grocery trends as much as they are setting them. For White, collecting information for potential new products is 24/7. When he goes out to dinner, he studies menus to see what Albertsons might be able to adapt as store brand products. He talks to restaurant chefs to see what's hot and what's not.
The goal isn't to make store brands 95 percent of Albertsons' sales, White says, noting that brands will always have a place in the retailer's offerings. But White says he and his team will focus on consumers' ever-changing wants and needs and adapt Albertsons' store brands accordingly.
"We won't stop at a certain market share," White adds. "We have grown tremendously over the last two years, and we haven't seen any customer pushback."
Actually, it has been just the opposite of customer pushback. According to White, Albertsons recently achieved all-time high marks for customer satisfaction for its Own Brands.
"Our customers are telling us that they believe in our brands," he says.
The guys at White's barbershop talk about sports, politics and their kids. It's just a matter of time before they're talking about Albertsons' Own Brands.
IN THE PHOTO: Albertsons Companies' Own Brands executive team is (left to right): Don Davidson, vice president of strategic sourcing; Nancy Cota, vice president; Geoff White, president; Chad Coester, group vice president of sales, marketing and service; Elizabeth Strydom, vice president of product development compliance; Jennifer Jesser, vice president of finance and analytics.