A wine awakening
Get great content like this right in your inbox.
Subscribe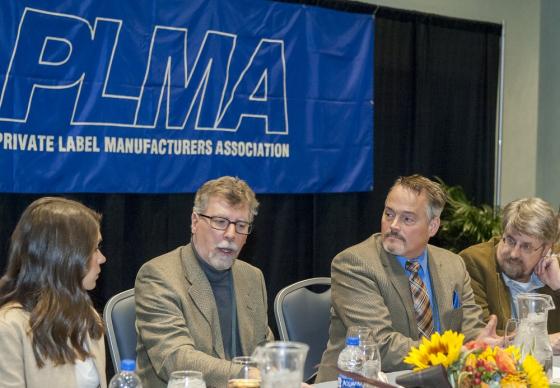 A generation ago, the American wine drinker went to the grocery store, headed straight for the wine aisle, and looked for the Robert Mondavi brand or perhaps a cabernet from Louis Martini. 
Well, those days are long gone, according to Dave Falchek, executive director of the American Wine Society, who spoke during a special wine seminar held during the 2018 Private Label Trade Show in November in Chicago 
"Today, consumers really don't care about brands anymore. They're seeking alternatives," Falchek said. "And people increasingly are less motivated to purchase certain varietals. So people may not go to the market and think, 'Well I'm going to get a chardonnay or a merlot. They're more open-minded to the types of grapes that are being used to make wines. And they've also become much more adventurous and open-minded to different varietals."
Falchek was part of a panel seminar called "What Does America Like to Drink?" The seminar, organized by the Private Label Manufacturers Association, detailed all of the new and exciting trends in the wine category.
As American wine consumers have become more educated, they are seeking out new experiences in the wine aisle (especially if the wine is a value-priced wine). Consumers are also gravitating toward more complex wines as their knowledge and willingness to try new offerings increase.
"There was a time in the past where a wine buyer might have gone into a store and seen albarino wine and said to himself, 'Oh no. I don't want to bother with that,' " Falchek said. "But today the consumer might have a different reaction. They might say, 'Oh, an albarino. I've never tried that before. I think I want to try it."
Falchek said the spectrum of different types of styles and tastes that consumers are interested in when it comes to wine is expanding, and this presents a major opportunity not just for retail assortment but also for the wines that retailers might look to develop as private brands. 
Millennials especially are very experiential and want to experience different types of foods and beverages, especially wines. And this is one of the reasons why millennials are willing to spend more per wine bottle than other age groups, Falchek added. 
"So a fizzy white wine from Portugal. That's something that wouldn't be on anybody's radar, but it's different and millennials want different," Falcheck said. "I have a friend who's a big fan of beer and wine, and he says I never want to drink the same beer or wine twice. There are so many opportunities out there for suppliers and retailers."
The panel, moderated by Jeff Siegel, who oversees a website called the "wine curmudgeon (winecurmudgeon.com)," featured Falchek and other experts in the category including leading wine marketer Paul Tincknell and Maryrose Rinella, director of Own Brands product management at Albertsons Companies. Rinella puts together the private brand wine program for Albertsons' footprint of stores. 
"The current trend in the entire U.S. wine industry is of course premiumization, and what we think of as private label wine — lower-priced tiers, two-buck chuck – that's over," Rinella said. "Retailers are assorting private label wines at all price points and in unique blends, imports, domestics, etc."
Rinella said Albertsons sees its private brand wine assortment as an opportunity for the retailer to have a point of differentiation compared with the competition.
"We can choose and curate unique wines that fit our customer profile. And we can achieve better margins," she said. Typically, your branded wines get a 30-35 percent margin. Private label margins are at 50-55 percent. And premium private label wines offer even higher margins than that." 
About 42 percent of wine purchases are from the millennial segment, Rinella said, so the retailer is focused on curating its assortment to the millennial customer.
"They are experimental. They are looking for a brand identity that they can support. And they are willing to pay more for wine than other groups," she said.
Retailers such as Aldi, Costco Wholesale, Lidl, Whole Foods Market, Trader Joe's and others are becoming major players in wine retailing, especially in the private brand arena. But there's one area where retailers and manufacturers need to ramp up their innovation: the mid-price private brand wine.
"More than half of the wine sold in the United States is sold in grocery stores. But there's a lot of really bad grocery store wine and a lot of really bad private label grocery store wine," Siegel said. "In Europe, they've done a really good job of communicating quality to their consumers when it comes to a private label portfolio delivering quality wine, really over-delivering on price point. There's a lot of education that retailers and suppliers can do in the U.S. to showcase private label quality, so that shoppers buy the $12 private brand wine instead of the $15 national brand wine."
On that point, Rinella had some suggestions for retailers, including strategies that Albertsons has itself implemented:
• Offer in-store private brand wine tastings.
• Pair the private brand wines
with meal kits.
• Put the private brand wine adjacent to the national brand on shelf.
"We have 14 different regional buyers across the nation and a lot of times they're meeting with a lot of different wine companies and people in the industry," Rinella said. "So I'm constantly looking for new ideas, new varietals and new partnerships. Ideas can come from anywhere when it comes to wine."