05/03/2019
Williams-Sonoma expands own brand portfolio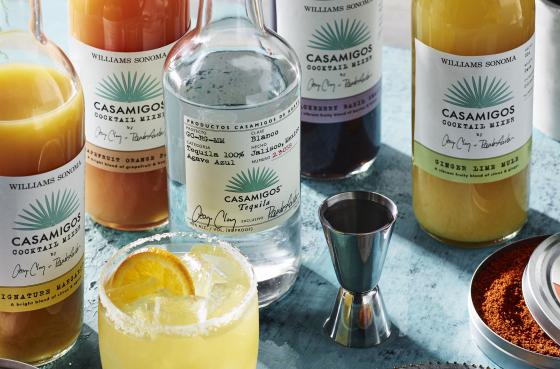 San Francisco-based Williams-Sonoma has teamed up with Casamigos to create a private brand collection of mixers inspired by popular house cocktails.
The new product partnership includes four Williams-Sonoma branded cocktail mixes, three cocktail salts and one cocktail gift set.
According to the company, the cocktail mixes are handcrafted in small batches and designed to be enjoyed simply by adding ice and tequila. Each mix is 25.4 ounces and will retail for $18.95. The flavors available at launch are:
Casamigos Cocktail Signature Margarita — a house favorite, prepared with key lime juice and organic agave for bright, lively flavor with a hint of sweetness.
Casamigos Cocktail Blackberry Basil Smash — made from fresh blackberries combined with lemon juice and basil to create a vibrant blend that's fragrant and tangy, with just the right amount of sweetness.
Casamigos Cocktail Ginger Lime Mule — a combination of fresh ginger, lime, lemon and mandarin orange juices that produces a refreshing blend with warming sweet-tart flavor.
Casamigos Cocktail Grapefruit Orange Paloma — a bright blend of grapefruit and lime juices with just a hint of natural cane sugar.
To celebrate the launch of the new collaboration, select Williams-Sonoma stores will be hosting a Williams Sonoma Beverage Academy presented by Casamigos. In 10 cities across the U.S., Casamigos connoisseurs will host a master class educating customers about Casamigos small batch, ultra-premium tequila and mezcal.
Williams-Sonoma has an extensive assortment of private label SKUs that encompass categories such as food, housewares, appliances and furniture.