Walmart rolling out meal kits under private brands
Get great content like this right in your inbox.
Subscribe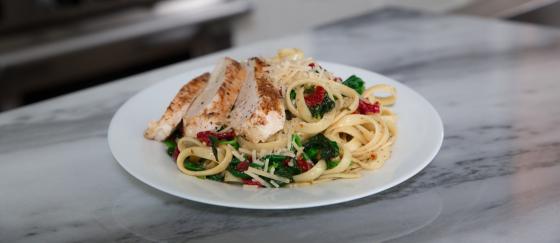 Walmart is entering the private-branded meal kits business. The Bentonville, Ark.-based retailer will roll out its meal kits to more than 2,000 stores this year. The meals will also be available via Walmart's Online Grocery Pickup where customers can order online at lunch and pick up at dinner time.
In a press release, Walmart noted that nearly 80 percent of Americans do not know what they are having for dinner at 4 p.m. each day.
Walmart's meal kits, available now in more than 250 stores, were developed and tested in the retailer's Culinary and Innovation Center and are made and assembled fresh in-store daily. On shelves in the deli, options include pre-portioned cooking kits, kits to accompany the grocers' rotisserie chicken, along with options that can be heated up and on the table in less than 15 minutes.
The pre-portioned meal kits include ingredients for steak dijon, basil garlic chicken, sweet chili chicken stir fry and pork florentine.
The rotisserie chicken meals include Walmart's rotisserie chicken plus some curated ingredients for a quick dinner that tastes like it took hours, according to the retailer. Meals include Thai curry chicken and chicken fried rice.
Walmart's one-step meals feature meals that can be heated and served quickly such as chicken alfredo, cheesy ravioli bake, meatloaf, spaghetti and meatballs, chicken parmesan, pulled beef, chicken marsala, curry chicken, pot roast and chicken enchiladas.
Walmart's convenience meal options serve two people and range in price from $8 to $15.
"Customers are busier than ever and we know getting a delicious dinner on the table can be a chore. We're here to help," said Tyler Lehr, Walmart's senior vice president and general merchandise manager of deli Services.