Walmart aims to disrupt
Get great content like this right in your inbox.
Subscribe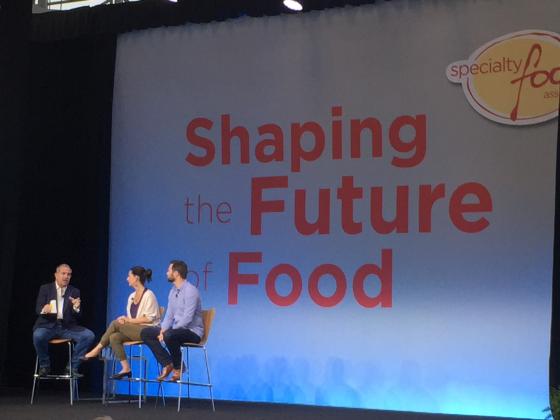 It's OK for suppliers to go to Walmart with a half-baked product idea.
In fact, Walmart is all about collaborating with suppliers — private branded and branded — to turn a half-baked idea into a fully-baked idea.
"We leverage a lot of industry experts," Kevin Head, Walmart's vice president and divisional merchandise manager for breakfast and bread, told food manufacturers and suppliers during a panel discussion at the Fancy Food Show, held earlier this week at the Jacob Javits Center in New York. "We would rather co-create with you along the way. Whenever we are invested in it, it's truly a partnership."
The session, titled "Disrupt or be Disrupted," was moderated by Phil Kafarakis, president of the Specialty Food Association, the association that stages the show. The discussion, held on Tuesday, also featured Laura Rush, vice president and divisional merchandise manager of frozen foods for Walmart.
Kafarakis admitted that some of his peers believed that two people from Bentonville, Ark.-based Walmart shouldn't be part of a panel discussion on disruption. But Kafarakis begged to differ.
So did Rush, who said that Walmart aims to be a leader in innovation to disrupt.
"If we don't change, our customers will will hold us accountable," she said.
Just who is that customer? "Everyone," Rush said. "The Walmart customer is all of America. We owe our customers all the change that is happening in the industry."
So Walmart is on a mission to innovate and disrupt, which is why Rush and Head were speaking to suppliers at the Fancy Food Show to possibly form partnerships with them.
"We don't have a private brand strategy and a national brand strategy, we have a customer strategy," Head said. "Their tastes are changing. Their expectations are changing. And ultimately we will change with them."
Head also provided his definition of innovation as it pertains to the Walmart philosophy.
"When innovation is being created, people aren't talking about innovation," he said. "We are talking about the customer."
Convenience is a crucial component of innovation, and Walmart has already proven to be a disruptor by upping the game in online delivery and grocery pickup, of which Head said the retailer continues to invest. For instance, Walmart is testing a program in three cities to deliver groceries inside shoppers' homes. No other retailer is doing that.
"We are going to provide customers the opportunity for how they want to shop, when they want to shop and where they want to shop," Head said.
"It's all about convenience," Rush added, "and that's what we want to drive."