07/25/2019
Walgreens' Nice! private brand honored for packaging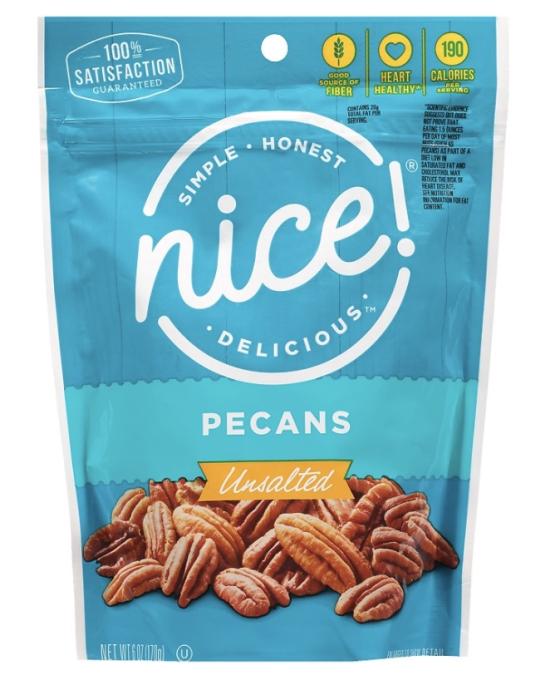 New York-based market researcher Nielsen has honored the top package design innovations from around the globe in its annual Design Impact Awards, with Walgreens' private label Nice! packaging among the winners. 
The company announced the global winners of the 2019 Nielsen Design Impact Awards, recognizing successful package redesigns in the consumer packaged goods (CPG) space. Building on the success of these awards within the U.S. market, Nielsen opened the award entry door to include global submissions this year, netting 10 winning brands from around the world.
Deerfield, Ill.-based Walgreens bills its Nice! line as offering "a wide range of food and beverages with quality ingredients 
that make it easy to feel great about eating well." Walgreens said the products in the line "are always made with real ingredients and will, wherever possible, contain no PHOs (partially hydrogenated oils) or trans fats, artificial colors, flavors or preservatives, or high fructose corn syrup."
"Great package design can be found in every market, yet it rarely gets the recognition it deserves," said Kyle McKinley, vice president of Nielsen BASES Design Solutions. "We created the Nielsen Design Impact Awards to honor brands that are elevating the role of packaging in the marketing mix, bringing light to the tremendous contribution effective package design brings to a brand's bottom line."
Ten winning brands emerged and were recognized for leveraging both the art and science of design within the global CPG space. According to Nielsen, these winners represent a diverse range of business situations across food, beverage alcohol, personal and home care.
Global winners of the 2019 Nielsen Design Impact Awards:
Nice! (U.S.; parent company: Walgreens; design agency: Soulsight).

M&M'S (U.S.; parent company: Mars Wrigley Confectionery; designed by: Mars Wrigley Confectionery).

Icelandic Provisions Skyr (U.S.; parent company: Icelandic Provisions; design agency: Moxie Sozo).

Hess Select (U.S.; parent company: The Hess Collection Winery; designer: Michael McDermott).

Alpura (Mexico; parent company: Alpura; design agency: Foic Lecanda).

Arawana Oil (China; parent company: Yihai Kerry; design agency: Dongdao Creative Branding Group and Posher Design).

MAQ (South Africa; parent company: Bliss Brands; design agency: Fountainhead).

Playboy Deodorants (South Africa; parent company: Amka Products; design agency: Sainsbury Design).

Prestígio (Brazil; parent company: Nestle; design agency: DBA B+G).

Satis! (Brazil; parent company: Ajinomoto do Brazil; design agency: Arcwwbrasil).
"Brands around the world are designing with change in mind," McKinley said. "Across all 10 honorees we saw common themes that bridged their redesign success. Brands who are winning with design are designing with a hyperfocus on the ebbs and flows occurring within the business and consumer landscape. They are leaning into design to stretch beyond a category norm, using design to address white space or leveraging design to respond to shifts in consumer preferences and behavior whether that's the growth of health and wellness, increasing screen time or changing retail platforms."