Sweetest deal
Get great content like this right in your inbox.
Subscribe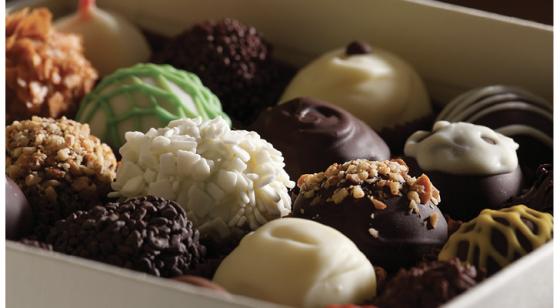 Nothing says indulgence like candy. Whether savoring a chocolate bar or a big colorful lollipop, people of all ages consume candy for sheer enjoyment. These sweet confections can even provide an emotional lift after a trying day.
U.S. retail sales of candy reached $35.8 billion in 2016, according to the National Confectioners Association. The fastest-growing segment of the category is "sugar confectionery" (non-chocolate candy), which posted a 4 percent increase in value sales in 2016 to reach $11.3 billion, notes Euromonitor in its latest "Confectionery in the US" report, published last December.
In this segment — which includes hard-boiled sweets, caramel and toffee, gummies and jellies and mints, among others — chewy candy has surged in popularity in recent years, with innovation coming in the form of sour flavors and unique textures, Euromonitor reports.
Although chocolate confectionary grew only 1 percent in sales last year, according to Euromonitor, it remains the largest candy subcategory. In its August 2016 report "Chocolate Candy Market in the U.S., 11th Edition," Packaged Facts pegged chocolate candy sales at $21.6 billion.
The chocolate subcategory has also seen the most innovation, in response to consumer demand for better-for-you snacks. As health-focused shoppers increasingly turn to snack bars over candy bars, "manufacturers have innovated with products that incorporate dark chocolate, fruit, nuts or other ingredients that provide a more nutritious or lower-calorie indulgence," Euromonitor states.
While private brands account for just 1.5 percent value share of chocolate candy sales, reports IRI, the growth potential is significant, especially given the influence of millennials, who are less loyal to dominant national brands. Although The Hershey Co. and Mars Inc. account for a combined value share of 64 percent in the chocolate confectionery subcategory, no other company maintains a share higher than 4 percent, Euromonitor says. Consequently, there is considerable room for private brand manufacturers to snare market share.
Premium and wellness rule
Despite Euromonitor's depiction of sluggish growth overall for chocolate confectionery, Nassau Candy has seen tremendous growth in the chocolate portion of the candy market during the past five years, particularly in the premium segment, says Barry Rosenbaum, president of the Hicksville, N.Y.-based private brand candy vendor, which manufactures panned, enrobed and molded chocolate candy and distributes sugar confectionery products as well.
One reason for Nassau's success is that more adult consumers are snacking on premium chocolate candy. "It's not just for gift-giving," Rosenbaum points out. "As a matter of fact, gift-giving has become less significant. There is a lot of impulse purchase today."
That helps explain the increasing popularity of beautifully designed stand-up pouches of premium chocolate candy, such as the gold and silver candy category winners in our Editors' Picks competition (see page 17).
In accommodating the requests of its retailer customers, Nassau increasingly concentrates on wellness attributes. "The consumer trend today is toward premium and, of course, better-for-you products," Rosenbaum says. "So as a company, we are focused very much on non-GMO, all natural and fair trade [ensuring that cocoa farmers are fairly paid]. And we're trying to eliminate anything that is artificial and chemical-based. In addition, we're trying to reduce sugar as much as possible."
Nassau also strives to include ingredients that are on-trend such as almonds, coconut, quinoa and acai. "These are ingredients that we are using as a foundation for product development," Rosenbaum says.
At The Warrell Corp., a Camp Hill, Pa.-based confectionery manufacturer, the healthful eating trend is also dramatically impacting product innovation, notes Annette Jones, the company's marketing manager.
Warrell recently developed a line of products available for private branding called Nut'n But Natural, which features non-GMO ingredients, clean labels, high-protein tree nuts, dried fruits, ancient grains and in-vogue seasonings, Jones says.
"This selection of caramelized nuts and nut squares spans the healthy snacks and good-for-you indulgent categories aimed at millennials," she elaborates. "Our best-selling item has been a 4-ounce stand-up pouch of glazed cashews with blueberries, cranberries and quinoa."
Step up cross-merchandising
Most candy is purchased on impulse, Jones emphasizes. "The best way to promote it is to place an attractive display in the highest-traffic area near the checkout stands," she says.
Rosenbaum agrees, adding that retailers should also merchandise candy in other busy areas on the perimeter of the store.
Candy's packaging, a crucial merchandising tool, needs to sell the product with bold, eye-catching designs, clean ingredient decks, and prominent call-outs of attributes that resonate with contemporary consumers such as non-GMO and gluten-free. 
Schierhorn, the managing editor of Store Brands, can be reached at [email protected]