01/31/2019
A Super Bowl of private brands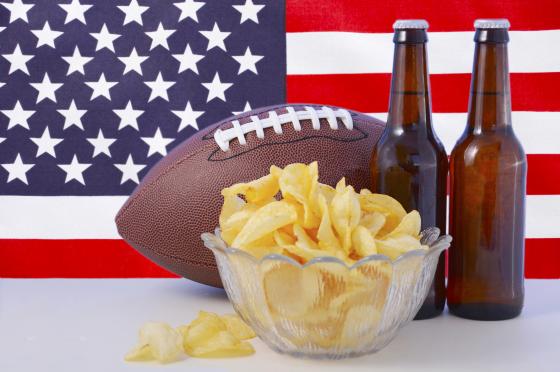 Hopefully, grocery retailers have taken full advantage of promoting their private brands for this weekend's Super Bowl. Why? Because American adults say they will spend a whopping average of $81.30 for a total of $14.8 billion when they watch the New England Patriots and the Los Angeles Rams battle on Sunday in Super Bowl LIII, according to an annual survey by the National Retail Federation (NRF) and Prosper Insights & Analytics.
The categories are nearly endless for grocers to capitalize on their private brands to help football fans throw their parties. If I'm throwing a Super Bowl party — and as a purveyor of private brands — here's what I'd provide:
• Snacks — Several bags of The Kroger Co.'s Nashville-style hot chicken kettle cooked potato chips, the best potato chip I've ever experienced, which is sold under the Cincinnati-based retailer's Kroger brand. I'd also offer a few bags of Kroger's prime rib and horseradish wavy potato chips, also sold under the Kroger brand and also downright delectable.
• Fried chicken — A huge order of the best private-branded bird on the planet from Publix Super Markets, based in Lakeland, Fla. Another huge order of Nashville fried chicken from Pittsburgh-based Giant Eagle. I would walk on my knees in the snow in 0 degree temperatures to secure this fabulous fowl. (Where I live, I might have to do that!)
• Dips — A boatload of chunky guacamole from ALDI, which is sold under the Batavia, Ill.-based retailer's Little Salad Bar brand.
• Appetizer — Bags and bags of Mandarin orange chicken from Trader Joe's, which is sold under its Trader Ming's line. This product is one of the Monrovia, Calif.-based retailer's most popular products — ever. Why bags and bags? Because I know it will go fast, and I know people will want more.
• Cookies — 5 pounds of mini candy cookies from Bentonville, Ark.-based Sam's Club, which are sold under the retailer's Member's Mark line.
• Ice cream — A quart each of the seven innovative flavors in the new Signature RESERVE line from Boise, Idaho-based Albertsons Companies. Flavors include Brazilian guava cheesecake, Madagascar vanilla, Colombian cold brew caramel, bourbon maple blondie, Indian cardamom pistachio, caramel apple chai and Belgian chocolate almond.
• Beer and wine — Arlington, Va.-based Lidl offers some fine private brands beer. Any store brand wine from Issaquah, Wash.-based Costco Wholesale will do. And don't forget Irving, Texas-based 7-Eleven, which has also added to its wine selection, including canned wine.
Hey, with a spread like this, who needs a game?
According to the NRF, the average spending is virtually unchanged from last year's $81.17 and is the second-highest in the history of the survey after a record of $82.19 set in 2016. The total amount is down from last year's $15.3 billion, primarily because fewer people plan to watch the game — 182.5 million this year compared with 188.5 million last year. But the overall spending is still the third-highest on record, after last year's figure and $15.5 billion in 2016.
Prediction: Rams 27, Patriots 23.
But real winners are football fans who serve private brands at their parties. And retailers, of course.