Standing out online
Get great content like this right in your inbox.
Subscribe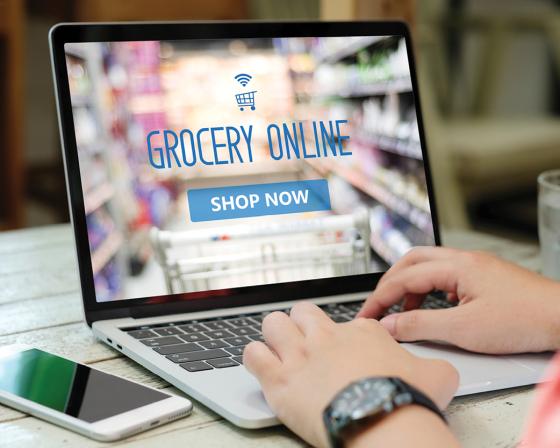 Here's how The Kroger Co. delectably describes its private brand Hemisfares semi-dried tomatoes in sunflower seed oil product on its website: "These melt-in-the-mouth tomatoes have delicate notes of garlic, oregano and a hint of salt and are considered a gourmet expression of Apulian cuisine. An authentic recipe born from centuries of culinary traditions in Apulia (Italy), these tomatoes are cut and dried in the sun at the end of the summer season and preserved in oil. The result is a sublime balance of sweet and savory, perfect for bruschetta or as a dressing for pasta."
Kroger had me at "melt-in-the-mouth tomatoes." And when I saw I could get an online $1 coupon if I purchased two jars of the tomatoes, I quickly placed them in my online grocery cart.
Talk about a quick sale. But that's what a detailed, colorful product description can do when a retailer is selling its private brands online. Eloquent words can get a consumer's mouth watering. And a coupon can seal the deal.
So it's no wonder that Cincinnati-based Kroger's online sales are growing like a tomato plant after a cool summer rain. When products are described so well online that you can almost taste them, consumers may click their mice to purchase them.
With online sales growing in grocery, retailers are aiming for ways get their own brands noticed. Kroger has been on target. It announced in December that online sales of brands and private brands grew more than 60 percent, which comes on the heels of tremendous growth in previous quarters.
Sales trending upward
Online grocery shopping is still small, comprising about 5.5 percent of overall grocery sales in 2018, according to Brick Meets Click, a Barrington, Ill.-based advisory firm to the retail grocery industry. But sales are trending upward — they were a meager 2.4 percent in 2016 and Brick Meets Click expects sales to grow to 6.3 percent in 2019.
And sales will continue to grow — to about 10 percent in the next five years, according to some predictions. In the next 10 to 15 years, sales could top 20 percent.
While .8 percent growth from 2018 to 2019 may seem small, the more revealing number is that U.S. consumer spending online for groceries is forecasted to grow 15 percent in 2019 when compared to 2018, according to Brick Meets Click. And providers that offer delivery and pickup are expected to grow their online sales between 25 percent and 30 percent in 2019.
If there's one thing some retailers have going for them in selling their private brands online, it's that sales of their store brands are growing in bricks-and-mortar, points out Don Stuart, managing partner at Cadent Consulting Group, a Wilton, Conn.-based consulting firm that specializes in private brands.
"Retailers can control the messages on their websites and position their private brands quite nicely for impulse purchases online to favor those brands," Stuart says. "It's in that controlled environment that retailers can benefit both in terms of building the brand and also increasing their margins by selling store brands."
Retailers need to place their private brands front and center so consumers can see them on their mobile phones, laptops and tablets. And hear them, too, if the media device is a smart speaker (see sidebar on this page). "[Retailers' store brands] need to be any place where consumers access anything approaching a purchasing decision," Stuart says.
And while private brands have to be seen online to be considered, retailers may have to push them a bit more in that space. Kroger is doing that, too. Go to the retailer's website and the first thing you see is a hero image focused on Kroger's Simple Truth private brand, which states, "$100+in Simple Truth Savings with Digital Coupons & More," with a link to "Shop & Explore."
Kroger is also keenly capitalizing on one of the greatest private brands in the history of private brands, Simple Truth, which not every retailer can do. When you have a store brand like Simple Truth — the largest-selling organic and natural brand in the U.S. — you have added clout when it comes to selling online.
That's how and why Kroger recently struck a deal with China's Alibaba Group Holding Ltd. to sell Simple Truth products on Alibaba's Tmall Global platform, China's largest business-to-consumer marketplace for China's consumers. Simple Truth products are now available to half a billion Chinese consumers.
"We are creating the grocery retail model of the future by focusing on digital and technology," Yael Cosset, Kroger's chief digital officer, recently said.
There are challenges
While grocery retailers no doubt recognize the opportunity to sell private brands online — and scrambled to implement online grocery programs after Amazon acquired Whole Foods Market in 2017 — they face challenges. The biggest challenge? Amazon itself, Stuart says.
Not only has Seattle-based Amazon been selling grocery products online longer than other retailers, including its own private brands, but it has captured about 30 percent of online grocery spending in the U.S., according to Brick Meets Click. And Amazon is aggressively selling the private-branded 365 Everyday Value products online under the Whole Foods banner at the top of its website. Like Kroger, Amazon is leveraging a popular and well-known private brand.
So is Boise, Idaho-based Albertsons Companies, which is taking advantage of the popularity of its private brand, O Organics, to sell online. Albertsons recently launched O Organics Market, an Instacart grocery delivery service-powered virtual store, where customers can find organic, natural and other better-for-you foods, beverages and grocery items. The virtual store will also sell Albertsons' Open Nature private brand, a line of natural foods, and other branded organic and natural products. The initial launch of the O Organics Market was in San Francisco and Washington, D.C., with plans of expanding to additional cities in the future.
One thing retailers need to control, Stuart says, is the amount of private-branded and branded products they offer in categories online. Offering too much of a category's products online might be worse than offering too many of a category's products in-store.
"The more clicks a shopper has to go through, the greater risk of [that shopper] dropping out without placing an order," Stuart says. "In theory, you have an endless shelf online, and in reality consumers are overwhelmed by the paradox of choices. There needs to be a balance online just like there is in the store."
So retailers need to figure out when offering too much variety equates to offering duplication, which can overwhelm shoppers and negatively impact sales, Stuart stresses.
With the center store shrinking at bricks-and-mortar, retailers may just have a better opportunity to sell such products online. Get this: Amazon's private brand Presto! paper towel sales reached an estimated $160 million in sales in 2018, up almost 20 percent from 2017, according to e-commerce date company Edge by Ascential.
Stuart says online sales of such private-branded products could be a "hidden savior" for the center store, especially considering the dwindling support of brands in the center store.
"Could the center store be reinvented with private brands having twice the share they have in the physical store?" Stuart asks. "Where's the focus going to be going forward on most retailers' websites? I think it will lean toward private brands."
Despite all the hoopla for retailers to get engaged online, Deborah Ginsburg, founder and CEO of Strategia Design in Oakton, Va., reminds retailers that they need to commit to an omnichannel approach in marketing and selling their private brands. Retailers need to promote products through traditional media (flyers, coupon mailers and advertisements on television and radio), digital (their websites) and social media (Pinterest, Facebook, Twitter, email, etc.). All channels are needed to engage customers and retain them, as well as to promote new product launches and share other pertinent information, she says.
"It's not about moving from store marketing to internet marketing. You have to do both with a central and consistent message," she says.
One retailer that is doing an excellent job with omnichannel marketing is San Antonio-based H-E-B, Ginsburg says.
"H-E-B has done a really good job of utilizing electronic mailings, subscriber newsletters and making its website parallel to what goes on in its stores and products launches," she adds.
Aylward, editor-in-chief of Store Brands, can be reached at [email protected]
Smart speakers are all the rage. According to Don Stuart, managing partner at Wilton, Conn.-based Cadent Consulting Group, smart speakers are now in about 30 percent of U.S. households, nearly double the percentage from a year ago. Penetration is expected to climb to about 50 percent in the next three years, he says.
The big question is whether consumers are asking their smart speakers what retailers in their areas offer the best private-branded potato chips. There are probably a few people doing that, but not too many. But that's not to say that more people won't be using smart speakers as buying assistants in the near future.
"It's still a corner that needs to be turned," Stuart says. "But I think a lot of people prefer to speak rather than write [when ordering products]. This will be a nice complement to traditional online ordering and has the potential to be easier because you can do it from a lot of places, and it doesn't require your hands."