Should you add freshly prepared foods?
Get great content like this right in your inbox.
Subscribe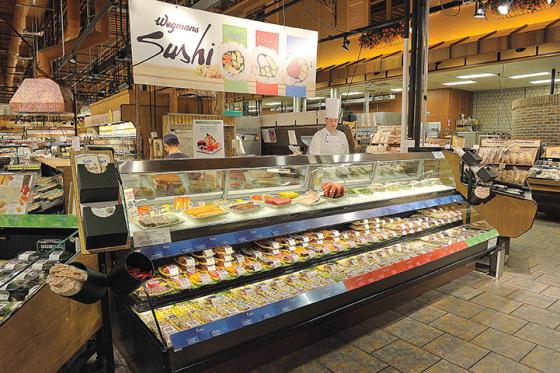 While I personally love to see a dazzling array of fresh-prepared items — as well as wine and food bars and cafés with seating — when I shop in supermarkets, it's not feasible for every grocery store to invest so heavily in foodservice.
Researching an article for the April issue of Store Brands on grocerants, I had a chance to interview Jill Tomeny, senior manager for fresh category solutions at Daymon, one of the company's many experts. Although a number of large, medium-sized and small-format grocery retailers have realized much success with their fresh-prepared foods, not every grocery store should have a grocerant or even a kitchen, she says.
"While it's true that all grocery retailers should be focused on some form of meal solutions, freshly prepared foods are not the right answer for everyone," Tomeny notes. "Meal solutions can include grab-and-go foods and heat-and-eat options prepared off-premises or by outside vendors."
Adding fresh-prepared foods certainly increases a retailer's operational costs, Tomeny observes. "Running a fresh food program adds a different level of complexity with things like food safety, employee training, menu management, supply chain [issues] and higher labor costs," she says. "A fresh-prepared foods program needs to fit with a retailer's core goals, and starting such a program may require a radical shift in the way a retailer goes to market."
Larger supermarket chains that that have a significant foodservice component typically use the restaurant supply chain for their grocerants rather than preparing meals from the products carried in the store.
"Sometimes separating the distribution chain is the best way to run a grocerant efficiently and profitably," Tomeny explains. "Foodservice will offer pack sizes and formats that are more suitable for restaurant use as well as items stores may not stock. Using an outside distributor also means that buyers within the grocery chain don't need to work to balance restaurant product needs with their own, which can be very tricky. Operationally, foodservice is usually the easiest way to go."
While well-run grocerants can enhance a chain's overall reputation, they also can help a store champion its private brand products.
"Grocerants can definitely be used to promote store brands," Tomeny says, noting that this doesn't necessarily mean placing bottles of store brand ketchup and mustard out on tables. "However, retailers that choose to drive their brands through their grocerants need to be sure that menus call out [own brand] ingredients," she advises.
Retailers can also make recipe cards available to grocerant customers so they can make the delicious dishes they've tried when they get home as well as purchase the ingredients, including private brand items, while in the store.
So there are a great many variables to consider before investing in a culinary program and rolling out an array of dishes from barbecued spare ribs to poke bowls. To glimpse some success stories, read our up "Grocerants Galore" article in next month's issue.