Salty snacks: A tug of war
Get great content like this right in your inbox.
Subscribe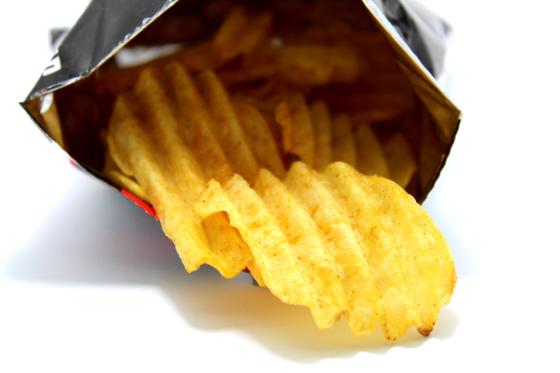 The problem with temptation is … it's just so darn tempting.
The demand for healthier snack options is strong, yet consumers admit health concerns don't strongly influence their snacking behavior, according to market researcher Mintel in its recent March report, "Salty Snacks US."
Talk about a devil-on-one-shoulder and angel-on-the-other situation.
A recent Lightspeed/Mintel online survey of 1,818 adults revealed 57 percent prefer salty snacks to all other types and 54 percent prefer salty snacks to sweet ones.
Consumers fancy the flavor, satisfaction and portability of salty snacks, but are turned off by the perception that they are too high in calories, Mintel found.
Thirty percent of the poll's respondents said they cut back on salty snacks compared to the previous year, and 64 percent said they wished more healthy salty snack options were available to them.
Better-for-you products are appealing to an expanding segment of consumers, market researcher Packaged Facts reports in its "U.S. Food Market Outlook 2019," published in February.
To grow the category, Packaged Facts advises developing: full-flavored salty snacks with maximum health and nutrition benefits; new and unique taste and flavor combinations; non-potato snacks with better-for-you ingredients that include different proteins, grains, pulses, vegetables and superfoods; and snacks in unique shapes, particularly in extruded products.
Asked which attributes they think constitute a healthy salty snack, 606 adults surveyed online by Lightspeed/Mintel listed in descending order: low sodium, low calorie, low fat, high protein, low carbohydrates,  inclusion of vitamin and minerals, grains as an ingredient, a short ingredient list, vegetables as an ingredient, organic and small pack size.
Manufacturers have responded by formulating products with reduced levels of sodium and fat, and by eliminating high fructose corn syrup and trans fats. New product launches include organic and gluten-free snacks plus those that include more beneficial ingredients such as whole grains, multiple grains, seeds and vegetables.
Health attributes aren't the whole story, however. Indulgence is still a key driver in the salty snack market and consumers "crave ever more unique and delicious eating experiences," says Packaged Facts. Extruded and puffed snacks are a fast-growing segment, it notes, because they are ideal for delivering new flavors and textures. 
Snacking rules
Despite competition from other types of snacks (such as yogurt, cheese, bars and meat snacks), salty snack sales are relatively steady, reaching $26 billion in 2018, reports Packaged Facts.
With a compound annual growth rate of 3.8 percent between 2013 and 2018, salty snack sales have increased in both volume and dollar sales, making it one of the few core snack categories to grow in both measures, according to Packaged Facts. 
Mintel projects continued but slower-paced growth for the category through 2023.
Potato and tortilla chips find their way into three-quarters of homes, but a growing number of consumers are clamoring for healthier-for-you products, according to Packaged Facts. Better-for-you chips, ready-to-eat popcorn and products with different shapes and textures, particularly puffed snacks, will drive growth in the category, Packaged Facts asserts.
Pork rind sales grew at their fastest pace in the last two years, and cheese snacks and other (non-nut) salty snacks are experiencing resurgence, Packaged Facts reports.
Business is good, agrees Mark Singleton, vice president of sales and marketing for Rudolph Foods Co., a Lima, Ohio-based manufacturer of pork rinds and cracklins. Private label sales of pork rinds rose 25 percent over the past 52 weeks and 29 percent over the past 12 weeks, Singleton says, citing Nielson figures. 
Protein awareness and protein acceptance are driving pork rind sales, including for premium varieties, says Singleton, adding, "People are also realizing what we've known for 25 years — pork rinds taste great. We were completely ready for this. We knew this was going to happen."
Pork rinds are growing in popularity among females, fitness enthusiasts and northern city-dwellers (even in Seattle), Singleton reports. Across America, 42 ballparks and stadiums sell pork rinds from their concession stands, he notes.
"We're attracting a whole new consumer. [They] are excited about protein, innovation, new flavors and eating as an adventure. They give us permission to color outside the lines with new flavors like blueberry habanero — blueberry habanero! They don't want to just eat the same thing all the time."
Cvetan is a contributing writer to Store Brands.