Raley's launches private brand meal kits
Get great content like this right in your inbox.
Subscribe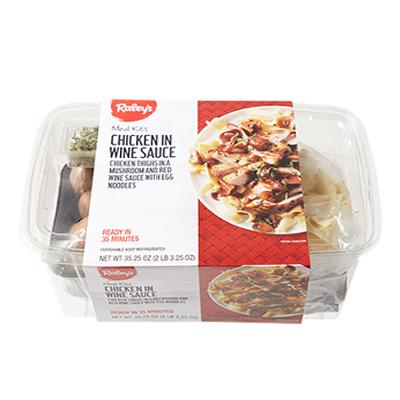 West Sacramento, Calif.-based Raley's introduced a new line of chef-created private brand meal kits featuring a series of fresh meal solutions, including full kits, quick kits, creative kits, sides and components, according to a press release. Raley's new meal kits were designed exclusively by the retailer and bring a new offering of convenient, high-quality meals to customers, the press release stated.
Citing a report from Nielsen, Raley's said over 50 percent of shoppers want to purchase components separately and build their meals. And an estimated 70 percent of shoppers want to try new recipes and new foods. Additionally, consumers are looking for meal kits that emphasize fresh foods, health and nutrition.
Raley's said its subscription-free meal kits are easy-to-follow, chef-created recipes that make dinner foolproof and flavorful. The recipes were developed by Raley's Culinary Innovation Manager and Chef Evelyn Miliate. The meals are seasonally inspired and recipes will rotate quarterly. All offerings are made with clean ingredients and the highest-quality produce and meat, according to the retailer. The kits were developed to ensure flexibility and let customers experience fresh cooking by following a recipe or exploring with components.
"We want to be the destination for our customers looking for a healthy, home-cooked meal," Miliate said in the press release. "Fresh kits are an affordable solution to dinner that customers can trust."
The launch of the new fresh kits provides customers with an affordable, on-demand solution for dinner, in four different ways: meal kits come with all items to make a full meal; quick kits come with pre-cut vegetables and cooked chicken to get dinner on the table fast; steamable rotisserie sides pair with a grab-and-go rotisserie chicken, which means fast prep; and creative kits are flexible, including several different combinations of sauces, starches and vegetables.
Six full meal kits range from $16.99 to 19.99 and feature vegetarian curry, chicken with red wine sauce, chicken tarragon, butter chicken, steak with peppercorn sauce, and salmon with cilantro yogurt sauce. They serve two to four people.
Three quick kits, each $14.99, feature mole enchiladas, Greek-style pasta and sage butter gnocchi. They are intended to pair with a freshly prepared rotisserie chicken and serve four people.
Components, ranging from $3.99 to $4.99, feature nine sauces, eight whole grains and starches, eight vegetables and freshly prepared meat by an in-house butcher.
Four steamable sides, each $4.99, feature broccoli parmesan, green beans with parmesan, Mexican-style vegetables and Italian-style vegetables.