Poll says consumers are 'fiercely loyal' to shopping food stores
Get great content like this right in your inbox.
Subscribe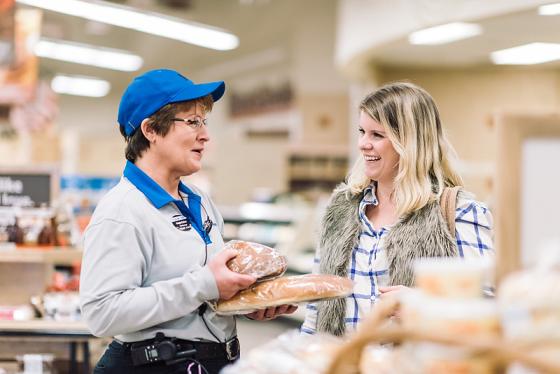 I used to wonder why the U.S. mail truck cruised down our street and others on Sunday morning. Perhaps you did too.
But we figured it out — Amazon. The U.S. Postal Service has a contract to deliver Amazon packages seven days a week.
When I drive down my street on other days, I see boxes and boxes stacked on doorsteps. My assumption is my neighbors have embraced online shopping — even getting groceries delivered to their homes through Amazon, Walmart and other retailers offering the service.
But that might not be the case, according to a new poll from Reuters/Ipsos that quashes the notion that online grocery and delivery has taken off like coconut water. The survey said that most U.S. shoppers are "fiercely loyal" to shopping at food stores, calling them better than online options.
According to a poll of 8,600 adults taken from Aug. 12 to Sept. 1, 75 percent of online shoppers said they rarely or never buy groceries online. Even among online shoppers who make recurring purchases at least weekly, nearly 60 percent said they never buy groceries online or do so just a few times a year.
The poll also found that about 60 percent of all adults said their local food markets win on price, selection, quality and convenience — compared to only 3 percent for online sellers winning in those categories.
The takeaway: Brick and mortar grocery stores aren't going the way of fax machines.
Clearly, if you believe the results of the poll, all that talk about the demise of the physical grocery store is just talk. It's not happening — at least not yet.
Amazon's acquisition of Whole Foods Market and subsequent selling of Whole Foods products online is supposed to shake up the grocery industry. Amazon's acquisition did help sink the stocks of several grocery retailers as many pundits hailed the acquisition as the beginning of a revolution of sorts in the business. The pundits warned Amazon's grocery competitors to sell their products online to keep pace with Amazon — or else.
According to GlobalData Retail, Amazon's purchase of Whole Foods took its grocery market share in the U.S. from 0.19 percent to 1.4 percent. Walmart owns 14.46 percent and Kroger 7.17 percent, according to GlobalData Retail. Amazon is not a major player in the segment.
But it's early, and don't think for a moment that Amazon will go back on its grand plan to become a major player in grocery by utilizing brick and mortar and e-commerce. And Amazon isn't the only one. Walmart, the nation's largest grocer, is adding 1,000 online grocery locations next year and expects total ecommerce sales to grow 40 percent in 2018.
Also, online sales are growing overall as consumers get more comfortable with ecommerce. And with Amazon and Walmart pushing the issue, all grocery retailers need to watch the segment closely.
So do the folks at the U.S. Postal Service. If online grocery does take off, they just might need some bigger trucks.