More comfortable, sustainable private brands could enliven feminine hygiene category
Get great content like this right in your inbox.
Subscribe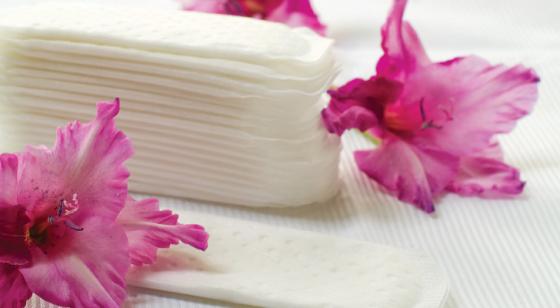 An entrepreneurial generation that prides itself on disrupting the status quo, millennials are also taking aim at the feminine hygiene category, which hasn't changed all that much since Johnson & Johnson developed the first commercially available disposable sanitary pad (Lister's Towel) in the United States in 1896 and Earle Haas, an osteopathic physician, patented the prototype of the modern tampon (Catamenal device) in 1933. Young women, passionate about the need for more comfortable and environmentally sustainable solutions, are beginning to invent and use alternative products that they claim are less bulky and chafing and have better performance than conventional feminine hygiene items.
For example, Miki Agrawal, a self-described "social entrepreneur" based in New York, created Thinx— a line of washable, multilayer, antimicrobial black underpants that reportedly can absorb as much blood as two tampons and come in several styles depending on the heaviness of flow.
Focused more on minimizing mess and inconvenience for physically and sexually active women, Lauren Schulte and Erika Jensen recently rolled out a disc-shaped absorbent tampon-substitute called Flex, which the Venice, Calif.-based entrepreneurs say can be worn for 12 hours before being disposed of.
Several other alternative feminine hygiene products have entered the market such as BubuBibi Mama Cloth bamboo and Hesta organic cotton washable, reusable menstrual pads, both of which have wings and snaps to secure the pad in place around a panty gusset.
Such alternatives "still constitute a small portion of sales," according to Svetlana Uduslivaia, head of tissue and hygiene at London-based Euromonitor International. "They are, however, products to watch for long-term impact," adds Uduslivaia, who was quoted in an Oct. 22, 2016 article on WashingtonPost.com titled "Why Your Daughter May Never Need to Buy a Tampon."
Indeed, sales of The DivaCup —  a reusable bell-shaped silicone insert that catches menstrual blood — have increased by more than 150 percent since 2014 even though the product debuted in 2003, the WashingtonPost.com article points out.
U.S. retailers of private brand feminine hygiene pads, panty liners and tampons might want to examine these developments for opportunities, as market growth for conventional sanitary protection products in the United States has been stagnant for several years, according to global market research firm Mintel's latest "Feminine Hygiene and Sanitary Protection Products — US" report, issued in March 2016.
Still, despite flat U.S. growth, feminine hygiene products constitute a significant category for private brands. In the United States, private label sanitary napkins and panty liners account for 18.2 percent retail value share of this $1.7 billion subcategory, while private label tampons make up 10 percent of a $1.1 billion segment, states Chicago-based market research firm IRI.
Cleaner, greener, softer
Worldwide, growth in the more than $15 billion feminine hygiene category has been strong, thanks in part to greater demand for sanitary protection and related products in developing countries, points out Flavien Chaussegros, international business director for Hong Kong-based Pharmapack, a division of Shine Resources. "This increase is due to rising urbanization and awareness of personal sanitation," he says.
Although global growth is a boon to private label vendors, many of which are based overseas, U.S. retailers of private brand feminine hygiene products face challenges in this category.
For the 52 weeks ending Oct. 30, 2016, private brand sanitary napkins and panty liners in the United States increased just 0.1 percent in dollar sales versus a 1.9 percent increase for the entire category, reports IRI. Private label tampons fared worse during the reporting period — declining 2.7 percent compared to a 0.1 percent increase for all brands.
"Female contraceptive use is having an impact on the market, as women can experience lighter [periods] or no period at all, reducing the need for sanitary protection products," explains Mintel in its March 2016 report on the category.  "This impacts tampon use most, since sanitary pads/liners have additional usage occasions outside of menstruation, including for non-menstrual-related discharge or light bladder leakage."
What's more, many women worry about the healthfulness and safety of traditional sanitary protection products and such feminine care products as douches and topical washes, notes the March 2016 Mintel report. As the report's "Executive Summary" states, "55 percent of women who are currently menstruating are concerned that the chemicals in sanitary protection products could affect their health and more than one-third of women express concerns over the safety of feminine hygiene products."
In addition, women are demanding more information about product ingredients in this category, Mintel notes.
Though they may be overstated, such concerns — as well as a desire for more comfort and environmental stewardship — are helping to drive some women away from conventional menstrual products.
Based in Prato, Tuscany, Italy, Sanicot is one private label vendor that is responding to consumer demand for sustainable, comfortable feminine hygiene pads, says Deborah Pierozzi, a sales manager with the company. "We developed a line called Vivicot Bio that is the first [sanitary pad in Italy to be] 100 percent organic, biodegradable and compostable," she shares.
Available for private branding in the United States, Vivicot Bio pads come in "ultrathin" varieties for added comfort and are formulated to prevent skin sensitivities, the company states on its website. "The absence of whitening treatments such as chlorine or bleach guarantees that the tissue fibres are hypoallergenic, meaning that they may come into natural contact with the skin without causing allergies, irritation or dermatitis," Sanicot maintains.
Potential for growth
To market store brand sanitary protection products to younger women as well as girls who've recently experienced menarche, retailers and private label vendors need to take advantage of social media, according to Great Neck, N.Y.-based First Quality Enterprises, which produces Dri-Fit private brand feminine hygiene pads. The company recently earned recognition for its first online marketing campaign, designed to raise consumer awareness of the quality of the Dri-Fit products.
The campaign includes a YouTube video posted on the company's redesigned website that depicts how a father lovingly and discreetly "rescues" his preteen daughter at a party by bringing her a sanitary pad while she is in the bathroom.
Given that women typically don't relish purchasing menstrual products in public, retailers should also make sure they provide an e-commerce platform so female customers can easily buy store brand sanitary napkins, tampons and feminine washes online.
But packaging and in-store merchandising should not be neglected for this category. Intriguing and lively graphics and unusual package shapes seize shoppers' attention.
"Eye-catching packaging must stand out on the shelf and from the national brands," Chaussegros emphasizes. "Good signage and large displays also should be used to attract customers."
Another emerging category trend is the development of sanitary pads designed specifically for girls —products that are narrower, shorter and thinner for added comfort. Store brands that take advantage of this opportunity should use packaging graphics that appeal to preteens.
Most important, Chaussegros says, feminine hygiene aisles need to be neat and clean. And products could be cross-merchandised in other departments that target women such as cosmetics, he suggests.
Although IRI data indicate that the nearly $48 million douche (vaginal wash) segment has declined 6 percent for all brands and almost 5 percent for private brands, Chaussegros sees growth potential for this subcategory.
"Retailers should put more focus on feminine cleansing types of products," he says. "Consumers would most probably buy such products on impulse with better merchandising to grab their attention." In addition, such products can be used by all women, not just those who are menstruating.
Feminine hygiene aisles should also include products that address the needs of post-menopausal women, who are more prone to such issues as occasional urinary leakage and vaginal dryness, suggests Jeff Kaplan, president of Pompano Beach, Fla.-based Retrobrands USA, which now owns the U.S. trademark rights for the Modess brand.
"All feminine hygiene products should be organic and all-natural," adds Kaplan, who is specifically targeting baby boomers with his company's feminine care products.
U.S. retailers, moreover, could do more to educate shoppers about feminine hygiene product innovation and about how private brands in this category promote sustainability, Pierozzi says. This could be handled through product demo displays on a table or shelf and through digital signage.
Schierhorn, managing editor of Store Brands, can be reached at [email protected]