Loblaw introduces cricket powder under President's Choice brand
Get great content like this right in your inbox.
Subscribe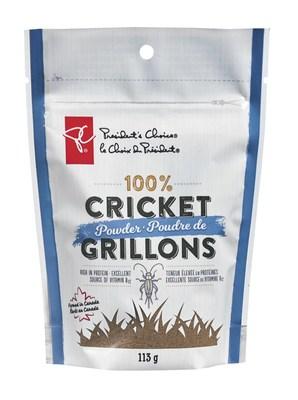 Protein is popular and in demand, and Canadian retailer Loblaw is taking its availability to another level under private brands with its release of President's Choice 100% Cricket Powder.
Farmed at a cricket farm in Canada, the product answers the need for great-tasting protein produced in a more sustainable manner, according to a press release.
"With our President's Choice brand we're always looking to bring the new and the next to Canadians," said Kathlyne Ross, vice president of product development and innovation for Toronto-based Loblaw. "By making products like Cricket Powder widely available in our grocery stores, we are giving Canadians the option to not only try something new but to also make a conscious decision on what they eat and how it impacts the environment."
While new to Canadian culture, 80 percent of the world's population already incorporates insects into their diet in some form, according to Loblaw. "Cricket powder can be easily added into baked goods, smoothies or meals to provide high levels of protein, B12, calcium and fiber. Crickets are a versatile ingredient that bring a subtle earthy flavor to food, or if used in small amounts no taste at all," the press release stated.
Jarrod Goldin, president of Entomo Farms, which supplies the cricket powder to Loblaw, said the company is "striving to take the next step to ensure innovative, inspiring and most importantly conscious food options are available for Canadians, and we believe cricket powder is just scratching the surface."
According to the press release, crickets need 12 times less feed than cattle, four times less feed than sheep, and half as much feed as pigs and broiler chickens to produce the same amount of protein.