Lidl strikes a chord with young consumers, according to survey
Get great content like this right in your inbox.
Subscribe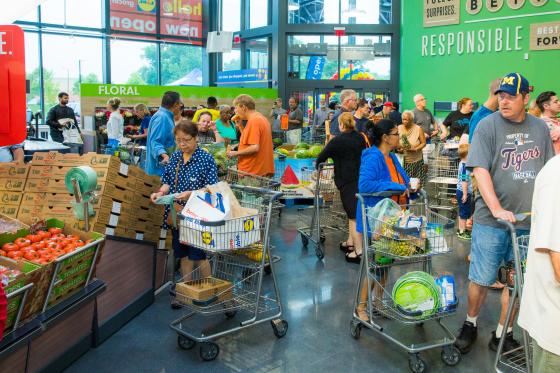 Younger consumers have taken a liking toward Lidl, especially its private brands and low prices, according to a recent survey from Boston-based global consulting firm Oliver Wyman. Overall, the survey discovered that Arlington, Va.-based Lidl's entry into the U.S. over the last year is resonating with consumers — the independent survey found that 48 percent of 600 consumers who tried Lidl are now shopping there more than twice per month. The study also found that consumers are spending more money per shopping trip at Lidl now than they were a year ago.
Younger shoppers — aged 18 to 34 — had a particularly high awareness of Lidl and shopped there frequently, appreciating both Lidl's private brand product quality and its attractive prices, according to the survey.
"What Lidl has done so far has struck a chord with younger consumers who are valuing Lidl's good private brand product quality almost as much as their low prices," said Tanja Ebner, principal in Oliver Wyman's retail and consumer goods practice.
Oliver Wyman said other key survey findings include:
Lidl is stealing customers from a wide range of incumbent grocers. Forty percent of consumers surveyed who are loyal to supermarkets are now shopping at Lidl more than twice per month. • Forty-six percent of Lidl customers say their primary reason to shop at Lidl is either good quality, good promotions or really fresh products. Thirty-nine percent cite low prices as their primary reason.

Customer satisfaction is surprisingly high with offerings not normally associated with hard discounters, including choice of organic products and wine selection.

Satisfaction is higher in states Lidl entered recently versus those it entered earlier, which could be due to Lidl using lessons learned from earlier store openings to adjust its offer.

Difficulty in reaching stores is cited as the No. 1 reason for not shopping more often at Lidl.