IRI report: Store brand sales decline, but could rebound in near future
Get great content like this right in your inbox.
Subscribe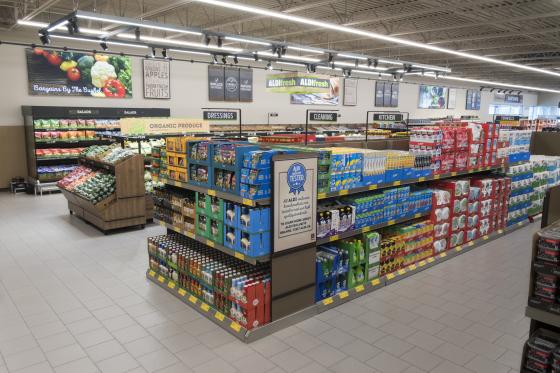 A new study from Chicago-based market research firm IRI reveals that although store brand sales are healthy overall, the grocery channel has seen momentum slide during the past few years.
The IRI Consumer Connect study states that private brand dollar sales have fallen 1.6 percent in 2017 after dropping 3.2 percent in 2016 in the grocery channel. National brands, by comparison, inched up 0.3 percent and 1.6 percent, respectively, during the same time period. Unit sales are also struggling. Private brand units fell 1.2 percent in 2017 and 1.7 percent in 2016 compared with a national brand decline of 1.5 percent in 2017 and growth of 0.3 percent in 2016.
At the all-outlet level, private brand performance is clearly mixed across channels, driven by strength of select key categories, segments and brands, according to IRI. Beauty, beverage and frozen food departments are seeing the strongest dollar sales growth, as retailers set their sights on categories within these departments that drive foot traffic and basket size, and capitalize on key consumer trends.
However, IRI's research shows that the future is bright for private brands. Two-thirds of consumers plan to purchase private brands more frequently in the coming six months. Among millennials and lower-earning shoppers, three-quarters expect to buy more store brands during that time frame.
IRI reports that the market is transforming quickly, as assortment becomes broader and more targeted and new players enter the marketplace. For instance:
• Costco is focused on driving private brand penetration from the current rate of about 25 percent of sales to 37 percent of sales with its focus is on Kirkland Signature natural and organic products and increased scope of co-branded products.
• By 2022, major private brand players Aldi and Lidl could have a combined 10 percent of grocery share. Lidl entered the U.S. market in June 2017 with plans to open more than 100 U.S. stores by the end of 2018 and more than 600 stores in five years. Aldi is increasing its U.S. investment and is expected to become the third-largest U.S. grocer by 2022 with more than 2,300 stores.
• Amazon.com's private brand sales are expected to top $4 billion this year, which includes $700 million in sales from newly acquired Whole Foods.
• Online grocery retailer Brandless launched in 2017 and is offering a wide range of private brand CPG items, such as snacks, beverages, cleaning supplies, beauty products and more for $3 each.
"The transforming marketplace certainly warrants close monitoring," said Susan Viamari, vice president of Thought Leadership for IRI. "As the players in the game change, existing players will continue to evolve their private label strategies to protect and grow share. Private label is anyone's game to win, and the winners will be those that stay in lockstep with the rapidly evolving needs, wants and behaviors of today's CPG shoppers."
The IRI Consumer Connect study also found that 59 percent of consumers with household earnings under $35,000 a year and 36 percent of millennials are having difficulty affording groceries, but 89 percent of the lower-earning shoppers and 90 percent of millennials are buying private-branded products to save money. The report said that seven of 10 millennials prefer stores that offer a wide selection of private brands and that nearly 66 percent often buy private brands over name brands.
"It is no secret that consumers are interested in CPG products that address their wants and needs," Viamari said. "When you look at the uncertainty and financial hardships that many consumers are facing and couple it with their favorable attitudes about the value and quality of private label products, it all adds up to a positive outlook for private label success. In fact, value is playing a huge role in the 'want equation,' and consumers will buy different brands, including private label solutions, to get the value that they want."
The report also revealed that the appeal of private brands isn't limited to younger shoppers; consumers from all generations view private brands as a way to save money and improve value without sacrificing quality (sentiment from millennials, Generation X, baby boomers, seniors highlighted below).
· Buy private brands to save money: 90 percent, 87 percent, 81 percent, 81 percent.
· Private brands are just as good in quality as national brands: 83 percent, 79 percent, 72 percent, 71 percent.
· Private brands are a better value than national brands: 75 percent, 71 percent, 65 percent, 64 percent.