Impact players
Get great content like this right in your inbox.
Subscribe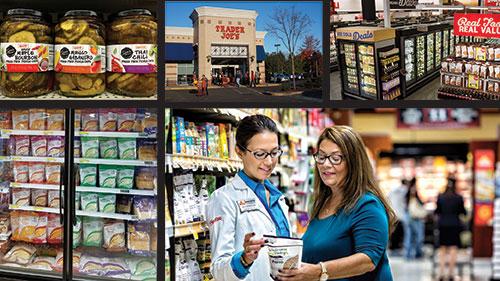 The proof is in the pudding — make that a box of Walmart private brand Great Value instant pudding.
The retailers succeeding in private brands are the ones embracing private brands to differentiate with innovative and exclusive products that offer consumers a value — all while growing their profits.
These retailers also realize the relevance of intangible store brands and offer services that help define their banners, further creating loyal customers.
The following five retailers are impact players of private brands in grocery. They aren't the only retailers making an impact, but they are surely leaving their mark:
1. Walmart: Its biggest impact may be yet to come
Who would have thought that Walmart would become the place to go for authentic Italian food? Not long ago, that kind of destination was reserved for some exclusive restaurant.
But last year, Walmart announced it was partnering with the Italian Trade Agency to introduce a line of authentic Italian cuisine, Sam's Choice Italia, featuring 40 products including bagged pastas, pesto and pasta sauces, canned tomatoes, balsamic vinegar and frozen pizzas. It was the first time the Italian Trade Agency worked with a U.S. retailer on a full line of private brand products that are produced by Italian suppliers.
Walmart's agreement with the Italian Trade Agency proved how serious the Bentonville, Ark.-based retailer is about enhancing its private brands program, especially from a premium perspective. Other Walmart store brands are Great Value and Equate.
"[We] continue to make great strides in private label," Brett Biggs, Walmart's chief financial officer and executive vice president, said at the Raymond James Institutional Investors Conference earlier this year. "One of the things that has hit me the last two years is the amount of work that's going on around private label. The packaging is better, the pricing is sharp … really good products [and] good feedback from customers. We're going to continue to be a house of brands, we always have been [and] always will. But private label in the future is going to play a really important part of what we're doing."
Walmart's private brands are already well-recognized among its customers. According to a recent survey by Field Agent, a retail solutions firm headquartered in Fayetteville, Ark., Walmart was the most popular retailer among consumers for purchasing store brands. A whopping 84 percent of Walmart customers said they buy store brands at least occasionally when shopping at Walmart. In addition, Walmart's Great Value was the most trusted private brand in Field Agent's survey, which asked consumers to pick one from a list of 13 store brands.
Last year, in a speech at the Bank of America Merrill Lynch Consumer & Retail Technology Conference, Walmart CEO Douglas McMillon said Walmart has "more talent there (professionals in its private brand department) than we've ever had before."
Sounds like Walmart's biggest impact on private brands is yet to come.
2. Trader Joe's — A continued model for private brands
In October, there was vegan banana bread, pepita salsa, soft honey nougat with almonds, horseradish aioli, sparkling coconut water with yuzu and carrot cake spread.
In September, there was birthday cake popcorn, caramel apple-flavored granola, almond butter cocoa bars and spiced pumpkin madeleine cookies.
In August, there was organic yellow lentil and brown rice spaghetti, organic Kansas City-style barbecue sauce, organic hemp seed bars and barbecue-seasoned spatchcocked chicken.
And in every month prior there were many other product introductions at Trader Joe's that characterize what private brands have become, thanks in huge part to the Monrovia, Calif.-based retailer. While Trader Joe's, which operates 475 stores in 43 states, isn't growing so fast that there is a location on every street corner, its impact on private brands has been and continues to be dramatic. That's because of the product selection above. Trader Joe's offers innovative and quality products at a value.
"There's so much variety in terms of what goes into our products, but there is a very consistent thing that has hit, we hope, product to product to product — it tastes great, and it's enjoyable to eat [and] drink. That's really important," Matt Sloan, Trader Joe's vice president of marketing product, said in a company-produced podcast earlier this year.
Sloan emphasized in the podcast that Trader Joe's products "really are about what they are." By that, he means they are free from a list of undesirable ingredients, including artificial dyes, GMOs and synthetic preservatives.
"And while customers expect those attributes from our products, products live and die by whether or not they taste good," Sloan noted.
Because so many of Trader Joe's products do taste good, among their other attributes, consumers' trust in private brands overall is growing. Trader Joe's has been a pied piper for private brands.
And Trader Joe's, which has been around longer than
most people realize (1967), will continue to lead and impact
the industry.
3. Earth Fare — A rallying cry for wellness with private brands
Earth Fare may just be hitting its stride. Founded in 1975 in Asheville, N.C., Earth Fare offers natural and organic foods at its 40 locations in the Southeast, mid-Atlantic and Midwest. The retailer's motto is, "Live longer with Earth Fare," which is a registered trademark.
Earth Fare, which heavily emphasizes its private brands, may just be hitting its stride because it finds itself in the midst of a food revolution of sorts — that being consumers' increasing penchant for organic and free-from foods. Earth Fare has been offering such fare for years.
Under its Earth Fare brand, the retailer has grown its private brand offerings to more than 1,000 products.
Last May, Earth Fare introduced its Hand Picked, Discovered by Earth Fare brand, featuring premium products with contemporary flavor profiles while adhering to Earth Fare's food philosophy, meaning the products are free from added hormones, artificial fats and trans-fats, artificial sweeteners, bleached or bromated flour, antibiotics, high-fructose corn syrup, artificial preservatives, and artificial colors or flavors.
Many consumers believe that free-from foods may lack flavor. Earth Fare introduced Hand Picked, Discovered by Earth Fare to dispute that notion. With the line, Earth Fare President and CEO Frank Scorpiniti emphasized that shoppers don't have to sacrifice more adventurous food choices to make the best choices for their health. Some of the products include frozen vegetarian Thai entrees sourced from Thailand; hand-topped, wood-fired pizzas imported from Modena, Italy; and brie sourced from a creamery in Vermont.
Earth Fare is also not afraid to take a bold approach to market its message and its products. Last year, Earth Fare released a press release saying that "Americans are eating their way to an early grave," noting that life expectancy for Americans in 2015 declined for the first time in more than two decades. That's when Earth Fare debuted its motto, "Live longer with Earth Fare," which the retailer says "is the rallying cry for Americans to choose only the cleanest, healthiest foods."
With its products and its approach, something tells us that Earth Fare will only continue to impact the organic and free-from food movement, with its private brands at center stage.
4. DeCA — Continued deployment of private brands
The Defense Commissary Agency (DeCA) learned from a 2016 survey of its customers that they wanted private brands because they were purchasing them from competing retailers. So DeCA, the 19th-largest grocery retailer in the U.S., went to work on a program and introduced private brands to its stores in mid-2017 for the first time in its 25-year history.
In the next three years, DeCA, which serves current and retired military personnel and their families, aims to increase its store brand inventory to between 3,000 and 4,000 items. DeCA also realizes it must differentiate its private brand offerings to be competitive.
Since mid-2017, Arlington, Va.-based DeCA, which operates 180 commissaries in the U.S. (mostly located on military bases), has been steadily building its program, which began with only a few products — bottled water under its Freedom's Choice (food products) line and kitchen and trash bags under its HomeBase (non-food items) line. DeCA is partnering with Grand Rapids, Mich.-based SpartanNash, which supplies products for Freedom's Choice and HomeBase. The commissaries also offer TopCare products, including first aid supplies, vitamins, over-the-counter medications and beauty care items. TopCare is a store brand supplied by Elk Grove Village, Ill.-based Topco Associates.
After the modest initial offering, DeCA rolled out a slew of additional products under Freedom's Choice and HomeBase in late 2017, including cheese, rice and dry beans, foam and plastic plates, shelf-stable juices, water enhancers, powdered soft drinks, paper towels and bath tissue.
DeCA is also introducing baking goods, pie fillings, dry soup mixes, honey, pourable dressings, mustard mayonnaise, peanut butter, broth and other products under Freedom's Choice. Under HomeBase, DeCA added 39-gallon disposable clear trash bags in addition to aluminum foil. Last February, DeCA said its private brands portfolio had grown to nearly 500 store brand products.
Last spring, DeCA added two new Topco store brands — TippyToes organic baby food and organic vegetables, and Full Circle Market organic beans and chick peas.
DeCA's continued expansion will certainly impact the private brands industry's overall growth.
5. ShopRite— Impacting at all angles
ShopRite is not only emphasizing store brands with its products, the Keasbey, N.J.-based retailer is also underscoring its own brand image through its services.
Last May, ShopRite introduced ShopRite Trading Company, a line of premium, artisanal foods inspired by myriad world cuisines. The line includes imported and domestically sourced foods and is available exclusively at all of the more than 270 ShopRite stores located in New Jersey, New York, Connecticut, Maryland, Delaware and Pennsylvania. In late 2016, ShopRite unveiled Wholesome Pantry, its line of organic and free-from products, of which the retailer continues to add product.
ShopRite, which operates under the retailer-owned cooperative Wakefern Food Corp., always seems to be on the cusp of offering new services and programs, reaffirming it as a retailer that cares about its clientele. For instance, last September ShopRite unveiled Family Meals Month, a campaign educating shoppers about the benefits of sharing family meals while suggesting ideas for families to enjoy more meals together. The campaign leveraged the company's team of corporate and in-store dietitians, who serve over 140 stores, to inspire and educate customers about ways to create nutritious and delicious family meals. The dietitians hosted free food demonstrations, classes and events, and distributed free recipe cookbooks. As part of Family Meals Month, ShopRite offered four limited-edition meal kits under its ShopRite Kitchen brand.
This year ShopRite continued to expand its Free Fruit for Kids program, which encourages healthy eating habits for children. The program, which debuted in 2016, is now in place at more than 125 stores. As part of the Free Fruit for Kids program, kids 12 and under receive a free banana, clementine or other seasonal fruit while shopping with a parent or guardian.
Last August, ShopRite Pharmacy introduced an educational initiative to New Jersey high schools to help students make safe and healthy decisions about prescription medications and understand the dangers of misusing these drugs. The digital program was made available to 30 schools at no cost to them.
ShopRite is advancing its store brands program from all angles and making an impact by doing so.
Aylward, editor-in-chief of Store Brands, can be reached at [email protected]