How to 'soup' up the fresh department
Get great content like this right in your inbox.
Subscribe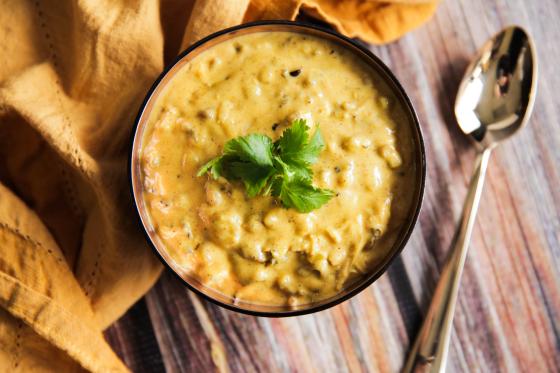 With autumn's crisp arrival, customers increasingly crave soup. But it's no longer a can of Campbell's or national brand equivalent that fills these fall food fantasies. 
According to market researcher Mintel's June 2018 report on U.S. soup, center-store sales within this $6.9-billion category have been stagnant for years, with condensed wet soup declining 2 percent and ready-to-heat wet soup increasing only 0.3 percent since 2013. 
But Mintel forecasts that the category overall will increase 9 percent in sales during the next five years. Fresh-prepared and refrigerated prepared soup are poised for significant growth, say experts, while soup kits may have potential as well.
Beyond having a couple of soup wells in a salad bar or hot bar, a number of grocery retailers dazzle with dozens of delicious fresh-made offerings that rotate daily and seasonally. 
Not every retailer should take the plunge, however, cautions Ryan Powell, vice president of merchandising for Dallas-based Symphony RetailAI. Foraying into fresh-prepared soups requires a big commitment and needs to be data-driven, he says.  
"The first challenge is the infrastructure," Powell observes. "Can you do it in-house or not?" This depends on such factors as store layout, kitchen capacity and the retailer's existing methodology for developing, making and merchandising fresh-prepared items.
Catering to local customers
Dayton, Ohio-based Dorothy Lane Market (DLM) has become a destination for fresh soup, thanks largely to Culinary Director Carrie Walters and her team at the retailer's three stores. Although the gourmet grocery chain sold prepared soup before Walters joined the company some 20 years ago, she has expanded and modernized the program, developing many new recipes over the years that she refines in her test kitchen. 
Today, DLM offers more than 30 fresh-prepared soups, which are made from scratch and classified by season. The retailer serves fresh cold soups such as corn gazpacho, pineapple jalapeño and strawberry watermelon gazpacho only during the summer months, for example, while certain classic hot soups, including chicken noodle and tomato bisque, are available to customers year-round. 
Each DLM store has a self-serve soup area in the deli department with five or six wells and a seafood soup area with two to four wells. Prepared fresh each morning, most of these soups rotate daily as well as seasonally, with 70 percent of customers consuming them in the retailer's café seating areas, Walters says.
Because the three stores — in Dayton's Washington Park neighborhood and the suburbs of Oakwood and Springboro, Ohio — have demographically distinct clienteles, they offer different selections in their soup bars.
"Our Oakwood clientele tends to be older," Walters notes. "We always have people in that store who want chicken soup in the hot bar every day, and they tend to be very vocal if it's not there. Our Washington Square store is middle-of-the-road, while our Springboro clientele is much more adventuresome."
Although customers can find a variety of soup flavors in all of DLM's hot bars, the most exotic ethnic offerings are served more frequently in Springboro and Washington Square than in Oakwood. 
"We have an albondigas soup, which is a tomato-based Mexican meatball soup with zucchini," Walters shares, describing a few of her favorites. "We make our own chorizo in house, so the meatballs are half chorizo and half ground beef. 
"We also have an avocado pozole soup that's really good; it has hominy in it and pork shoulder. And we have a couple of Thai soups that have really taken off, including a chicken soup with straw mushrooms in it and cilantro."
Besides serving soup in its hot bars, Dorothy Lane Market has an extensive assortment of fresh-prepared refrigerated soups at each store as well as a handful of frozen fresh-prepared soup choices. "All of the seasonal flavors are usually available at any given time in any of our stores in the cold soup case," Walters says, noting that DLM will happily heat up a refrigerated soup for a customer who wants to consume it in the store.
"We freeze our top five or six soups for the customer who has to have that chicken soup or that tomato bisque soup if it's not in our hot bar, and we're sold out of it in the cold case," she adds.
DLM's complex algorithm for providing fresh soup that shoppers want illustrates how critical it is for retailers to know their customers, especially in the grocerant space, where food waste can be tremendous. To be successful in this venue, according to Powell, supermarkets need to analyze their customer data to determine whether their shoppers at each store gravitate toward the new and different or the familiar, what flavors customers are purchasing across all food categories, and who their stores' competitors are. With prepared soups in particular, the competition ranges from convenience stores to fast-casual restaurants such as Panera Bread.
"Supermarket grocerants need to understand both their own comfort with cutting-edge trends as well as the comfort of their customer base," adds Maeve Webster, president of Menu Matters in Arlington, Vt. "Not all trends will be relevant to every retailer."
Better-for-you comfort food
With four stores in Sonoma County, Santa Rosa, Calif.-headquartered Oliver's Market captures the area's penchant for health and wellness with its standout soup program. The retailer offers 38 rotating varieties of fresh-prepared soup, some of which are seasonal. Each store has a soup bar with four to six wells.
"We try to balance out the selections each day, with choices like meat, vegetarian, vegan, cream-based and Oliver's Fit Friendly soup, which is 400 calories or less per serving," says Roxanne Abruzzo-Backman, the food service coordinator for Oliver's Market. "We are also moving more toward organic and non-GMO selections."
Oliver's tries to use California-produced ingredients in its prepared soups. "Our customers love the fact that our soups are made in-house and with quality local or seasonal ingredients wherever possible, and they appreciate the range of offerings," Abruzzo-Backman says. "All of our stores have indoor and outdoor seating for our customers to sit and enjoy their food."
Similar to Dorothy Lane Market, Oliver's offers a larger selection of refrigerated prepared soups in each store's "cold Grab 'n Go wall," in addition to the hot bar options.  
"We have a regular clientele coming in week after week for their favorites like clam chowder, tomato basil, chicken noodle and cream of crimini mushroom, to name just a few," Abruzzo-Backman adds.
Showcasing fresh ingredients
To promote fresh-prepared soups, supermarkets should tout their offerings' better-for-you attributes, their soothing and uplifting characteristics as a comfort food, and the limited-time availability of seasonal varieties, Webster advises. 
"Soups are so versatile that they can incorporate virtually any produce or herbs in-season," she says. "That includes making seasonal variations of traditional soups to keep those soups interesting and relevant."
In marketing and merchandising its prepared soups, Dorothy Lane Market stresses they are made with fresh ingredients that customers can purchase in its stores, Walters notes.
"Retailers should also consider how best to use their soup program to promote other areas of the store, from fresh to center aisle," Webster adds. "Bundling and cross-promotions to drive sales overall that incorporate — or springboard off of their soups — can be highly effective if the soup program is strong."
To encourage customers to try new grocerant- or deli-prepared soups, sampling stations in other areas of the store are important. But what's even better is just letting customers taste whatever soups are available in the hot bar, Walters suggests. At DLM, the deli hot bar is right by a sandwich station, so an associate is available to help customers who want to sample an unfamiliar soup before ladling it into a container. 
Grocery retailers with successful prepared soup programs might also want to consider offering soup kits for certain recipes, so customers can make the soups at home. 
Consumers increasingly desire experiences, Powell notes. "I think people are moving away from wanting just stuff plopped on plate for them," he says. "People are more aware of ingredients. And I think if you took a fresh-prepared soup and put it next to a soup kit, you'd be satisfying two totally different customers."
Webster agrees that own brand soup kits could be successful if developed strategically. "If the store has the labor and resources available, a soup kit would be a great extension," she says. "Consumers want the option to make things at home but need assistance to make that experience easier and time-friendly." 
In addition to soup ingredients and recipes, the kits could include suggestions that direct customers to other parts of the store, such as recommended bread pairings as well as appetizer, entrée and dessert ideas. "Then the kits could not only serve as a product extension of the soup program," Webster explains, "but also be a springboard to additional sales and greater interaction with customers."
Schierhorn is a freelance writer from Wheaton, Ill.