How to keep cheese category fresh
Get great content like this right in your inbox.
Subscribe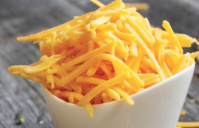 Cheese is defying the aging process. By focusing on selections that respond to the growing shopper focus on new eating experiences and health and wellness, merchandisers are helping to keep the mature category lively.
Cheese sales grew 10 percent from 2012 to 2017 to $23.6 billion, and are forecast to rise 8 percent to $25.5 billion by 2022, reports market researcher Mintel.
Shredded, chunks, slices and string/stick cheeses accounted for nearly 90 percent of 2017 dollar sales, with shredded cheese the largest category, comprising 36 percent of total revenues, notes market research firm Packaged Facts.
The specialty cheese sector also is active, with segment revenues up 3.3 percent last year versus just 0.9 percent for non-specialty cheese, reports the Madison, Wis.-based Dairy Farmers of Wisconsin.
Natural cheeses, meanwhile, account for 70 percent of sales with the segment benefiting from growing shopper interest in more healthful and natural eating and snacking, Mintel states in its October 2017 "Cheese US" report.
Indeed, in a 2017 Mintel online survey, 95 percent of respondents stated they had eaten natural cheese in the previous three months, with most indicating they do so at least a few times a month.
Increasing consumption frequency by the most active cheese eaters may represent the best opportunity for brands and retailers to accelerate sales, Mintel notes.
Such consumers are most likely to view natural cheese as part of a healthy diet; have interest in new ideas for cooking with cheese; and are willing to pay more for convenience products such as sliced or shredded cheese, Mintel states. 
Merchandisers also can help spur activity by offering cheeses made from goat's milk and other less-traditional ingredients in response to rising lactose intolerance rates, reports market research firm Euromonitor International.
In addition, plant-based cheese alternatives are becoming more prevalent with soy, nutritional yeast and nuts being made into non-dairy cheese as demand by vegans and lactose intolerance shoppers increases, Euromonitor states in its September "Cheese in the U.S." report.
A Latin beat
Interest in Hispanic- or Latin American-style cheeses also is strong with category revenues up 7 percent and four Hispanic varieties — queso quesadilla, queso de freir, queso panela and requesòn — among the 10 fastest-growing cheeses, the Dairy Farmers of Wisconsin reports. 
Helping to trigger activity is the large and growing base of restaurants offering Mexican or Latino foods, enabling consumers to discover new varieties, says Arturo Nava, marketing director for Nuestro Queso LLC, a Chicago-based cheese supplier that operates as Hispanic Cheese Makers Nuestro Queso.
More shoppers, he adds, also are seeking authentic selections, which can include Mexican-, Caribbean- and Central American-oriented varieties that were developed from recipes common to those regions. 
Yet, while consumers are embracing an array of cheeses, it is still important for retailers to limit their overall cheese selections to avoid confusion, says Liz Thorpe, founder of The People's Cheese, a New Orleans-based consulting firm.
"The cheese sector has shot itself in the foot in recent years by introducing dozens or hundreds of new brands and flavors that are virtually indistinguishable to the average consumer," Thorpe says. "There's more choice but no real apparent difference, which is overwhelming to shoppers."
She notes that retailers can make the shopping process more manageable by offering just two selections, such as an economy and premium choice, for each cheese category.
"Most retailers take the same approach to merchandising, which is to dump hundreds of cheeses into a case, grouped by some inane categorization that is meaningless to the average shopper," Thorpe states. 
Packaging also can be an important sales driver, she says, with attractive colors and artwork particularly vital as many shoppers will use the elements to identify their preferred cheese.
In addition, merchandisers can attract more buyers by incorporating messaging that spotlights appealing attributes, such as a cheese being all-natural and the amount of protein in a selection, Nava states.
"Consumers are drawn to any nutritional benefits that a product can offer," says Yvette Fossum, vice president of sales for Berner Food & Beverage, a Dakota, Ill.-based cheese supplier. "Packaging that is innovative or different will further entice shoppers if there is a functional benefit, such as ease of storage, ease of use and being able to maintain freshness longer."
Think young
Millennials and Gen X shoppers are fueling the push for newer varieties, she states, noting that those consumer segments typically crave more eating experiences and world cuisines than other groups, and have the highest disposable income.
Private brand merchandisers can respond to such interests by offering unique varieties, Fossum states, while also differentiating their selections with healthy attributes — such as less sugar, antioxidants and more protein — at lower prices than the national brands.
Promotions can include cross-marketing products with store brands from other categories, such as chips and dips, and including private brand cheeses in store-wide sales events, she says.
"The main private label challenge is to have the right product line and packaging formats," Nava adds. "Retailers must have the capacity to come up with new and different options because the national brands will continue to innovate. Store brands cannot just offer the staples."
Indeed, many of the fastest-growing varieties already have distinct flavor, texture and functional characteristics, says Chris Kuske Riese, director of channel marketing for Dairy Farmers of Wisconsin.
"The strong growth of these unique cheeses suggests that consumers, more than ever, are not only open to new flavors, but to completely new experiences when it comes to cheese," she states.
Dairy Farmers of Wisconsin research with specialty cheese shoppers found that in-store sampling was the most important factor in their most recent purchases.
Kuske Riese says other effective marketing tactics include cross-merchandising different cheeses with pairing accompaniments, including on-trend liquor or a new gourmet pickled vegetables; the use of point-of-sale signage that tells the story of the cheesemaker; and spotlighting creative serving suggestions to drive trial of different cheeses.
Mitchell is a freelance writer from Wilmette, Ill.