05/21/2019
Goodfellow & Co. is 'targeting' men's grooming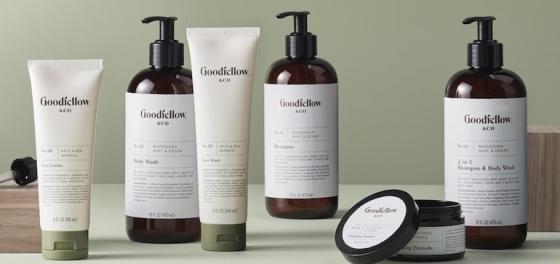 Minneapolis-based Target's private-label apparel brand Goodfellow & Co. is moving into the multibillion dollar beauty industry's next big market: men.
The company announced that its Goodfellow & Co. brand will be adding men's grooming products. The brand is adding 30-plus items covering beard, face, hair, body care, fragrances and accessories — all for under $16.99. Products range from beard oil to hair styling pomade, cologne to body wash. The collection was designed to help men streamline and simplify their personal care routines, according to the company.
"Our Goodfellow & Co. guest loves the brand, and with the introduction of a grooming assortment it'll become even more of a one-stop-shop for those guests," said Mark Tritton, executive vice president and chief merchandising officer of Target. "Grooming is a growing business and we've seen a new level of demand for specialty, premium products. Goodfellow & Co grooming was created to better meet that demand with products that we can ensure are effective and affordable."
According to the company, the brand quickly became popular after its debut two years ago, when the company focused its efforts on adding a men's apparel and accessories brand. Since then, it's not only helped boost Target's total men's apparel business, but it's also on track to be a nearly $1 billion brand by 2020.
Target's next big move is right on trend, as beauty companies, which are struggling to find new avenues of growth, see men as the next big opportunity within the industry. Consumer trends are focusing more on natural health and beauty across all genders, not just women.
"There are so many ... [people] growing up with the idea that you're not tied to the gender you're born with," said Larissa Jensen, beauty industry analyst at NPD, reported by CNBC. "Beauty is no longer what you're putting out as 'ideal beauty.' Beauty can be anything, anyone and any gender."
The men's personal care industry is predicted to hit $166 billion by 2022, according to Allied Market Research. In 2018, men's skin-care products alone saw a more than 7% jump in sales, according to market researcher NPD Group, reported by CNBC.