Going digital
Get great content like this right in your inbox.
Subscribe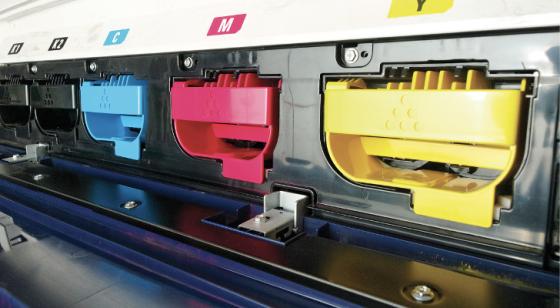 Most manufacturers of store brands aren't keen to the technology behind the printing that goes into their labels and packages. But what if they were told that switching to digital printing could help improve label quality, allow for quicker turnarounds and, last but not least, help reduce costs?
Not knowing the technology aside, those advantages would probably get their attention. And they are reasons that more product manufacturers are looking into digital printing as an alternative to using flexographic and analog presses to print labels for packaging, says Taylor Buckthorpe, director of sales and marketing for Colordyne Technologies, a Brookfield, Wis.-based manufacturer of high-speed, high-resolution label and tag digital color printers.
Whether product manufacturers team with a label converter or purchase a digital printer to bring printing in-house, they are impressed with the efficiencies and precision quality that digital printers can bring to their operations, Buckthorpe adds. Digital printing offers shorter lead times, lower minimum order quantities, more freedom in versioning and added flexibility, among other things, he states.
Ultimately, digital printing allows manufacturers to meet customers' needs faster by turning around orders quicker. Manufacturers can receive an order in the morning and have it packaged, labeled and ready for shipment that night, Buckthorpe says, noting that more label converters are switching to digital presses to serve their clients.
Marketing accuracy
Personalization, a big buzzword in the private brands world, is about catering to consumers with innovative products that display creative and standout packaging and labels. Digital printing can help drive the personalized message and help manufacturers market more accurately to their user bases, including the promotion of regional and seasonal product offerings, Buckthorpe says.
"When it comes to marketing, the golden rule is 'Know your target market,' " he adds.
Lancaster, Ohio-based Blue Label Digital Printing caters to private brand manufacturers, citing their need for small quantities of labels. "Specializing in producing and packaging a specific good or type of packaging for a customer means you may produce multiple varieties of a product for multiple customers. And because of this, you need multiple small runs for your labels at an affordable price," the company states on its website.
Digital printing allows manufacturers to reduce run lengths or minimum order quantities of labels for different products because of the significant reduction in set-up waste, Buckthorpe stresses. And as Blue Label points out, manufacturers can use their own art anytime and not worry about the additional cost. In addition, manufacturers can use digital printing for embossing, UV-coating or laminating and for high-quality four-color process labels, variable QR-code labels and barcode labels.
"If your new line of limited-edition cold-pressed juices or craft spirits feature several flavors or versions, short-run labels are far more efficient than flexographic printing," according to Blue Label. "Since there are no plates, you can modify your art, add new products, and mix and match products at your convenience. With short-run printing, quantities are entirely up to you."
One of Colordyne's private brand customers purchased a digital printer and moved label printing in-house partly because it was a less expensive way to sign up potentially new retail customers.
"Acquisition costs for new retail customers can become expensive, especially if [customers] want to do a short trial product launch where they put a few hundred products in their stores to see how they sell," Buckthorpe says. "Then the private brands manufacturer has to purchase thousands of labels, and it is only using a few hundred."
The manufacturer isn't charging its retail customer for the labels; it is making the investment just to get the business, Buckthorpe notes. But with a digital printer, the manufacturer can create only the amount of labels it needs and not have to pay for 5,000 of them.
Buckthorpe says that the ability to quickly print labels is also helpful when any new government regulations are mandated, which often require changes to the fine print on labels. By reducing inventory and printing on demand, manufacturers can edit copy on the labels to conform to new regulations, print new labels and have them ready for use the same day. Manufacturers can do the same when they want to add logos to labels to deem products certified organic, gluten-free or non-GMO.
Blue Label has no minimum order size. Of course, a manufacturer that has an in-house printer can control the number of labels it prints. In both cases, the bottom line is the bottom line: Manufacturers no longer must carry a large volume of pre-printed label inventory, much of which they may not use.
"Manufacturers are kind of handcuffed into buying a year's worth of labels," Buckthorpe says. "With digital printing, they can eliminate their pre-printed label inventory, which in some cases can be a few thousand dollars [worth] of labels. They are eliminating waste and obsolescence."
Bringing it in-house
Many companies haven't thought about bringing digital printing in-house, but they start thinking about it when they learn of its benefits, Buckthorpe says.
For a manufacturer offering several hundred SKUs in different packaging sizes, an in-house digital printer can make a huge difference, Buckthorpe says. Rather than carry a large label inventory for all of those products in various packaging sizes, the artwork and labels for the SKUs are stored electronically as PDFs on a local network, which is connected to the digital printer. When the artwork and label for a particular product are needed, it is simply selected and loaded onto the printer when the product is ready for packaging.
If a label needs to be changed, it can simply be adjusted by a graphic artist and resaved on the network to be resubmitted to the printer.
"It opens up new efficiencies, flexibility and cost savings across the whole business," Buckthorpe says of having a digital printer in-house.
The technology is also easy to use.
"If you can send an email, I can ultimately teach you how to run one of our machines, Buckthorpe says." 
Aylward, editor-in-chief of Store Brands, can be reached at [email protected].