Fresh and organic: A dynamic duo
Get great content like this right in your inbox.
Subscribe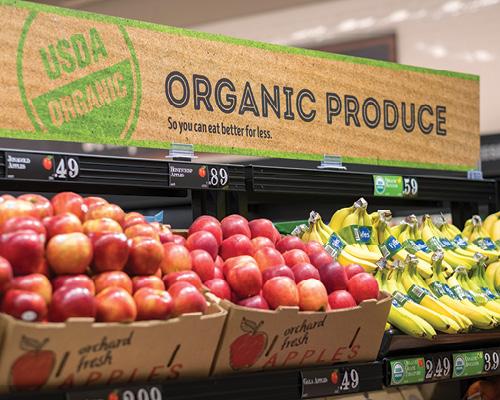 Fresh and organic. What a perfect pairing. Encompassing meats, salads, produce and the like, the fresh category has always had top billing as the healthiest section in the grocery store. And, of course, the health benefits of all-natural and organic products are universally acknowledged. Put the two together and the result is the very best that a supermarket has to offer.
But the retail landscape continues to evolve, making it imperative that retailers keep up with changes in consumer shopping habits. In particular, migration toward online platforms for packaged goods continues. As a result, retailers are focusing hard on drawing consumers into the store through fresh offerings, including organics.
Big business organic
Once a niche category, organics have exploded into a bona fide integral part of a retailer's overall private-branded products.
Recently, Albertsons Companies announced that its O Organics private brand has become a $1 billion brand.
"Everyone should have the opportunity to go organic — whether you are selectively choosing a few organic products or you have fully embraced eating organics," says Geoff White, president of Albertsons Cos.' Own Brands. "That's why we offer such a wide assortment of O Organics products, from fresh fruits and vegetables to wholesome dairy and meats, cereals, snacks and more."
Organic's contribution to the total fresh department continues to grow, confirms a December 2017 report from market research firm Nielsen. In fact, organic produce remains a key factor that helps top-performing retailers stay on top.
Recently, Cincinnati-based The Kroger Co. announced its organic produce business achieved $1 billion in annual sales. Kroger's senior vice president of merchandising, Robert Clark, credits the recent success to the company's commitment to making this category more mainstream, accessible and affordable.
Put a label on it
Branding in the produce department has not always been prevalent, according to Nielsen. However, branding is on the rise over the past five years or so as consumers have grown to trust the quality of those brands.
For retailers, taking advantage of private brand organic/all-natural products in the fresh category starts with knowing your customers.
Amy Simeri McClellan, senior vice president of retail for South Bend, Ind.-based Martin's Super Markets, suggests letting consumer demand dictate the priority items for private brand fresh organics.
"As a supermarket we have to listen to our customers," she says. "Depending on your store format and competitive differentiators, organic value-added products in meat, deli and produce can make you unique and a destination for fresh."
Jason Adlam, vice president of new business development for Alpharetta, Ga.-based CHEP USA, agrees. "Ultimately, retailers need to consider what will draw customers in to purchase the product, and ensure produce is perfectly ripe for consumption," he explains. "CHEP partners with many customers in the produce industry to provide sustainable solutions to get products to the store as freshly and quickly as possible."
CHEP established a program where it stores ready-to-issue pallets on-site at its customers' locations. So when peak harvest occurs, the pallets are readily available and help expedite getting the produce from the field to the store floor and then to the consumer.
Getting to know you
Organics shoppers are a loyal and well-informed group. But how well informed are shoppers about store brand organic/all-natural products in the fresh department? Retailers have a few avenues at their disposal to make sure they are reaching shoppers.
"In-store signage, in-ad features and blog posts from credible sources (dietitians, organic farmers, and other food experts) are all ways in which we educate our customers on the benefits of organic," McClellan says. "In addition, in-store demos executed by our chef interacting directly with customers has been effective."
Pack it up
When it comes to packaging and merchandising private brand fresh organics, retailers should call on the power of their own brand, especially if they are known for fresh.
"Packaging should be clean and easy to read," McClellan advises. "Let the produce shine while making sure shoppers can identify it as something exclusive to your store."
The role that packaging and display plays in this segment is incredibly important.
"Packaging and display can influence the customer's decision whether or not to buy a product," Adlam says, "especially if they're already looking for something and deciding between one brand or grower over another."
CHEP recently partnered with customers on its half-pallet solution as an effective display option. In comparison to the 48x40 pallet, the half pallet is used more in store displays, reducing store touches and improving store efficiency.
"This allows retailers to take store product and display it at the end of aisles or as aisle displays," Adlam explains. And the result is produce that provides better visual representation in the store with focal products.
Owning it
Retailers can sometimes struggle to have their fresh organic offerings regarded as private brands. The solution is to promote what is in season and what is fresh.
"If organic peaches are in-season, create fresh-made, value-added, deli-prepared options using fresh peaches or other in-season organic produce to offer something unique," McClellan says. "Additionally, retailers can seek partnerships with local organic farmers to offer farm-to-market private label options when the season is right."
For example, Lucky's Market has made its partnerships with local producers a cornerstone of its company philosophy. Keeping close to home supports its communities but also makes it possible to bring organic and locally grown produce to its stores at a value price point.
"Using local organic growers is one way for retailers to differentiate and give their own brands a powerful personality," McClellan explains. "When local is not in season, spotlight organic farmers from around the world."
Fresh destination
According to the 2017 Nielsen "Category Shopping Fundamentals" report, a majority of consumers do not have a specific brand in mind before they purchase fresh produce. Label claims on packaging and marketing can communicate exactly how products meet shoppers' changing needs.
The United Fresh Produce Association's Q3 2017 edition of "FreshFacts on Retail" highlights how innovation in the produce department is driving consumer demand for alternatives to pasta and rice.
"Health and convenience are both key factors in the rise of new products in the produce department," says Jeff Oberman, United Fresh's vice president of trade relations and liaison to its Retail-Foodservice Board. "From kits to veggie noodles, we expect continued growth and expansion of fresh-cut and value-added products, both in private label and branded products."
Own-brand organic produce can be a powerful part of a retailer's overall fresh offerings. But pricing will still be a focus to all but the most loyal organics shopper.
"Offering organic in an ad at the same price as conventional is a great way to gain trial among the non-organic customer," McClellan says. "Food always has a story, and shoppers are eager to be informed."
Jevtic is a freelance writer from Schaumburg, Ill.