Facing up to the task
Get great content like this right in your inbox.
Subscribe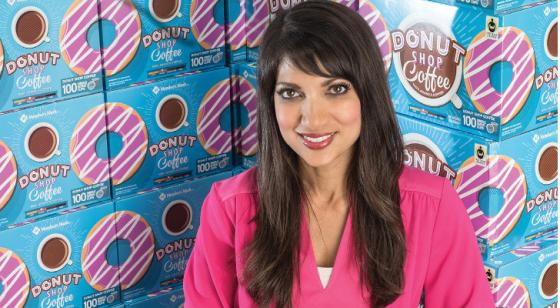 Chandra Holt removes her shoe to reveal a cluster of bites and stings she endured from an army of fire ants while walking in a field of coffee plants in Medellin, Colombia. Holt, the vice president of private brands for Sam's Club, toured the field in Colombia recently while meeting with growers and suppliers regarding the Bentonville, Ark.-based warehouse club chain's new line of coffee products for its recently revamped Member's Mark line.
"Sometimes … this job is just brutal," Holt says while surveying her swollen foot. And then Holt smiles and lets out a laugh. She wouldn't have her job any other way.
In the past year, Holt and members of her private brands team have literally combed the globe — from visiting olive and tomato farms in Italy to wine orchards in France and to a smokehouse in East Texas — to procure the best ingredients and processing methods to create new products and improve existing ones for Sam's Club's "new" Member's Mark line. In April, Sam's Club announced the 20-year-old line's revitalization, which will touch about 1,200 products in food, beverage and general merchandise by the end of 2018. It includes 600 new products — 300 introduced in late 2016 and 2017 and 300 in 2018 — and enhancements to 600 others. But the revitalization won't stop there. Holt and her team will continue to develop and introduce new products in the coming years.
When Holt joined Sam's Club in August 2015, she threw down the gauntlet … to herself. The 37-year-old challenged herself to take Sam's Club's private brands, which she says were "typical" of many store brands, to a premium tier to distinguish them from the competition.
During an interview inside the Sam's Club located a few miles from the company's headquarters, Holt explains that the Member's Mark makeover all began with Sam's Club's members, the consumers and business people who pay $45 a year for membership.
"One of the first things I did when I came on board was conduct both quantitative and qualitative research with our members to figure out what they wanted from our private brands," Holt says.
What she learned is that many members want more than just products that are national brand equivalents. They desire a variety of innovative and high-quality products with fewer ingredients that are exclusive to Sam's Club.
The members are getting what they asked for. Last fall, the 600-store chain, founded in 1983, rolled out the first of the new and revamped products in the line, which include everything from fair-trade-certified 100 percent Arabica coffee to organic virgin coconut oil to smoked pulled pork to honey sourced from a U.S. bee cooperative. 
Holt and her team also decided to streamline 21 previous Sam's Club private brands including Simply Right, Bakers & Chefs and Daily Chef into Member's Mark, a brand that Holt says has maintained strong equity. Holt wouldn't say how much Sam's Club invested in the undertaking, only that it was a "heavy investment."
Early signs indicate that the Member's Mark makeover is a hit. Under Holt and her team, it has grown swiftly from a $9 billion brand to $10 billion.
"We started with a white board for this … just wanting to take the brand to a different level," Holt says.
Tim Campbell, senior analyst for Boston-based Kantar Retail, says Member's Mark has smashed the mold of mediocrity.
"Previously, Member's Mark was more generic, what you would think of as a traditional store brand," Campbell says. "What [Sam's Club] is doing is driving loyalty to their stores with a more branded private label strategy that is less financially focused and more branded and loyalty focused."
WHEN HOLT INTERVIEWED with Sam's Club, it wasn't about leading private brands. But the Sam's Club brass asked if she might be interested in the position.
"I was surprised because I had never run a private brands team in the past," Holt says. "My background is in core merchandising."
Holt worked in merchandising at Target Corp. for 10 years and most recently at Walgreens for three years. But when Holt toured Sam's Club during the interview and saw its store brands, she began to envision leading the private brands team.
"The thing I'm really passionate about is driving positive change," she says. "And I saw the opportunity to come in and really impact the organization in a big way. Very few times in your career do you get the opportunity to take over a $9 billion brand and completely redo it."
After Holt accepted the job, she wasn't given a blueprint of what to do. Her marching order was basically to do what was needed to take Sam's Club's store brands to another level. Although the directions were a bit ambiguous, Holt says she thrives on the unknown.
"That is what really attracted me to the job," she adds.
One of Holt's first moves was to recruit top people to be part of the private brands team and give them the leeway that they needed to accomplish the task. There were about 25 people on the team when Holt began, but only three of those members remain. Holt has hired more than 50 new people and is still looking for a few more. Most of the team members, including Julie Woods, director of product development for private brands, and Derek Warner, the senior director of private brands for global sourcing, have been with the team for only a year.
Woods previously worked at ConAgra Brands Inc. and has several years of experience in private brands and consumer packaged goods. Warner previously spent 16 years at Daymon where he specialized in private brands development.
Their groups work together closely. Woods and the nine product developers she oversees research opportunities for products and identify product attributes and sensory characteristics. Warner and his unit then work to procure the best ingredients and items at the best value to manufacture those products. Other specialists, from those in analytics to those in merchandising, also play key roles.
"It's amazing how everybody has worked together to make this happen so fast," Woods says. "We are going like gangbusters. It has been rapid-fire excitement."
Woods and Warner joke that their jobs have been made easy ("but don't tell Chandra we said that," Woods says with a chuckle) because upper management, including President and CEO John Furner and Chief Merchandising Officer Ashley Buchanan, has offered unwavering support for the venture. Sam's Club's tremendous purchasing power and vast scale of sourcing have also benefitted the project
"Everybody is fired up about this," Warner says. "It doesn't feel like work because it's fun. It has been a fantastic experience."
WHEN WARNER SAYS HE has a "whole world" of suppliers to partner with, he means it. In the past year, Warner has strolled through guava orchards in Mexico, pineapple plantations in Indonesia and coconut trees in the Philippines to view and learn about potential suppliers' products. Warner has also visited the United Kingdom, Spain, Italy, China, Thailand, India and Malaysia since beginning his job. While she hasn't traveled as much as Warner, Holt has traveled overseas frequently in addition to trekking throughout the U.S.
They travel abroad for several reasons, the most obvious being that they want to see how suppliers cultivate ingredients that are native to their countries, like the fourth-generation olive producer they visited in Italy that creates Member's Mark's new extra virgin olive oil. They also get to see the quality that those suppliers put into the products or don't put into them.
Considering Sam's Club's strict procedures for quality assurance, being able to vet for it on site was crucial. Warner says Sam's Club invests significant resources to ensure all suppliers of Member's Mark products are thoroughly vetted for proper manufacturing processes, responsible and ethical business practices and are accredited by independent third-party agencies. (Sam's Club would not name suppliers to the Member's Mark line.)
"When you go to the place where products are made, like olive oil in Italy, you get to see things that you wouldn't see if it was a sales representative from that company coming to visit you," Holt says. "You get a glimpse behind the curtain to see things that nobody else in the world might be seeing."
Nothing against seeing innovative products at trade shows, but Holt says she would rather see innovation up close and personal.
"Sometimes we see innovation that is years in advance," she says.
Also, face-to-face negotiation is critical and can go a long way in securing a favorable business transaction.
"By taking these trips we were able to reduce costs [for some products] and add additional economic value for our members while increasing quality," Holt says.
For instance, Holt and her team worked with one supplier during a visit to upgrade a conventional chicken broth that was a national brand equivalent to a broth that was organic and made from cage-free chickens. "And the price [for our members] didn't go up a cent," Holt says.
Not all trips were taken abroad; some were taken not far from Sam's Club's headquarters, such as to East Texas. There, Sam's Club met with with a longtime smoker to create its Member's Mark Pitmaster Seasoned Pulled Pork.
There is a difference when it comes to sourcing a premium product from a national brand equivalent or value product, which lies in going deeper into the value chain to find suppliers for premium products, Warner explains. Those suppliers are more knowledgeable about their products, and they are the people you want to form business relationships with, he notes.
"I always tell people that sourcing is about knowledge and relationships," Warner adds.
Sometimes it's not just a manufacturer; it might be a farmer or a fisherman. "It's people who are so intimately involved with that product that they know more about it than anybody else," Warner says. "And they have a ton of passion behind it."
Being on site also allows Sam's Club to source responsibly. "There is a whole ethical piece that we are very conscious of," Warner says. "We want to make sure we are sourcing from the right people."
After the products are developed, the key is to tell the story of their origins on their packaging and through other promotions, including social media. On the back of its Pitmaster Seasoned Pulled Pork package, there is a story about the product: "Texas is known for legendary barbeque and our family-owned smokehouse deep in the Pinewoods of East Texas has perfected this heritage for generations," the story reads.
"Our pulled pork has three ingredients — pork, seasoning and water," Holt says. "Transparency in sourcing is something that people are interested in."
The products and packaging in the Member's Mark line score high in the cool factor, which was Holt's intent. And it was critical not to follow a template with the packaging for all products, which Holt says would make them all look similar.
"A lot of private labels have a template for packaging," Holt says. "We completely threw that thinking out the window and did the exact opposite. So it's about the item being first and making sure the packaging talks about the unique attributes and the quality of the item. Because that's what members are going to respond to. The brand follows."
Holt wanted to bring the packages "to life" through bright colors to make them stand out in the large confines of the clubs. The creative approach seems to be working. Consider Member's Mark Spanakopita, not a new product but one that received a few ingredient tweaks and a packaging overhaul. The package is now colored in light blue and includes a drawing of a goat (it's made with goat cheese) and includes the words "party animal." Holt admits the packaging is "out there," but the product's sales nearly doubled shortly after the redesign.
One of the design firms that Sam's Club hired to redesign the packaging was Chicago-based Equator. Michael Duffy, Equator's group creative director, says the goal was to ensure Sam's Club's creative vision was realized across all categories.
"We worked with Sam's Club to create an approach that brought fresh thinking to each and every pack in its category," Duffy says. "To do this successfully, we had to look through the eyes of Sam's Club members to create designs that had maximum shelf standout and personality."
Holt says Sam's Club is receiving feedback from members saying that some of the Member's Mark products are so innovative and the packaging so creative that they think they are purchasing brand names.
"They are shocked that this is our private brand," Holt says.
WARNER CRANES HIS NECK and scans the vastness that is Sam's Club, imagining the continued expansion of Member's Mark from corner to corner of the 140,000 square-foot building.
"Just look at this place," Warner says, amid the sounds of bustling shoppers and the beeping of product loaders stocking shelves. "We have a lot of places left to touch. It's a continuous process."
Holt calls 2017 a year of transformation for Member's Mark.
"We are going to transform the Sam's Club shopping experience," she says. "When you come back in September, the club is going to look different because we will have many more items rolled out. When you come back in January, it will look even more different."
There are three- to five-year goals for Member's Mark. One of them — achieving a 20 percent penetration rate — has already been met.
Holt says she is often asked if Sam's Club upped the ante on Member's Mark to compete with Costco Wholesale, its Issaquah, Wash.-based warehouse competitor, which has garnered a following for its Kirkland Signature private brand.
"We have a number of competitors that do a good job with their private label," Holt says. "But I don't want any one competitor to define what we are going to do. We are going to do what's best for our members."
Doing best for the members means traveling to faraway places to meet with possible business partners — even at the risk of your feet getting bit and stung by fire ants while walking through coffee fields. 
Aylward, editor-in-chief of Store Brands, can be reached at [email protected]